The dance program is an interdisciplinary offering in the Department of Theatre. Students practice the rigorous technique of multiple dance genres, explore dance theory, and deepen their understanding of the anatomy of the body in motion. Also, students have the opportunity to hone their skills in choreography, in holistic wellness, and have regular performance opportunities.
Unlock your rhythm and transform your passion into performance

Dance students can dance in and choreograph for Miami Moves, a biannual dance concert.

Where movement meets education...

We accept applications on a rolling basis, so feel free to reach out at any time

Elevate your education with the artistry and discipline of dance

Work with a wide variety of guest artists from diverse backgrounds

Ignite your artistic journey

Enhance your degree with dance and pursue your passion!
The Dance minor offers students the opportunity to pursue the specialized skills necessary for dance performance. Students will complete courses in dance technique, performance, dance history, and production/design and integrate learning through involvement with dance concerts and/or musical theatre productions.
This minor is an interdisciplinary offering between the Departments of Theatre (THE) and Kinesiology and Health (KNH) with course offerings from the two departments. Students interested in the dance minor should meet with Ashley Goos, Assistant Teaching Professor, Director of Dance.
The Dance Minor program at Miami University has provided me with a number of experiences that allowed me to see what I was capable of inside the field of dance. Each course provided me with a different learning opportunity that expanded my knowledge of dance. As a result of the program I have a better understanding of various forms of dance, choreographic intention, and performance. Each of these things have helped me in moving forward as a dancer, as well as giving me the skills to work as a dance teacher/choreographer.

Sarah Finley, '23

Taking risks. In all aspects of life, whether it may be in the classroom or the studio, there is no secret formula to follow while creating, implementing, or simply exploring. This is one of the greatest lessons I learned while studying dance at Miami — and one that I reflect on constantly. There is a true beauty in allowing vulnerability to play an active role in all that you do; being okay with the many pitfalls that may define an experience; trusting you have access to all you need to get the job done.

Genáe Yeldell, '22

The dance minor program, and the people in it, was hands down the most life changing experience in my undergraduate career. It not only helped heal my relationship with dance, but it completely exposed me to new realms of movement and pedagogy. I would never have discovered my potential as a choreographer or my interest in a career combining dance movement therapy and medicine without the experiences and guidance I received from this program.

Haley Seig '23
College of Creative Arts
The arts at Miami University didn't evolve on a whim—they were challenged, inspired, modernized, and made more relevant by each new generation of artists. Welcome to the College of Creative Arts, with degree programs that range from the classical to the contemporary.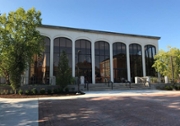 Interdisciplinary Programs