Distributing Knowledge: The Printed Image, 1500 to 1800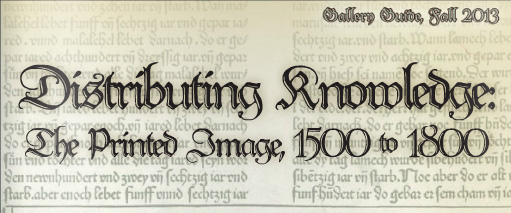 This exhibition was the final project of the Spring 2013 Senior Capstone seminar for the Art and Architecture History major at Miami University.
With the guidance of Dr. Andrew Casper and Jason Shaiman, Curator of Exhibitions at the Miami University Art Museum, students worked collaboratively and individually through all of the necessary stages of the curatorial process, from defining the focus of the exhibition and organizing the thematic approach to the selection of prints from the art museum's collection and writing the associated texts. Active classroom discussions based on texts by numerous scholars provided the essential foundation for the development of this exhibition.
The results of individual research were presented in class and in term papers written on the works of art displayed.
ART 498: History and Methods in Art and Architectural History
Dr. Andrew Casper, Professor
Capstone participants:
Natalie Bogatschow
Caroline Buck
Caitlin Carlin
Krista Dunkman
Madison Graney
Emily Ketterer
>Kathryn Landers
Alexandra Morris
Rachel Sacks
Mary Schullenberger
Justin Shumacher
Kelsey Sturgill