McGuffey: The Man
McGuffey Arrives in Oxford
Robert Hamilton Bishop, President of Miami University at Oxford, Ohio, met the young teacher in Paris, and was so pleased with him that he recommended him to his Board of Trustees as a professor of languages. The following fall, William H. McGuffey, accompanied by his ten-year-old brother Alexander, rode into Oxford with his saddlebags stuffed with personal copies of books on moral philosophy and the languages he expected to teach.
The new professor was of medium stature, with a compact body, swarthy complexion, dark, coarse hair, blue eyes, his face plainly showing his rugged Scottish ancestry. He had a wide mouth, prominent nose, and high broad forehead. For many years he wore knee breeches, black silk stockings, and low shoes with gleaming silver buckles. An immaculate white linen collar folded over an ample black silk stock. While his contemporaries still clung to their hats of honest beaver fur, McGuffey wore the new-fashioned stovepipe hat of silk.


At Miami, the professors took turns at preaching in the college chapel on the Sabbath. Some of them, on their free Sundays, preached in country churches. In 1829 McGuffey was ordained to the ministry by the Oxford Presbytery at Bethel Church on Indian Creek, near the small village of Millville. The Rev. Thomas preached the sermon, and President Bishop of Miami gave the charge. McGuffey had been a member of the Presbyterian Church in Oxford since September 9, 1826.


McGuffey always told his students that country preaching was the best of training. It was in the country churches that he improved extemporaneous speaking and learned to put his ideas into simple words that even the illiterate could understand. While preaching at nearby Darrtown, he ran into trouble. A committee waited upon him to say that they liked his preaching but thought he was too stylish. He drove a horse and carriage, they said, and wore a silk coat. The suave professor showed them his "silk coat", proving that it was not made of silk, but of cheap shiny bombazine. He further convinced them that he needed his equipage. Without Charlie, his horse, and the carriage, his wife, being in delicate health, could not attend church at Darrtown with him. The committee retired discomfited and ashamed.
Text by Dr. William E. Smith, 1973
William Holmes McGuffey House and Museum
We aim to collect, preserve, interpret, and exhibit materials relating to the life of William Holmes McGuffey, the McGuffey Eclectic Reader series, the history of Miami University, and 19th-century domestic life and architecture of southwest Ohio.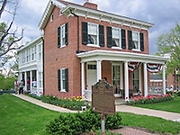 Contact Us
Hours of Operation
Thursday - Saturday
1:00pm - 5:00pm

McGuffey House and Museum observes Miami University closings and other special events.