Museum News
COVID-19 Update, Summer - Fall 2021:
Museums Open
McGuffey House and Museum is open for tours during our regular hours, Thursday, Friday and Saturday, 1-5pm. Facemasks are optional. We look forward to your visit.
McGuffey Garden's Heirloom Roses
On a warm June afternoon in 1889, Henrietta McGuffey Hepburn, the daughter of William Holmes McGuffey and wife of Andrew D. Hepburn, gathered herself for a much-anticipated announcement. The event was a reception hosted by Leila S. McKee, principal of Western Female Seminary in recognition of Beta Theta Pi's graduating seniors at Miami. It also marked the 50th anniversary of the founding of Beta Theta Pi fraternity at Miami. According to The Miami Student, "the most pleasing event of the day was when Mrs. Dr. Hepburn arose from the banquet table and announced that the fraternity had chosen a floral emblem..."
Read More
"...Mrs. Hepburn, her daughter Miss Etta Hepburn, and Miss McKee had chosen it…The bush, which furnished the first Beta rose, grows on the front porch of the Western Female Seminary" (The Miami Student, June 1889).
The specific variety of rose selected is believed to have been Queen of the Prairie, an old-fashioned climbing pink rose. It was incorporated into the Great Seal of Beta Theta Pi. Today, the only known specimens of this rose in Oxford can be seen on the west wall of the McGuffey House and Museum. Two bushes were planted along the wall in October 2015 with funds donated by Drs. Ed and Sue Jones in memory of Sue's mother, Eva M. Clement. Sue, former professor in The School of Education, serves as a docent at the Miami University Art Museum and the McGuffey House and Museum. Her husband, Ed, is a Wichita State Beta and Professor Emeritus from Miami's Department of Teacher Education.
McGuffey House Gets a Facelift
As the McGuffey House approaches its 200th birthday (2033), it should come as no surprise that a house of, ahem, "advanced age," warrants special care, especially those exterior portions of the house that employ frame construction. Miami's Carpenter Shop staff designed and installed new composite fiberglass columns to mirror nearly exactly the profile of the original columns.
Read More
The front porch of the McGuffey House features wood Tuscan columns likely added during the mid-1920s when the Roudebush family purchased the property. Over the years the front porch columns, made of curved vertical staves, or boards, began to deteriorate, especially at the base. Contributing to the decay of the wooden columns was water wicking upward into the columns where they were in contact with the poured concrete porch floor. Because concrete sweats and holds moisture, it was less than an ideal material to be in direct contact with wood.The new columns are made of a sturdy composite fiberglass material. Miami's Carpenter Shop staff removed the old columns and installed new composite fiberglass columns. The new columns, designed by staff in the Carpenter Shop, mirror nearly exactly the profile of the original columns. Ideally, it would have been preferable to install new wood columns, but a decision was made to introduce synthetic materials that in the long run will have a longer life expectancy while maintaining the aesthetic integrity of the house.
Joan Teckman, 1929 -2020
Miami University and the Oxford community are saddened to learn the passing of Joan McNelly Teckman (1929-2020). Joan was the daughter of Walter and Freda McNelly, Oxford, Ohio, wife of Dr. Charles Teckman, Miami Class of 1951 and sister of Nancy Koutzen. Joan was employed over her lifetime as a professor of nursing at Miami University 1969-80, Indiana University 1979-81, and the University of Cincinnati 1982-90. An avid collector of McGuffey memorabilia, Joan was for many years a loyal volunteer at McGuffey House and Museum.
Birdwatching
With students largely absent from Miami's Oxford campus, our native wildlife has been more visible. This Red Tailed Hawk was enjoying an avian meal in the cypress tree on the McGuffey House grounds. Photos by Jeff Sabo, Miami University.
Visit from McGuffey HS Grad
Richard Coombs of Collinsville, McGuffey High School Class of 1944, recently visited the museum.
McGuffey High School was Miami University's laboratory school from 1910-1956. The school newspaper was the McGuffey Mirror. This issue, printed in December 1943, when Richard Coombs was a senior, reported Wilbur "Weeb" Eubank's visit to McGuffey. Beloved by his students and players, Eubank, Miami Class of 1928, would go on to a remarkable coaching career in the NFL. The paper also noted the turning of the tide in World War II.
Images of the McGuffeys
Learn how the McGuffey House and Museum is taking steps to preserve rare daguerreotypes of the McGuffey family. Images of the McGuffeys
---
The BEEPS Garden welcomes visitors to the Miami campus. Established in memory of Becca Eldemire, the garden features several native plants, including St. John's Wort, Monarda, blackberry and Echinacea purpurea, along with Paw Paw and Persimmon trees. There is a bench for relaxation and reflection.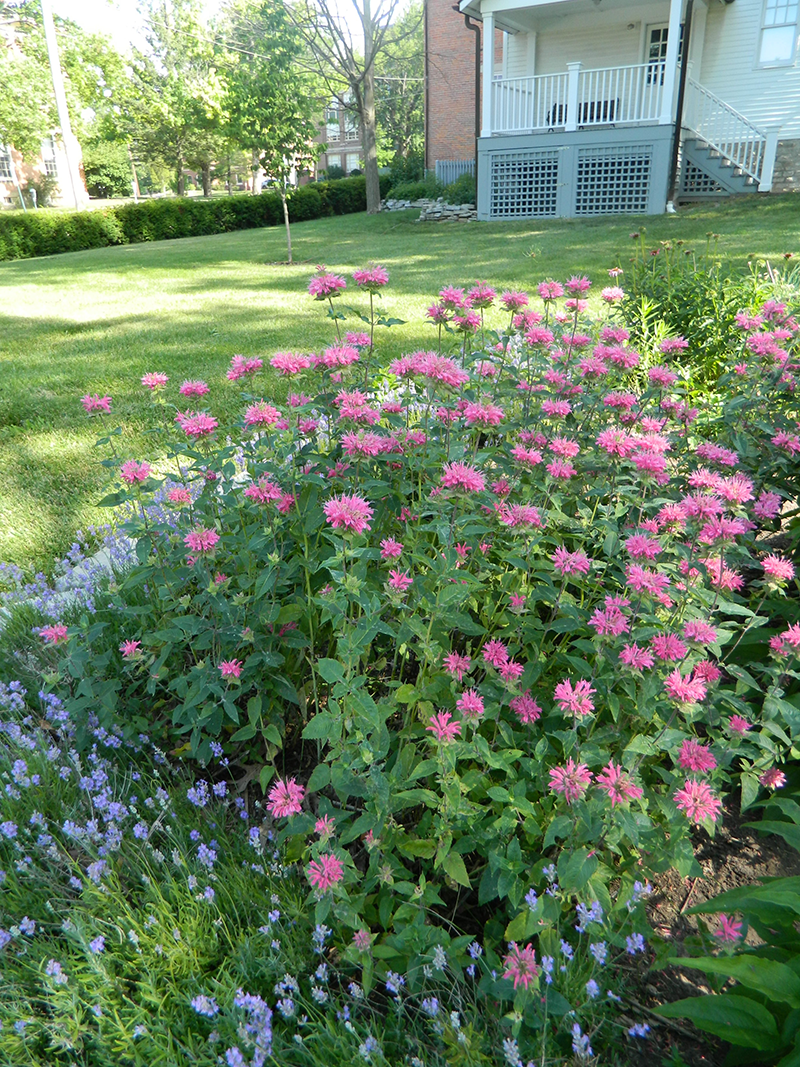 Monarda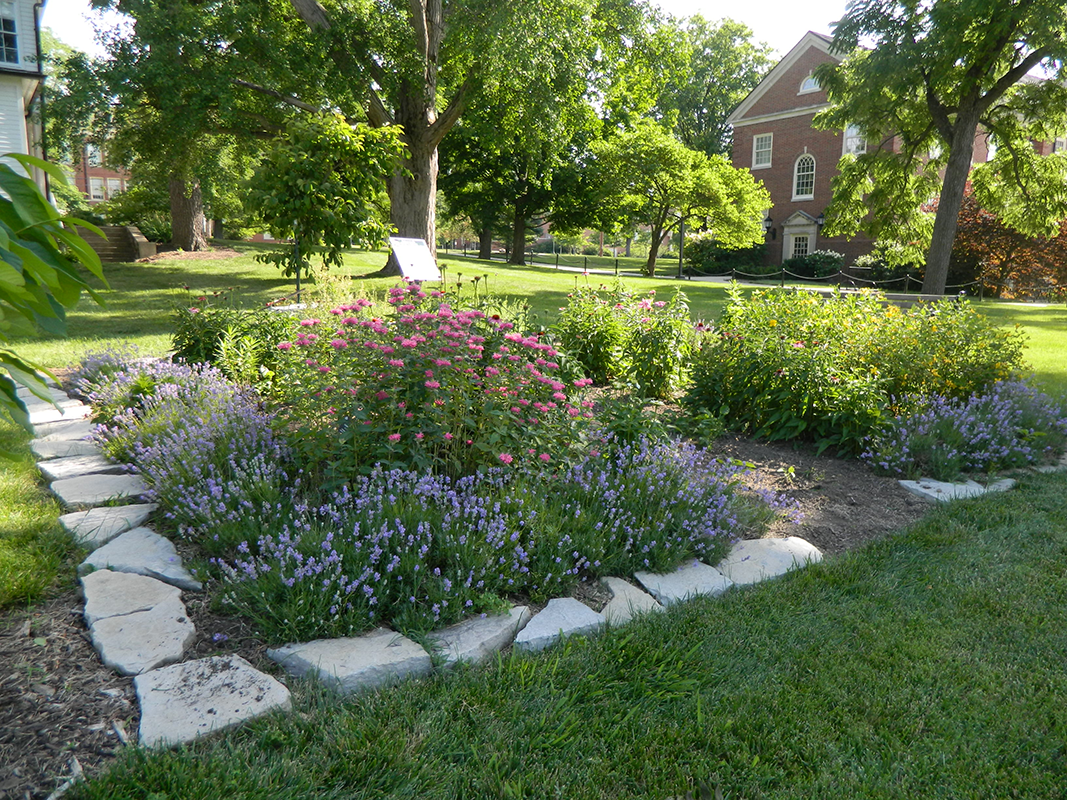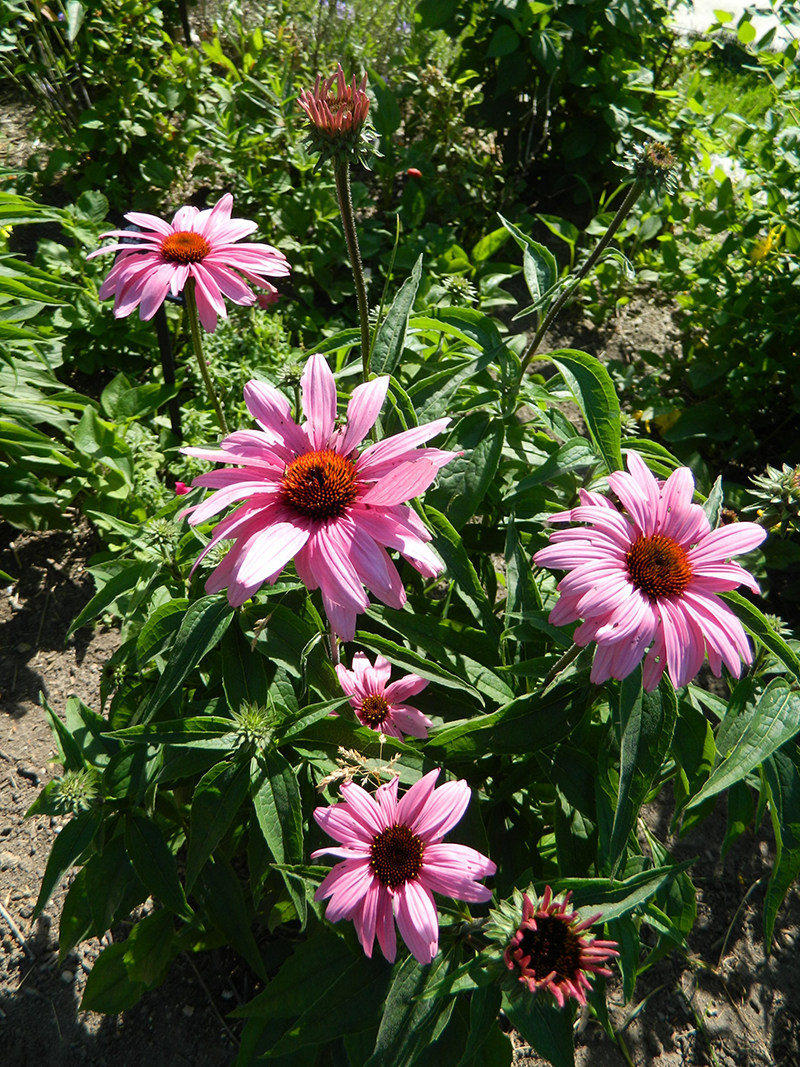 Echinacea purpurea
---
Collection Curiosities
Boot Jack
Note: A fascinating aspect of everyday household objects is how they frequently incorporated contemporary fashion with function. This column shares one of McGuffey House and Museum's many collection curiosities.
It is winter 1833. Oxford's weather is rainy and raw. Professor McGuffey enters through the front door of his new house on Spring Street after a long day teaching and preparing class lectures in Old Main. Careful not to track in mud from the unpaved walks and street, not to mention the ire of Harriet McGuffey, William Holmes McGuffey pauses over a simple yet invaluable household object. It is a bug-like artifact by the fire place known simply as a boot jack. Produced by numerous local foundries during the 19th century, boot jacks were used to easily remove boots hands free. Read more about the boot jack »
From our collections
Unidentified Portraits
? John Insco Williams (1813-1873)
These portraits depict two unknown individuals, believed to have been residents of Richmond, Indiana, during the early 1830s. The female subject, seated in a Queen Anne chair, is distinguished by her Apollo hairstyle, diamond earrings and black dress. The male subject, presumably her husband but possibly a brother, wears a black wool coat, cravat and tie pin. Both subjects may have been painted by John Insco Williams (1813-1873) an itinerant painter in eastern Indiana from 1832-1835.
Information on the unidentified couple is welcome! Contact Steve Gordon
Bishop Sideboard
Mahogany, 1790–1815
This sideboard belonged to the first president of Miami University, Robert Hamilton Bishop. Brought to Oxford by the Bishops in 1824, it stood in the entry hall of the Bishop home until the 1930s.
In 1991, Dr. Jonathan S. Bishop donated the sideboard to Miami University and the McGuffey Museum.
Peter Bruner's top hat and hatbox
Overcoming years of slavery, voluntary service in the Union Army, and decades of manual labor, celebrated Oxford citizen Peter Bruner's life is a story worth telling and re-telling. The Museum collection includes his top hat and hat box.
Octagonal table
It is thought that McGuffey wrote the first four books in the series in this house, very possibly on this table.
1840s pie safe
Poplar with pierced tin panels, 1840–1850
Cupboards of this type were used for food storage. The pierced tin panels allowed air circulation without letting rodents and large insects foul the foodstuffs.