Museum News
Holiday Schedule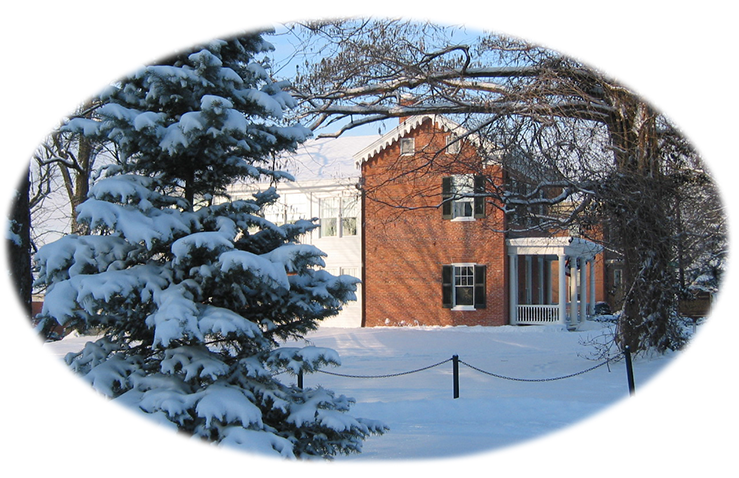 McGuffey Museum is open regular hours on Thursday, December 19, Friday, December 20, and Saturday, December 21.
The Museum is then closed through Friday, December 27, but will be open 1-5 pm on Saturday, December 28.
The museum will be closed January 1, but will resume regular hours for the winter term starting Jan. 2.
Warm holiday wishes from our home to yours!
"Peace on earth, Good will of God toward man, & of all men toward each other."
–W. H. McGuffey to Reverend Nannie Leitch, December 25th, 1869
Hubei University Delegation Visits
Faculty & staff from Hubei University in Wuhan, China have been visiting Miami. Their itinerary included a tour of the museum.
McGuffey Descendants Visit the Family Homestead
Kathy Queitzsch and Ben Ross, descendants of William Holmes and Harriet McGuffey, enjoyed a lengthy visit to the museum. Each year McGuffey House and Museum welcomes several descendants of the McGuffey and Hepburn families.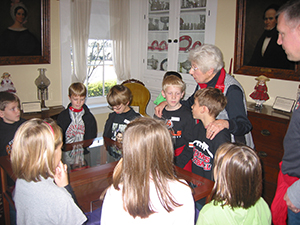 Mark your calendar for historical lectures, tours and programs that are a perfect complement to crisp fall weather on Miami's beautiful campus!

Love and Honor
Steve Lindsey, MU '69, his daughter Shana and her children after a tour of the museum. Steve is a fifth generation Miamian and former Oxford resident.
Congratulations Cindy and Tom!
Cindy and Tom Fledderman are celebrating 40 years of marriage. Cindy, former Administrative Assistant at McGuffey Museum, currently serves as Administrative Assistant in Student Activities at Miami. Her husband Tom is Senior Maintenance Technician, Physical Facilities at Miami.
From our collections
Unidentified Portraits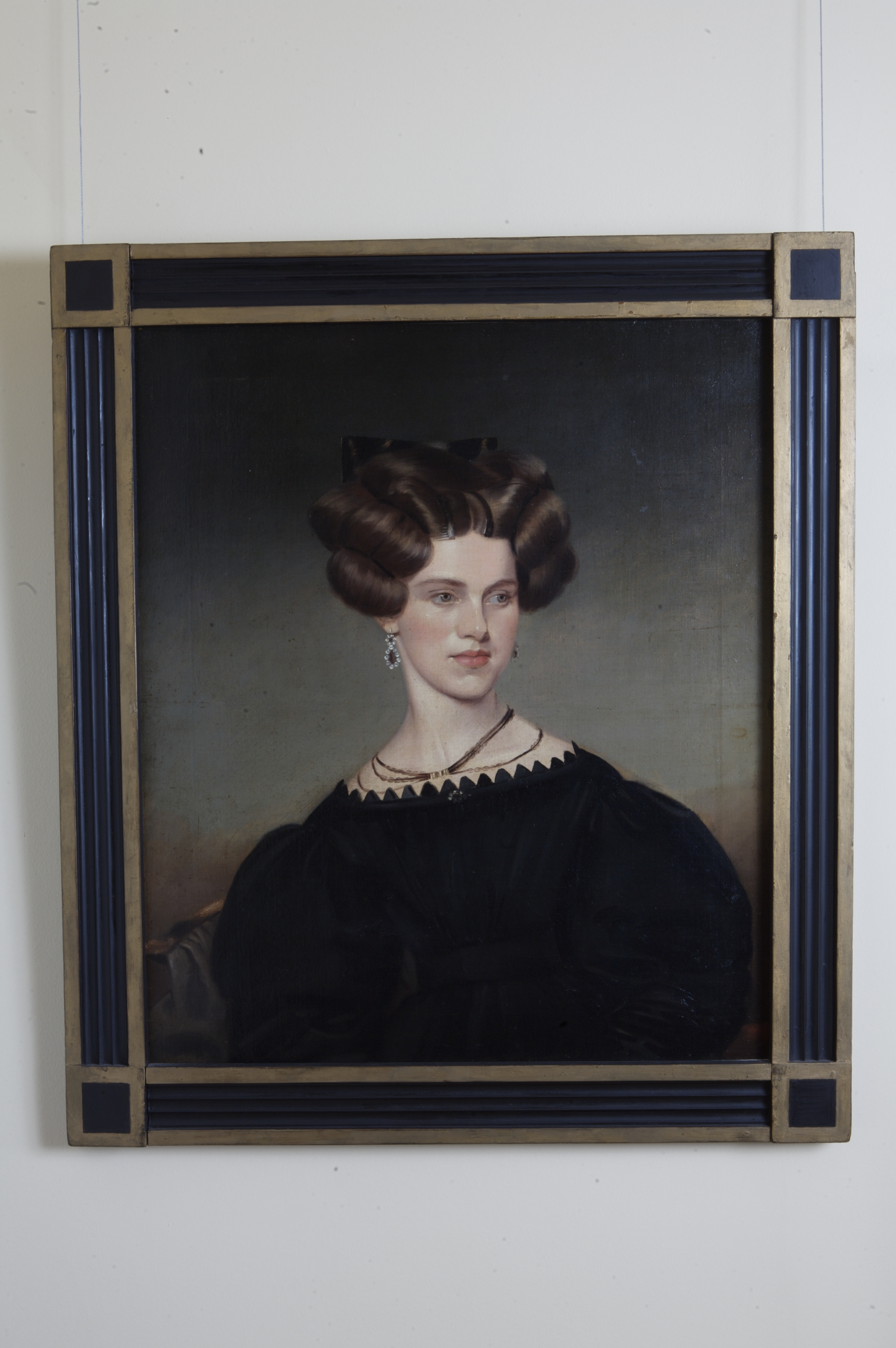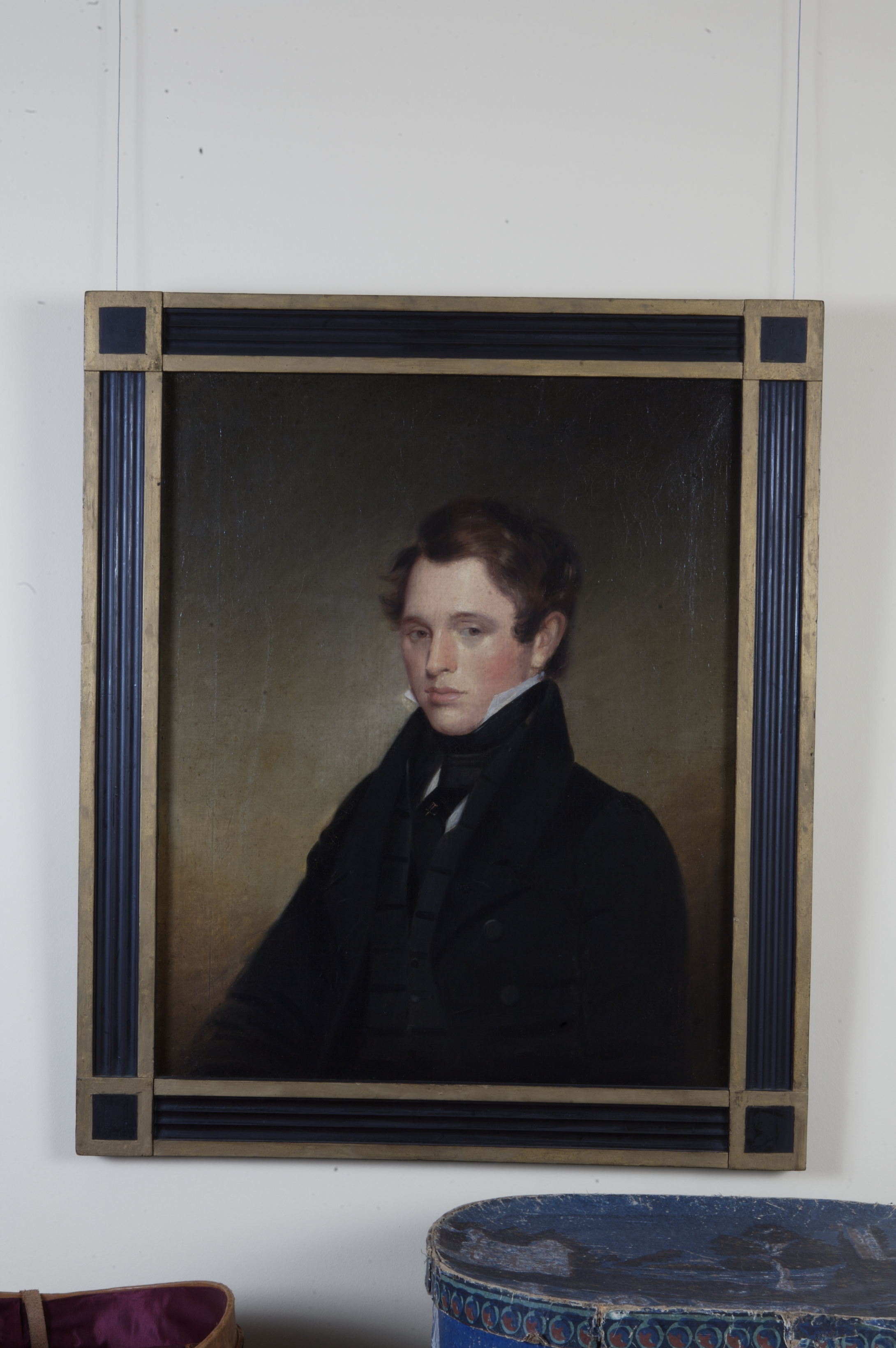 ? John Insco Williams (1813-1873)
These portraits depict two unknown individuals, believed to have been residents of Richmond, Indiana, during the early 1830s. The female subject, seated in a Queen Anne chair, is distinguished by her Apollo hairstyle, diamond earrings and black dress. The male subject, presumably her husband but possibly a brother, wears a black wool coat, cravat and tie pin. Both subjects may have been painted by John Insco Williams (1813-1873) an itinerant painter in eastern Indiana from 1832-1835.
Information on the unidentified couple is welcome! Contact Steve Gordon
Bishop Sideboard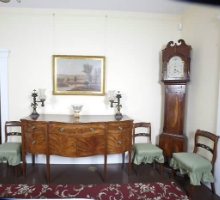 Mahogany, 1790–1815
This sideboard belonged to the first president of Miami University, Robert Hamilton Bishop. Brought to Oxford by the Bishops in 1824, it stood in the entry hall of the Bishop home until the 1930s.
In 1991, Dr. Jonathan S. Bishop donated the sideboard to Miami University and the McGuffey Museum.
Peter Bruner's top hat and hatbox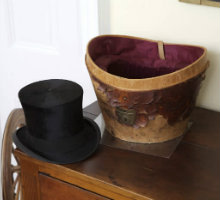 Overcoming years of slavery, voluntary service in the Union Army, and decades of manual labor, celebrated Oxford citizen Peter Bruner's life is a story worth telling and re-telling. The Museum collection includes his top hat and hat box.
Octagonal table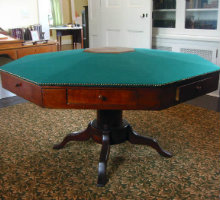 It is thought that McGuffey wrote the first four books in the series in this house, very possibly on this table.
1840s pie safe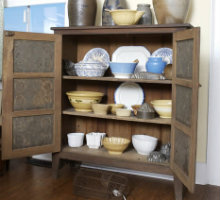 Poplar with pierced tin panels, 1840–1850
Cupboards of this type were used for food storage. The pierced tin panels allowed air circulation without letting rodents and large insects foul the foodstuffs.