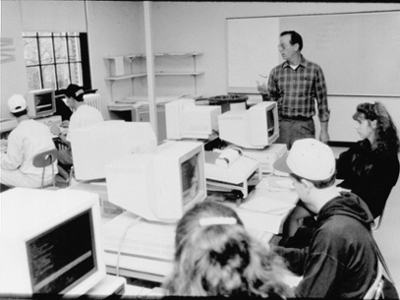 This department was founded in 1963 with the name Systems Analysis Department in the School of Applied Science. At that time the curriculum was focused on operations research, and mathematical modeling. In the 1980's under the leadership of the department chair, Dr. David Haddad, the department added an emphasis in the field of computer science. In 2001 the department changed its name to the Department of Computer Science and Systems Analysis to reflect the two undergraduate bachelor's degrees that were offered. The department changed its minor in systems analysis to a minor in computer science in 2003. In 2005, the computer science program was accredited by the Computing Accreditation Commission of ABET, https://www.abet.org. This program was reaccredited in 2011. In 2009, the department added a major in Software Engineering. In the same time frame, a Systems Analysis track in the Engineering Management degree program was added. The department's name was changed to Computer Science and Software Engineering.
In 1990 the department initiated a master's degree. For the first decade of its existence, this program was a non-thesis retraining program. As a result of criticisms of that program in a program review of the late 1990s this program was redesigned as a Master of Computer Science program that was a thesis-based research degree. In 2011-12, two additional tracks were added to the program: a project-based track and a course-only track. Also a BS-MS combined program was created and the department has recruited several of our own undergraduate students into it.
There have been eight department chairs in the department's history.
Lawrence Prince 1963–1977, 1979–1981
Amit Jain 1977–1979
David Haddad 1982–1989
Al Sanders 1989–1994
Don Byrkett 1994–1999
Doug Troy 1999–2010
James Kiper 2010–2020
Eric Bachmann 2020–present
From its founding in 1963 until 2008, the department's home was Kreger Hall. Currently, the department's offices and laboratories are in Benton Hall. The building was completely remodeled to include office space, well-equipped classrooms, and a set of similarly well-equipped computer laboratories.