Muralism and Campus Community: The Life of the Fulwider Mural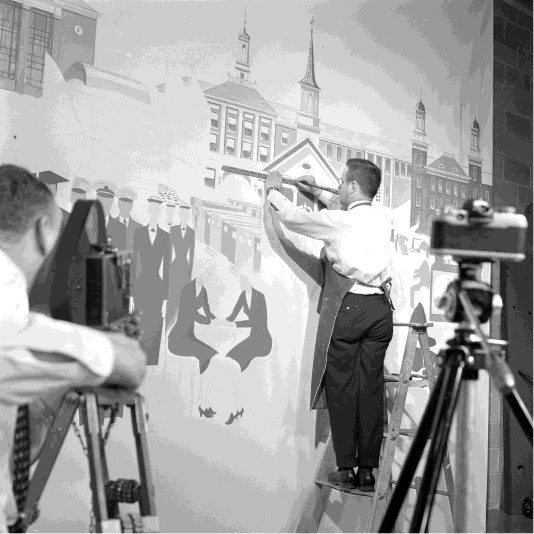 Professor Edwin Fulwider completing the Miami Heritage Mural in 1963. Miami University Archives AVN-1176-001 https://digital.lib.miamioh.edu/digital/collection/mphoto/id/10047/rec/9
Muralism and Campus Community: The Life of the Fulwider Mural
Annie Dell'Aria
Department of Art
This project encourages student study and reflection on a mural painted by Miami professor Edwin L. Fulwider for the "M-Room" (now the Heritage Room) in the Shriver University Center. Installed in 1963, the mural features a sweeping narrative of Miami history–and Miami lore–told through flat figural forms. Students will study Fulwider's career and connection to Regionalism and mural painting before diving into primary sources relevant to the specific commission.
This project involves multiple steps throughout the semester that will culminate in an online timeline of the mural's life that examines the artist's source material and process, how the mural was framed by students and administration, and why it was removed in 2003. Specifically, the class will think critically muralism's supposed claims to public and shared histories and identities. The project will conclude with proposals for a new mural.
Prototype Assignment, written for Art 420G: Public Art
Understanding the mural's content and completion
This stage of the project will detail the work's commissioning, the historical, literary, and visual inspirations of the mural, and the practical process of executing and installing a painting of this size. Students could be broken up into three groups and given the following homework assignments.
Part I: Homework
Look closely at the mural and watch

 

Biography of a University. Write a blog post analyzing the work, asking yourself the following questions: How does the composition both narrate and condense Miami history? What elements are fabricated? What is left out? How does this mural compare with others we have studied from the New Deal era?
Sift through the photographs of Fulwider in process. What can you deduce about the process of producing this mural? Attempt to place the photographs in order and write a blog post on the process of producing a work of this size.
Read the linked

 

Miami Student

 

articles, and locate at least two other relevant sources in the digital database. How is the mural discussed in the paper? What is emphasized? What is left out? How is the campus community and leadership engaged in the mural's unveiling? Write a blog post summarizing your findings, citing key elements.
Part II: Discussion and Collaboration
Read over your classmates' blog posts before coming to class. In class we will meet with our groups to share our findings and create a clear report on your primary source material to present to the class. Be prepared to answer questions, draw connections to other groups' ideas, and work on what needs to be included in the broader timeline.
Learning Outcomes:
Utilize primary source material to create a coherent historical narrative
Read between the lines to mine the archive for gaps and questions
Connect local history to broader art historical trends and critical questions in public art
Collaborate with classmates through delegation and discussion
Archival Sources:
For issues of the Miami Student, you must download the entire PDF and then scan for the relevant article. Take notice of what else is getting coverage and how the paper gives you a feel for campus in the early 1960s.
Reproductions of the mural itself for visual analysis, possible viewing in storage.
Film: "Biography of a University" (also mentioned as "The Miami Years" in

 

Miami Student), 1963-65, VHS in Box 41, film reels in boxes 42 and 43. [hopefully to be digitized soon]
Photographs of Fulwider in process from digital archives. Links
"Professor Holds Preview of New Mural for Additional Center Room"

 

Miami Student

 

November 30, 1962, p. 6. Link.
"Res Mural Shows College Scenes"

 

Miami Student

 

May 21, 1963, p. 3. Link.
"Formal Mural Dedication Scheduled for University Center Wing"

 

Miami Student

 

October 25, 1963, p. 4. Link.
Student-led searches in digital archives [Class to brainstorm search words and terms]
Research & Teaching Process
This project uses local history and art to connect to major concepts in class. Throughout our study of public art, this class examines questions of muralism and public sculpture in relationship to shared communal identity. How does art attempt to speak for a group? When is this uplifting? When is it exclusionary? We also examine many of the practical challenges to realizing public art: from funding and fabrication to the idiosyncrasies of audience response to the controversies that can lead to its removal. This project touches upon all of these issues while connecting back to the places students inhabit in their everyday lives.
Furthermore, the process of using archival and historical documents in this project trains students in more advanced research methods but with the guidance and structure of a class project. Ideally, this would prepare them for more wholly self-direct research later in their studies.
Relevant Literature and Previous Projects
Dell'Aria, Annie. "Mapping Public Art" in

 

Teachable Monuments: Using Public Art to Spark Dialogue and Confront Controversies. Eds. Jennifer Wingate and Sierra Rooney. Bloomsbury Academic, 2021. 39-50.
Alderman, Derek H. and Rose-Redwood Reuben. "The classroom as a 'toponymic workspace': towards a critical pedagogy of campus place renaming."

 

Journal of Geography in Higher Education

 

44 issue 2 (2020): 121-141. https://doi.org/10.1080/03098265.2019.1695108
Davies Hoffman, Kimberly and Alexis Clifton.

 

Open Pedagogy Approaches: Faculty, Library, and Student Collaborations. Milne Publishing at SUNY Geneseo, 2020. https://milnepublishing.geneseo.edu/openpedagogyapproaches/ (Creative Commons)
Goodlad, Karen and Anne E. Leonard. "Place-Based Learning across the Disciplines: A Living Laboratory Approach to Pedagogy."

 

InSight: A Journal of Scholarly Teaching

 

13 (2018): 150-164. https://academicworks.cuny.edu/ny_pubs/313/
La paperson.

 

A Third University Is Possible. University of Minnesota Press, 2017. Open Access via https://manifold.umn.edu/projects/a-third-university-is-possible
Zebracki, Martin, Ann Sumner, and Elaine Speight. "(Re)Making Public Campus Art: Connecting the University, Publics, and the City."

 

Public Art Dialogue

 

7 Issue 1 (2017): 6- 43. https://doi.org/10.1080/21502552.2017.1288537
The study of this mural could be interesting for a number of classes or discussion topics, including:
History of universities or of Miami
Place making and community building
Arts Management
Studio art: muralism or professional practice
Controversy and public opinion