2020 Diversity and Inclusion Conference
Friday, October 9, 2020
Virtual Conference Schedule, Session Descriptions & Recordings

Contact AcrossTheDivide@MiamiOH.edu with any questions.
8:50 AM Welcome and Opening Remarks (ends 9:05)
This session is presented by Dr. Anthony James, Interim Vice President for Institutional Diversity and Dr. Ron Scott, Adviser for Institutional Diversity and Inclusion and Inclusion at Miami University.
9:10 AM Breakout Sessions (ends 10:25)
(1) The First Amendment at Public Institutions
Universities are communities that must balance the requirements of free speech with issues of civility, respect and human dignity. Freedom of expression is not an absolute concept and often difficult to administer on a college campus. This session will address the First Amendment and campus free speech rights of faculty, staff and students. In addition, the topics of discussion will include protected speech, hate speech, harassment and academic freedom.
This session is presented by Robin Parker, General Counsel and Dr. Rodney Coates Professor of Critical Race and Ethnic Studies in Global and Intercultural Studies at Miami University.
(2) Breaking Down the Generational Divide: Building Trust Across the Ages
The idea behind generational names like "Baby Boomer" and "Millennials" is that people born within certain year groups share many similarities. While this might be true for some, such labeling has led to inaccurate stereotypes and assumptions that do more to divide than unite. In this session, we will delve a bit deeper into the notion of generations and age-based stereotypes. We will also explore strategies for successful cross-generational collaborations and trust building both within and outside of the workplace.
This session is presented by Dr. Kate de Medeiros, O'Toole Family Professor, Department of Sociology & Gerontology Affiliate, Women's, Gender, and Sexuality Studies at Miami University.
(3) Real Actionable Conversation on Equality (RACE)
This facilitated question and answer session will focus on Race from the perspective of a diversity, equity, and inclusion practitioner, Dr. Bennyce Hamilton. Dr. Hamilton views race within the context of diversity, equity, and inclusion. This candid conversation will answer some difficult and challenging questions while serving as a means of opening doors to future conversations.
This session is presented by Dr. Bennyce Hamilton, Director of Diversity and Multicultural Services and Deputy Title IX Coordinator for Miami University's Regional campuses at Miami University.
10:35AM Breakout Sessions (ends 11:50)
(1) Get to Know Miami Affinity Groups
In an effort to help members of our community feel included, the Office of Institutional Diversity and Inclusion would like to encourage you to seek out individuals and groups existing at our university to find your community. In this session, a representative from several of Miami's affinity groups will promote and invite you to be part of their respective group. Our community is quite sizable. It can be difficult to feel included and welcomed without having identified a core group to connect with in such a large setting. To that end, we invite you to be a part of these welcoming spaces that are looking for engaged membership.
This session is presented by representatives from the Classified Personnel Advisory Council (CPAC), Unclassified Personnel Advisory Council (UPAC), Associated Student Government (ASG), Center for Student Diversity and Inclusion (CDSI), Asian and Asian-American Faculty & Staff Association (AAA-FSA), Association of Black Faculty & Staff (ABFAS), Association of Latino/a Faculty & Staff (ALFAS), and International Faculty and Staff Association.
(2) Data Ethics and Algorithmic Bias
Using data ethically is of major concern to any university or organization. Coupled with bias in algorithms, major problems can arise. Unconscious bias is built into algorithms all the time - consider university admittance algorithms. From multiple different perspectives, this session will talk through how companies and universities have incorporated data ethics into their diversity and inclusion efforts.
This session is presented by Sandy Steiger, Director of the Center for Analytics and Data Science at Miami University.
(3) Rethinking Disability: Creating a Culture of Accessibility
Dismantling dominant cultural narratives of deaf and disabled people in our various spheres of influence is vital. Viewing disability as alien, terrifying, tragic, and that it transforms life in overwhelmingly negative ways is routine. As disabled student populations continue to rise, we have a responsibility to understand beyond basic viewpoints disability, accessibility, and inclusion to support and celebrate this population. In order to create a campus culture that cares, and values access, active approaches are necessary. During this session, folks will engage in an interactive discussion on various strategies used to reframe the disability narrative and envision disability and accessibility training beyond etiquette. Disability has a right to be valued on campus and understanding where all our voices can influence culture is just the beginning.
This session is presented by Dan Darkow, M.S., Miller Center for Student Disability Services Coordinator at Miami University.
12:00PM Keynote Presentation with Joe Madison (ends 1:00)
Session recoding not available at this time. Please check back later. 
"A Movement is not a Moment" Rise, Educate, Advocate, and Cooperate - The Challenge of Change.  Scroll down to learn more about Joe Madison.
1:10PM Breakout Sessions (ends 2:25)
(1) Faith-Zone 101: Advancing Religious Literacy at Miami University
By participating in this break-out session participants will be able to: Define religious literacy; Explain three concrete areas where religious, spiritual, secular diversity affects their work or role at Miami University; List and explain the resources available through Miami's Multifaith Engagement Transformative Action Collective; List religious, spiritual, secular student groups on campus and explain their relationships to offices and centers across campus.
This session is presented by Simran Kaur-Colbert, M.A., Graduate Student and Co-Chair of Miami's META Collective.
(2) Inclusive Classrooms & Departments: Evidence-Based Strategies for Success
Passcode to view this session: TvT$51RL
Diversity at Miami is both an opportunity and a challenge. The challenge: Faculty, staff and students experience conflict and tension related to the different views and lived experiences represented on campus. The opportunity: By increasing cognitive empathy, this conflict and tension can be leveraged to enhance teaching and learning for everyone. In this workshop you will gain strategies and tips to implement three highly effective, but easy-to-implement strategies for creating inclusive learning environments where everyone feels a sense of belonging and community.
This session is presented by the Center for American and World Cultures and CTE's Faculty Learning Community on Intergroup Dialogue for Faculty, Staff, and Administrators: Tarah Trueblood, Breanna Robinson, Gillian Oakenful, Bennyce Hamilton, and April Smith.
(3) Introducing the New Interim Vice President of Institutional Diversity and Inclusion at Miami
As a result of Dr. Ron Scott's retirement announcement in early September, Dr. Anthony James was appointed by President Crawford as Interim Vice President for Institutional Diversity at Miami University. Who is Dr. Anthony James? What is his vision for the future of diversity, inclusion and equity at Miami University? What role will Ron Scott continue to play in diversity at Miami? During this session, you will find out the answers to these questions and more.
This session is presented by Dr. Anthony James, Interim Vice President of Institutional Diversity and Inclusion and Associate Professor in Family Science and Social Work at Miami University.
2:35PM Diversity and Inclusion Awards Ceremony (ends 3:00)
This session is presented by Dr. Anthony James, Interim Vice President for Institutional Diversity and Dr. Ron Scott, Adviser for Institutional Diversity and Inclusion and Inclusion at Miami University.
*Job Enrichment credit (5 points) is available to eligible employees participating in the Job Enrichment Program. To request credit, you must attend the live online conference on October 9th and submit the JEP Learning Opportunity Form. Please note: JEP credit is not available when viewing the recorded sessions at a later time.*
2020 Keynote Presentation with Joe Madison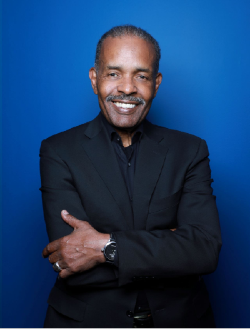 Madison has built a legacy of using his voice for those without one. His radio program, "The Joe Madison Show," airs nationally weekday mornings on SiriusXM's Urban View channel 126. During his four-hour program, Madison, also known as "The Black Eagle," talks about political and social issues, brings attention to social injustices around the world, and challenges himself and his listeners daily to "do something about it."
Named one of Talkers magazine's 100 Most Important Talk Radio Hosts nine times, often in the top 10, Madison has interviewed world leaders, including President Barack Obama, among other notable guests.
A sociology major at Washington University, he was an all-conference running back on the football team, a baritone soloist in the university choir and a disc jockey at the campus radio station. He earned a bachelor's degree in 1971, the first in his family to do so.
He has not forgotten the opportunities he received as a student and continues to give back to his alma mater. A member of the William Greenleaf Eliot Society, he has generously supported scholarships, athletics and the Gephardt Institute for Civic and Community Engagement. For the past two decades, he has interviewed potential students for the admissions office.
He has brought international attention to human rights abuses in southern Sudan and helped free 7,000 Sudanese being held as slaves. In February 2015, he set a Guinness World Record at 52 hours for the longest on-air broadcast, raising more than $250,000 for the Smithsonian's National Museum of African American History and Culture. In June 2015, he made history again by broadcasting live from Cuba, becoming the first American radio host to do so in more than 50 years.