What Our Alumni Say
Dustin Woods'09
Assistant Strength & Conditioning Coach,
Philadelphia Eagles

"Miami breeds successful people. If you just look at the alumni list of the 18 of the last 9... and not only that, but a lot of the students come from successful families. They came here with an attitude and an expectation of being successful. And that's their only thought, their only attitude. That's contagious. So when you associate yourself with those kinds of people and those personalities, it just rubs off."
Charles Zubrod'14
Senior Account Executive, Business Development
Chicago Cubs
"When I did my practicum at Miami, I did a strength and conditioning internship that opened me to a whole new world about how much goes on behind the scenes to make sure that what you see on TV, or on the field, is the best product possible. That experience, gave me a greater appreciation for the sports industry."
Sarah Schlabig'19
CLE Assistant,
Jones Day
"The Sport Leadership and Management (SLAM) program at Miami is different than any I had considered. Not only does it combine the concepts of business, leadership, and sport, but it goes even further. Through the program I was taught to critically think about the socioeconomic, ethics, and psychophysical aspects of every sport, not just the major American Sports. SLAM gave me some of my best friends, greatest mentors, and best experiences."
Brianna Lipscomb'15
Assistant Athletic Director/Event Management,
University of Pittsburgh
"SLAM is a great mix of the business aspect of sport as well as the culture sport creates. It helped me develop the necessary leadership skills I'll need to be successful in any sport industry career. SLAM was perfect for me and I'm so thankful Miami has knowledgeable professors who helped guide me in my education and on to my career path."
Grace Leonard'18
Manager, Operations
Major League Soccer
"The SLAM program taught me to confidently take initiative. It's by way of my professors' encouragement to share ideas and be creative in class, that I'm unafraid to do so at my first job in professional sports."
Dylan Hammon'18
Partner Services Manager,
The IRONMAN Group
"The SLAM program was instrumental in identifying the career path I wanted to take post-graduation. The insight I received from the SLAM faculty allowed me to focus on a broad range of careers in the sport industry and determine what the best fit was for me."
Julia Harrelson'18
J.D., Assistant Staff Judge Advocate
United States Air Force
"As a student in the graduate program, the professors created an environment that encouraged us to think critically and engage with challenging material. This pedagogy has proven to be exceptionally helpful, as my professors prepared me well for the rigor of the law school curriculum. I would not have had as much success during my first semester of law school had it not been for the professors in the MS Sport Leadership program and their unwavering commitment to my education."
Billy Low
Assistant Professor,
Heriot-Watt University (UK)
"I learned to think about sports in more nuanced ways and to appreciate the importance of scientific research in applied sport psychology. Having now come across many others pursuing careers consulting with athletes, I can tell that my training at Miami provided a rare and much-needed balance between applied practice and research."
Christopher Hill, PhD
Associate Professor,
California State University, San Bernardino
"The Sport Leadership MS degree is great at preparing students for future careers in higher education. I learned to be a both a better student and a better researcher through my experience in the classroom, in lab settings, and in my research experiences. I left the program feeling very prepared for my future PhD studies and the lessons that I learned at Miami University I still use in my research and teaching today as an Assistant Professor."
Blaire Mikesell'18
Associate,
Dinsmore & Shohl, LLP
"As a graduate student in the Sport Leadership program at Miami, I learned about the intersection of sport, culture, and business, and that that intersection is where my interest lies. Through my MS Sport Leadership, I worked for a year in NCAA Athletics at Purdue University, and am now a first year law student at Indiana University in Bloomington. I plan to use my MS and JD to work in sport law advocating and working for athletes."
Emily Simanskis'2019
Social Media Coordinator,
Chicago Blackhawks
"My SLAM professors and classes encouraged me to embrace my experiences and gave me up-to-date information that has allowed me to brand myself as someone with new ideas and energy. Because of the variety of classes I took, I am able to contribute to conversations about almost everything -- from the economics of sold-out stadiums to the analysis of players' community involvement with youth organizations. The perspective that I gained from the SLAM department is evident in my day-to-day work."
Kathryn Dolesh
Assistant Soccer Coach,
Ball State University
"My MS in Sport Leadership helped inspire my career in coaching and I look back on it quite often to pull from what I learned and apply it to collegiate soccer. While I was in the sport leadership program I focused on researching and learning more about mental skill training, the coach athlete relationship, leadership and youth development in sport."
Mark Luoma
Business Operations Coordinator
USF Athletics
"Miami's SLAM program excels because its outstanding professors care for students on an individual level while integrating them into Miami's established and growing network with a variety of internship, job, and career opportunities. The passionate faculty are very knowledgeable and are always eager to help students reach their goals both inside and outside of the classroom. With plenty of resources available, SLAM students will find tremendous opportunities to gain real-world experience in diverse settings both on and off campus."
Moe Machida-Kosuga, PhD
Assistant Professor,
Osaka University of Health and Sports Sciences
"The MS SLAM program at Miami taught me what it takes to be a researcher, teacher, and practitioner in sport and exercise psychology"
The Sport Leadership & Management (SLAM) program will offer a Sport Analytics Summer Academy in the Summer of 2023. The Sport Analytics Summer Academy (SASA) is a four-week, on campus summer program designed to engage students, sport business leaders, and community members with an understanding of how sport organizations analyze, interpret, and communicate data efficiently and effectively in sport.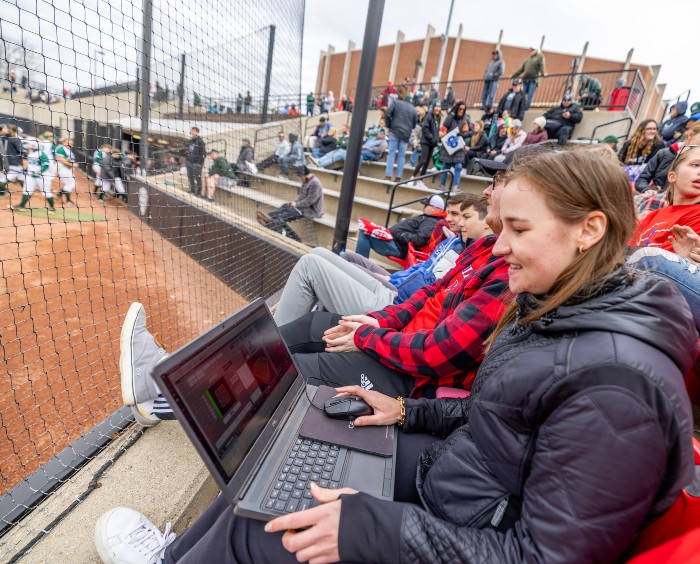 Major Insight Episode 33 The Major League Potential of Connecting Business and Sport Analytics
Data is completely transforming the way we watch and play sports, and Caroline Brega is interested in how this "analytics revolution" connects her knowledge of business and her passion for sports.
Outside the classroom, Caroline has worked with the Columbus Blue Jackets as part of Miami University's inaugural Sport Analytics Summer Academy, and she was selected by Major League Baseball to be a part of its Society for American Baseball Research. On this episode, she also talks about how her penchant for problem-solving helped provide a pathway forward.