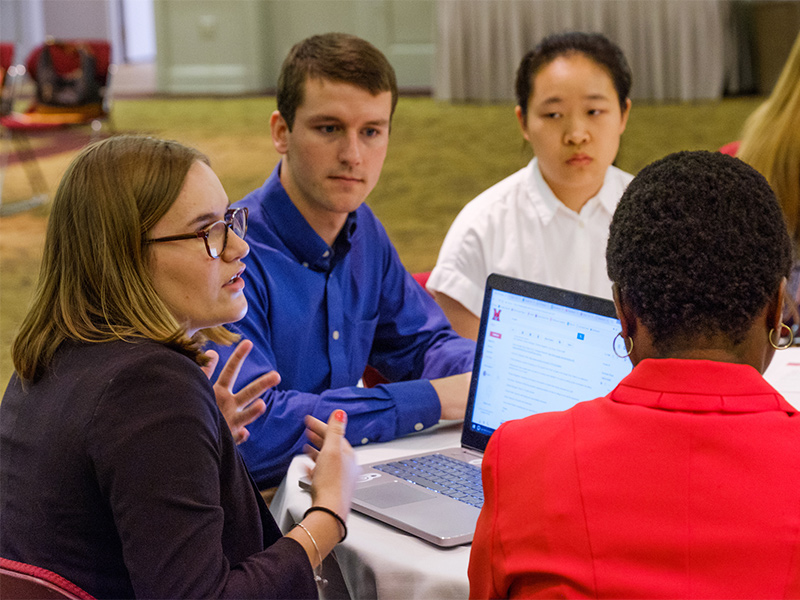 Undergraduate Certificates and Endorsements
Certificates
The Child Life Certificate includes the coursework required by the Association of Child Life Professionals for eligibility to complete official child life internships and take the Child Life Professional Certification Exam.
Certified Child Life Specialists often work in pediatric hospitals but may also work in other spaces (e.g., courtrooms, funeral homes or bereavement services) where children may experience illness-related trauma.
The field of Child Life is evidence-based, providing interventions (e.g., therapeutic play, education, self-care, stress reduction, distraction, etc) with children and families that are developmentally appropriate.
As important members of a child's care team, Child Life Specialists serve an important role in improving the illness-related experiences of both patients and their families.
In this innovative program, the community becomes the curriculum. The Fostering Just Communities Certificate is an interdisciplinary program designed to encourage and facilitate place-based education in an urban setting, with an emphasis on issues of social justice.
Open to all majors, students enrolled in the 12-credit hour FJC Certificate will collaborate with community members in a project, and place-based approach to learning.
The Global Readiness Certificate (GRC) is designed for students of all majors who wish to position themselves strategically for employment in today's increasingly competitive, diverse, and global workforce.
The certificate combines Miami coursework, co-curricular activities, and community involvement focused on global readiness. The courses and experiences in this certificate program will provide students with the knowledge, awareness, and skills necessary for global and intercultural communication and teamwork.
Upon completion of the certificate, students will:
Acquire interdisciplinary global knowledge.
Gain intercultural competencies.
Develop culturally sensitive mindsets necessary to live, work and interact with diverse individuals in our local and global communities.
Demand for healthcare services are on the rise. As a result, the demand for medical equipment, medical supplies, and pharmaceuticals has also increased.
This certificate program is designed to prepare students for careers in healthcare sales, and includes both curricular and co-curricular experiences.
Certificate Information
13 credit hours
Open to all university students
A minimum 2.00 GPA is required for all courses in the certificate
Does not satisfy the thematic sequence requirement
For more information, see the 
Miami Bulletin
.
The ODL certificate program is for students interested in pursuing professional or leisure opportunities leading youth or adult learners in outdoor sport or adventure learning excursions or activities.
The program will prepare its graduates to assume outdoor leadership roles through classroom and experiential coursework focused on leadership theory and skills appropriate for outdoor educational contexts, technical and interpersonal skills for outdoor activity/sport leadership, and environmental science and sustainability practices.
Blended, online, and remote learning environments are now becoming prevalent in K12 learning.
Blended and remote learning enables teachers to extend and expand the classroom and allow for more personalized learning.
The purpose of the Remote Teaching for K12 Certificate is to prepare K12 undergraduate students in teacher preparation programs with the skills, pedagogy, methods, and practice for teaching in remote learning environments.
This Sport Analytics certificate is designed for students who are interested in pursuing a path in the sport analytics field along with their chosen major.
Students selecting this certificate should have an interest in studying and applying database management, regression analysis, and data visualization in the sport-based environment.
This certificate is applicable to those seeking careers in the fields of:
sport management
coaching
business analytics
performance analysis
Teaching Endorsements
Progress through a sequence of 5 computer science courses (i.e., CSE coursework) and a teaching methods course in your area of study. For example, future elementary school teachers completing the CS Endorsement will enroll in EDT 318P.
Each CSE course includes a summative assessment point at the end of the course (referred to as SA1--SA5). These assessments are a mix of project work and timed in-class examinations.
Each teaching methods course includes a lesson planning component that requires all teacher candidates to plan and teach computer science lessons/units using effective and engaging practices and methodologies.
This 6-8 hour endorsement includes courses at the undergraduate and graduate levels to enable candidates who hold an Ohio Middle Childhood license to teach one or two additional core subjects in Grades 4-6.
The MCE Generalist Endorsement is an add-on (i.e., it can only be obtained with the MCE license) that allows a teacher to teach grades 4-6 in one or two additional content areas not on the original teaching license.
Candidates may take these courses without seeking a degree (apply for continuing non-degree seeking student status) or may choose to apply to one of the M.Ed. degrees in the Teacher Education Department or elsewhere in the College of Education, Health, and Society. 
This 12-hour endorsement provides undergraduate teacher licensure candidates the knowledge, skills, and experiences to meet the challenges of English learners in their own classrooms or to be employed as an ESOL (English for Speakers of Other Languages) teacher.
Open to all teacher licensure majors.