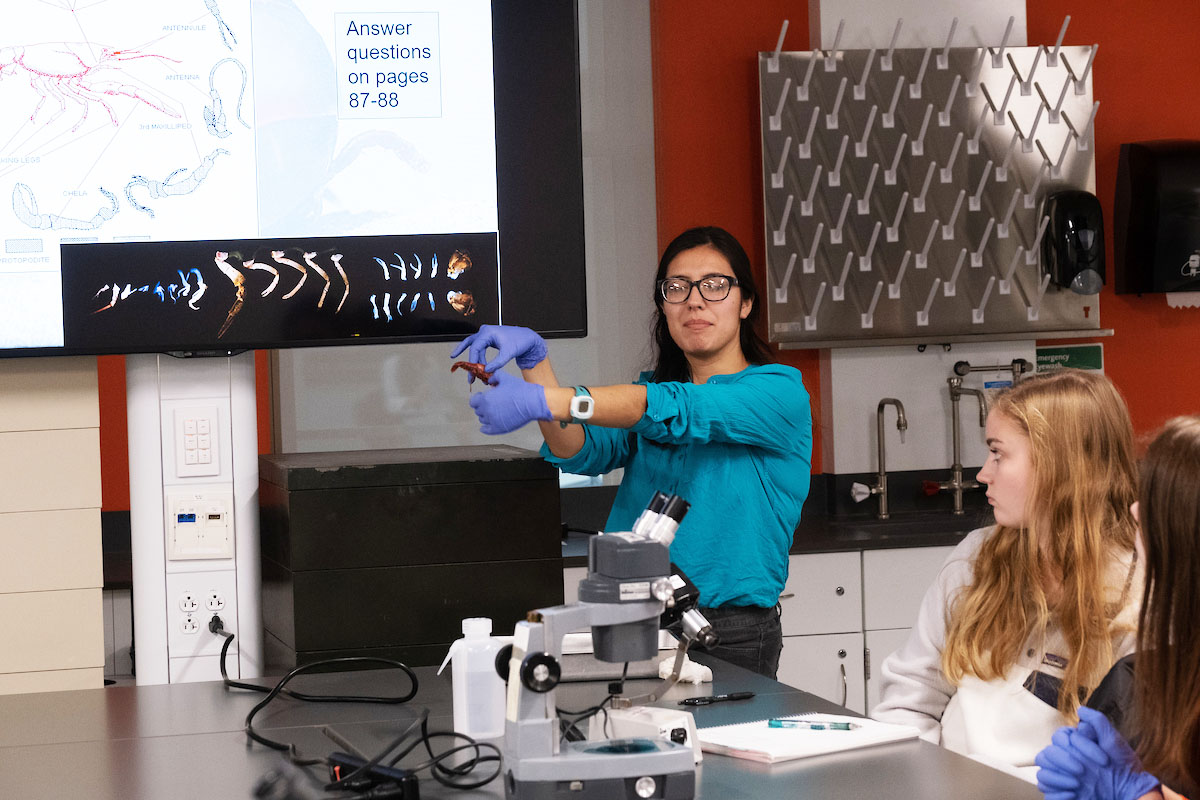 Integrated Science Major
Advantages of Miami University's Integrated Science Programs
The program is designed for you to complete in 4 years. You will have your teaching license at the end of your program and will be prepared to immediately enter the field of education.
You will receive the personal attention that Miami is known for through the benefit of small classes, and the opportunity to interact with faculty inside and outside of the classroom.
An intense, practice-based curriculum where you gain extensive field observations and 16-weeks of practice-based learning in student teaching.
A strong emphasis on content and the opportunity to double major – most science education majors also complete a second major in science content.
Preparation to teach all types of learners in your classroom. Additional opportunities are available to get an even more in-depth understanding--including a

 

TELLs Teaching English Language Learners certificate and a minor in

 

Special Education.
Technology

 

integration not only enhances our students' learning experiences on campus, but also provides opportunities to implement strategies in the field classrooms. TeachLive, etutoring, and Project Backpack are some of the innovative technology tools our students use.
An award-winning

 

Urban Cohort program that allows you to specialize in teaching children and youth in urban school settings.
Our program is not only focused on education in the United States, but also provides numerous international opportunities that inspire global engagement.
Program Admission and Licensure Information
Students declare a pre-major in a teacher education program at the time of university admission or as soon as possible. After meeting the criteria of acceptance, students apply for a cohort—a group of students selected to experience methods courses and field experiences together.
Miami's Department of Teaching, Curriculum, and Educational Inquiry is fully accredited by the Ohio Department of Education and the Council for the Accreditation of Educator Preparation. While Miami participates in licensure of teachers through an interstate agreement, if you are planning to teach in another state, you should contact that state's certification office so you can apply for certification or licensure in that state.
Scholarships
Miami University's Robert Noyce Scholarship Program seeks to encourage talented science, engineering, and mathematics majors and professionals to become secondary mathematics and science teachers.
Student Learning Outcomes
With an Integrated Science Major, students will:
Demonstrate safe practice in the 7-12 science classroom.
Create an innovative science unit plan surrounding exemplary science teaching practices, including inquiry, making thinking visible practices, and other key models of science education.
Apply their continued content knowledge and pedagogical knowledge by participating in university-wide seminars and preparing detailed reflections on how the seminars will relate to their future science teaching.
Apply and integrate their knowledge of exemplary science teaching practices during their teaching experiences in the field experiences.
Choosing Science Education
Tommy Smith
Chemistry Education major
"I always loved science and developed a passion for chemistry when I took my first chemistry class in high school. From that point on, I knew I wanted my future career to be in chemistry, but I wasn't sure what that career would be...

"While I was still deciding what chemistry path I was going to take, I began working with Dr. Yezierski as an undergraduate researcher in chemistry education, and took two education classes; both decisions came to shape my future in unimaginable ways.
"Through working with amazing teachers and having incredible experiences at Miami University, I realized my major in chemistry education opened a door for me to inspire kids and show them the wonders, intricacies, and the beauty of the world around us. For me, science education isn't about teaching facts: it's about giving students the opportunity to rediscover and question the world around them, to gaze upon nature in ways they could have never imagined, and most importantly, to unlock the curiosity and wonder that drives everything from the inspiration of the greatest minds, to the mystified and awestruck children who want nothing more than to ask 'why.'
"In addition to my major, I was a member of the Miami University Rowing Club. Although the primary focus of the club is on rowing, they also develop successful student-athletes who give back to the university community through service and leadership."
Contact Us
Department of Teaching, Curriculum, and Educational Inquiry
401 McGuffey Hall
Oxford, OH 45056