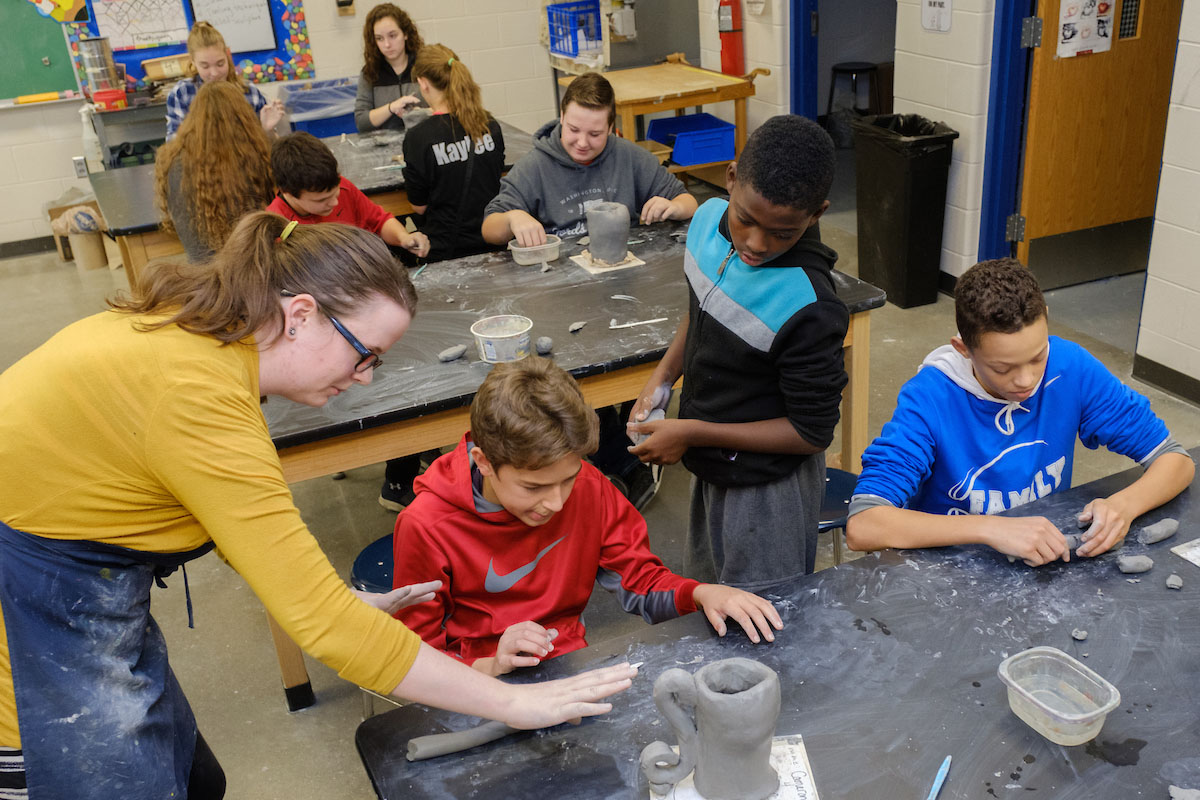 Middle Childhood Education Major
For nearly a century, Miami University has been offering programs to prepare teachers for the classroom. Today's preparation focuses on meeting the needs of contemporary schools, families, and communities. Our teacher education programs are widely recognized for their quality, and teacher education ranks among the top 10 programs at Miami for the number of majors.
Middle Childhood licensure programs have been designed to meet the growing needs of the late-elementary and pre-high school students (grades 4-9). The middle school philosophy promotes the transition from the self-contained classroom typical of the elementary grades to the content specialization of the high school curriculum. As a Middle Childhood Education major, you will specialize in two of four areas-language arts, mathematics, science, or social studies, and will be licensed to teach reading within your grade band.
The Middle Childhood Education program gives you a variety of practical classroom experiences throughout your program. As soon as your first year, you will get a feel for teaching by spending time in school classrooms. Your second year contains a block of courses in which significant time is spent in two different classroom settings and in the third year of the program, you will take a block of methodology of teaching classes in which you spend a quarter of the term in schools, working directly with teachers. Finally, during your fourth year, you will spend an entire semesters as a student teacher (or intern) in the schools and will be regularly visited by a Miami student-teaching supervisor for consultation and guidance.
Teaching requires such knowledge as the characteristics of learners, social structures of schools, families and communities, assessment techniques, classroom practices, law, statistics, electronic support systems, curriculum, and resources. In the professional education sequence, you investigate this knowledge and combine it with extensive experiences in a variety of schools. As you progress through the professional education sequence, you spend increasing time with experienced teachers in a variety of urban, suburban, and rural schools. Your experiences will range from helping individual students in the schools to being responsible for an entire classroom of students.
Miami's Department of Teaching, Curriculum, and Educational Inquiry is fully accredited by the Ohio Department of Education and the Council for the Accreditation of Educator Preparation. While Miami participates in licensure of teachers through an interstate agreement, if you are planning to teach in another state, you should contact that state's certification office so you can apply for certification or licensure in that state.
Student Learning Outcomes
Candidates will understand, apply and reflect on the major concepts, principles, theories,

 

and research related to young adolescent development and use that knowledge in their practice. 
Candidates will understand and use the central concepts, standards, research, and structures of content to plan and implement curriculum that develops all young adolescents' competence in subject matter content. 
Candidates will understand the major concepts, principles, theories, and research underlying middle level philosophy and school organization.
Candidates will understand, use, and reflect on the major concepts, principles, theories, and research related to data-informed instruction and assessment. 
Candidates will understand and engage in practices and behaviors that develop their competence as middle level professionals.
Admission Requirements
Students who are Middle Childhood Education (MCE) majors must meet a set of requirements to continue in the major and register for their cohort—a group of students selected to experience methods courses and field experiences together. Criteria for registering for an MCE cohort include:
Complete TCE 191 and EDP 201 with a grade of B or higher in each course
Complete 30 graded credit hours or more
Earn a cumulative GPA of 2.75 or higher
A Poetic Impact on Education
Meet Ryan, during his 8 years of active service with the Marine Corps he wrote poetry to help him cope and process his experiences. Now as a Middle Childhood Education major he believes poetry and story telling can have an important impact on the classroom by getting kids excited about learning and pushing them to enacted change in the world.
Anna Hartman
Middle Childhood Education major
"I had great experience in my many field experiences through the middle childhood education cohort blocks. I also experienced a variety of different types of schools in my field experiences -- alternative, technology-centered, rural, suburban, and urban schools. I have without-a-doubt found that my heart is in the urban, inner-city schools! My sophomore year I joined a wonderful program at Miami called the Urban Cohort. I have been completely and forever changed through my experiences in the Urban Cohort!"