What is a Job Shadow Day?
Explore the world of work through a one day experience with a Career Center-endorsed employer. The schedule of your shadow experience will vary depending on the company you visit. Common activities include office tours, observing work activities and meetings, networking sessions, meeting employees, informational interviews and direct hands-on experience. 
Job Shadow Days are hosted in various locations several times per year. Check this site regularly to be informed of open applications and dates. In the meantime, view recaps of our events below.
How Does It Work?
Once announced, you are encouraged to explore the participating employers online to get a full understanding of their operations. Once accepted to the program, our staff will uniquely hand-match you with an employer and a Job Shadow Day contact.
Questions?
Please fill out the form below to stay updated on the upcoming Job Shadow Day!
First Year Students in Ohio & Gradu8 Program: January 2020
Participating Employers
Cincinnati
84.51
Ahalogy
Cengage
Cincinnati Arts Association
Cincinnati Children's Hospital
Cincinnati Children's Hospital - Speech Pathology
Cincinnati Museum Center
CTI - Clinical Training & Consulting
E&Y
Fidelity Investments
Four Paws Animal Hospital
GE Aviation
Graydon Law
Hamilton County Job & Family Services
Lakewood Catholic Academy
Landor
Loveland School District
Mercy Health
Paycor
PwC
Standard Textile
tilr
United Dairy Farmers
Cleveland
Bellevue Hospital
BNY Mellon
Falls Comminications
Hudec Dental
Lifetime Financial Growth
MetroHealth
Oswald Companies
Parker Hannifin
Progessive Insurance
Quicken Loans
Columbus
Calculated Hire
Cardinal Health
COSI
DesignGroup
PriorAuthNow
Workforce Development Board of Central Ohio
Dayton
ChangeUp
LineMark Communications
PC Krause & Associates
Precision Strip
All Students: August 15, 2019
Participating Employers
Cincinnati
The David J. Joseph Company
Mercy Health
Helium SEO
Kroger
HYUR Staffing
Cengage
Chicago
Crowe
Coyote Logistics
Genesis Technologies
PerkSpot
Inside Scoop: Virtual Informational Interview Program — June 2020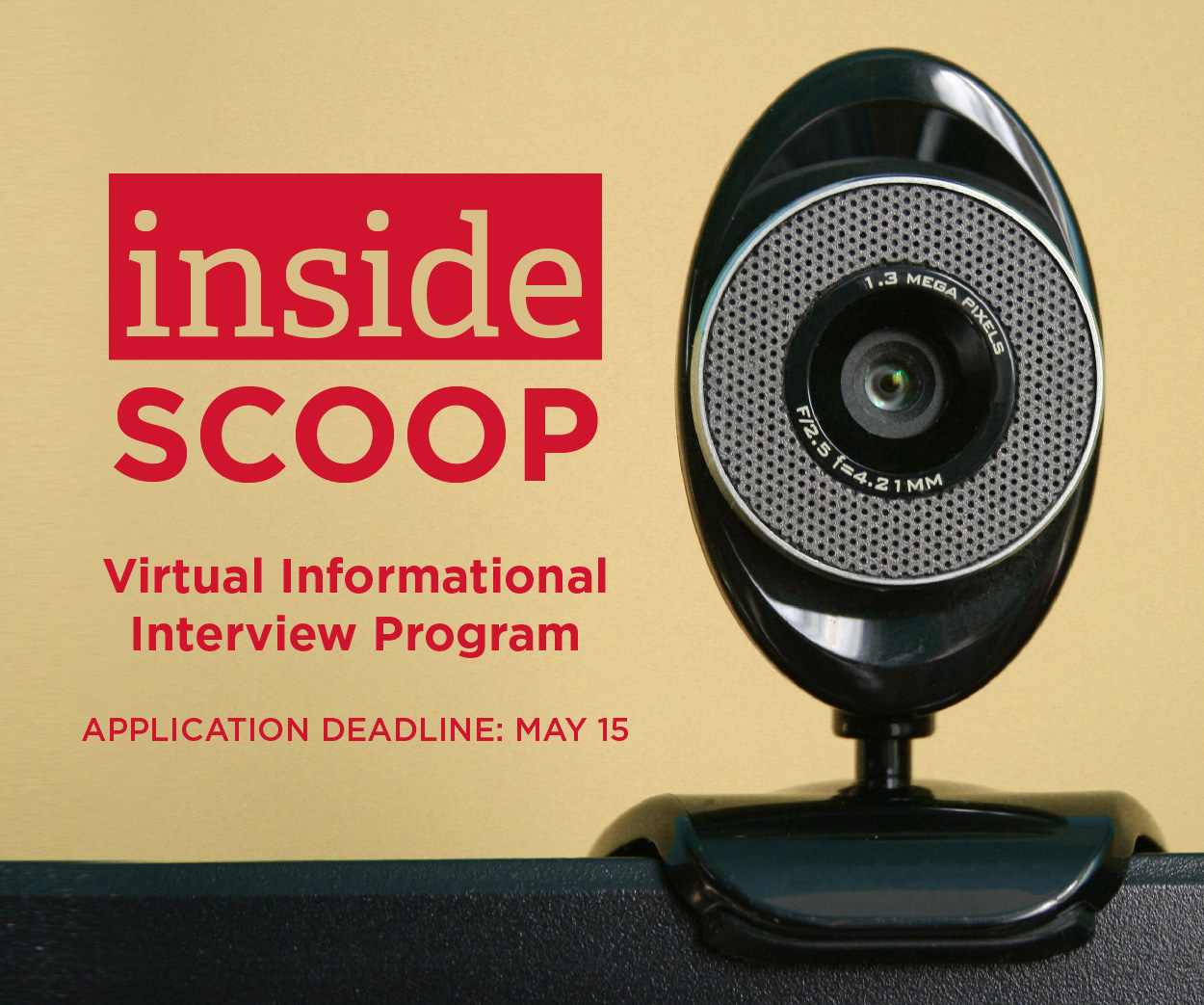 Students spoke with an employer or Miami alumni for an hour in the month of June to learn about their career path and current position! 
An informational interview is a conversation with a professional where students ask the questions to obtain information about their career path and learn about what career paths at their organization may look like.
CDW
Google
Ohio Department of Agriculture
IBM
Cartology
80 Acres Farms
Skylight Financial
Illumnio
Standard Textile
Keller Williams Realty
Quicken Loans
Inside Scoop: Virtual Informational Interview Program — August 2020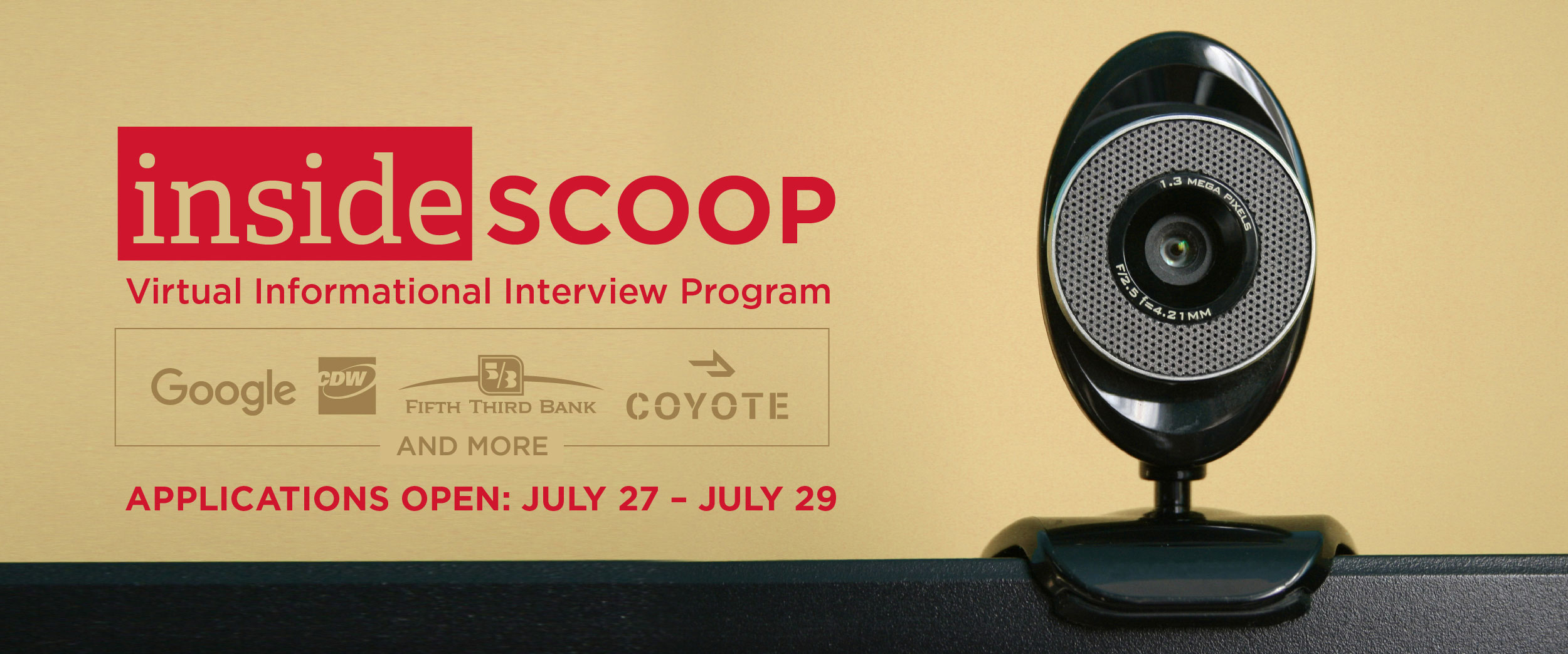 Up to 85% of jobs are found through networking! Sign up on July 27 – 29 to virtually chat with an employer or Miami alumni for an hour in August to learn about their career path and current position, and to start expanding your network!
Questions About The Inside Scoop For more information about this event, please reach out to me at Hannah.Harshman@MiamiOH.edu or 513-529-3846.
Accomodations for The Inside Scoop To request accommodations (i.e., sign language interpreters, captioning, materials in alternative format, etc.), please contact the Miller Center for Student Disability Services at (513) 529-1541, 7-1-1 (TTY-TDD), at least 2 business days prior to the event to ensure the smooth delivery of services.
Participating employers:
Cincinnati Financial
Associates of Pediatric Therapy
Crescent Digital
Google
Ohio Dept. of Agriculture
Skylight Financial Group
Cartology
Coyote Logistics
ilumnio
CDW
80 Acres Farms
Swank Motion Pictures
Standard Textile
Medpace
Fifth Third Bank
Textron
Inside Scoop: Virtual and In-person Job Shadow Day — January 2022
Participating employers:
DMG
TQL
Dealer Authority
Rick Decker Companies
Kinetic Vision
Grant Thornton
Olberding Brand Family
Beacon
Brightedge
Participation Steps
Step 1: Submit online application form.
(Anxiously await your acceptance email...)
Step 2: Once accepted, you will receive your employer match. Confirm attendance within 72 hours of receipt.
Step 3: Complete online training in Canvas and upload your resume.
Step 4: Receive a personalized introduction to your Job Shadow Contact at your matched employer.
Step 5: Attend your Job Shadow Day!
Step 6: Submit the Job Shadow Reflection Survey.
Step 7: Meet with your Career Advisor upon returning to campus via priority scheduling. Update your resume with your new career experience!
Commitment & Transportation
Only apply to the Job Shadow Day if you are 100% certain you will be available on the dates listed and are able to secure transportation to and from your assigned job shadow site.
Day-of Tips
Confirm all of your Job Shadow Day details (arrival time, location, parking, lunch plans, etc.) with your employer contact.
Bring printed copies of your resume and questions to ask your employer contact. 
Dress professionally (unless your employer contact has told you otherwise).
After Your Experience
Complete the Job Shadow Day Survey (sent to your email after completion of the event). This survey can also be found on the Job Shadow Day Canvas site.
Send a follow-up email to your Job Shadow Day employer contact thanking them for their time and expertise. Be sure to mention the most impactful aspects of your visit.
Meet with your Career Advisor shortly after completion to determine next steps in your career journey!
Resume Examples
Relevant Experience
Mercy Health, Cincinnati, OH                           August 2019
Job Shadow
Attended a one-day job shadow at a Mercy Health hospital

Met with the executive leadership and learned about hospital operations

Toured departments and meet with select physicians to discuss their typical day

Explored the career paths available in Pre-Med, Nursing, and Physical Therapy
---
ADDITIONAL EXPERIENCE 
Job Shadow Day                                          August 2019
Coyote Logistics, Chicago, IL
Participated in a one-day job shadow at Coyote Logistics

Toured the facilities and experienced the unique work environment

Met employees working in Technology, Sales, Marketing, and Customer Operations

Networked with leaders during lunch and learned about the mission of the organization 
---
Job Shadow Experience
Cengage, Cincinnati, Ohio                               August 2019
Ernst & Young, Columbus, Ohio                       January 2020
Cincinnati Arts Association, Cincinnati, Ohio     January 2020
---
Meet with your Career Advisor or attend resume drop-in hours for help or more information.