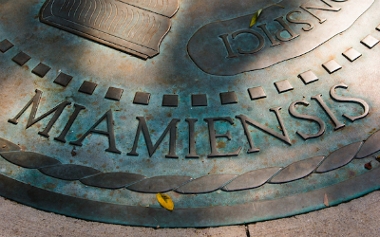 As an employee, you are Miami's most important asset and you are responsible to act in an ethical manner, letting the appropriate people know if someone is behaving otherwise. Addressing misconduct and other concerns early helps minimize potential negative impacts and promote a positive work and learning environment for everyone.
Because you may not be comfortable reporting it directly, Miami has contracted with EthicsPoint to provide an anonymous and confidential reporting tool. EthicsPoint allows those who do not feel sufficiently empowered to come forward with complaints to report illegal, unethical, or other conduct that violates Miami's policies.
What to Report
Miami is committed to preventing, detecting, and correcting violations of law and University policy. As an employee, you may report in EthicsPoint any situations, events, or actions by individuals or groups that you believe violate a law, regulation, or University policy. Frivolous or unfounded reports do not help foster a positive workplace.
If you are uncertain if a situation violates University policy or is illegal, please file a report in EthicsPoint to obtain clarification. It is better to turn in a report on something that turns out to be harmless than to let possible unethical or illegal behavior go unchecked because you were not sure.
Please note: EthicsPoint should not be used to report a situation that poses an immediate threat to life or property. These types of reports should be directed to 911.
Other Complaints and Grievances
EthicsPoint service is not meant to be a substitute for any existing methods at Miami that deal with the reporting of personal complaints of discrimination and sexual or other protected class harassment. Nor is EthicsPoint designed to deal with faculty, staff, or union grievances, all of which have specific processes.
Complaints about the quality of instruction or violations of good teaching practice will continue to be handled under Section 5.2 of the Miami University Policy Library and Appendix L of the Student Handbook. Persons who file complaints with EthicsPoint will be directed to use those procedures.
Grievance and disciplinary matters will continue to be addressed through current policies which afford due process and are designed to protect the rights of faculty and staff.
Complaints regarding harassment and discrimination will continue to be referred to the Office of Equity and Equal Opportunity.
How to Report
EthicsPoint is carefully designed to maintain your confidentiality and anonymity at every step. Our EthicsPoint reporting instructions below can help you ensure that you do not inadvertently compromise its safeguards.
You can file a report in EthicsPoint online or through their toll-free hotline: 1-866-294-9544. Both formats are available 24 hours per day, seven days a week, 365 days a year. To file a report online, follow these steps:
Go to EthicsPoint from any device (mobile, home computer, public library computer, etc.) and select "Make a report."
Following the on-screen instructions, complete the report as thoroughly as you can. Specify what kind of report you would like to make from the available choices and read the anonymity information carefully—it helps to ensure that you do not compromise your identity during the reporting process. You will need to include the following information about the incident you are reporting:

Who: persons engaged in the incident, including titles
What: what specifically occurred
Where: the location of the incident
When: the time and duration of the incident

Create a password and write it down with the "Report Key" generated by EthicsPoint. You will need both of these to follow up on, review, or amend your report later.
Within 7 business days of completing your report, return to the EthicsPoint system (using your Report Key and password) and select "Follow up on a report." You can review report details, respond to questions from the University (using the "Submit New Information" box), or add information to your report.
Why EthicsPoint
Publicly traded companies are required by law (Sarbanes-Oxley Act of 2002) to have an anonymous reporting system. As Miami's system, EthicsPoint has the added benefit of allowing the University to respond to the anonymous reporter. Generally, the author of an anonymous complaint is often simply uninformed or misinformed. In those instances where the anonymous complaint is based on inaccurate or incomplete information, Miami can to respond to and address the inaccuracy or misinformation. By providing secure, open channels of communication through EthicsPoint, Miami faculty and staff can create a safe and ethical work environment together. Reports are entered directly on the EthicsPoint secure server and shared only with specific individuals in the University.
Please note: EthicsPoint does not alter any established University policies or procedures. Our policies and procedures are designed to protect the individual rights of faculty and staff and foster freedom of inquiry. Concerns about the use or impact of EthicsPoint can be directed to the Office of General Counsel.
Security, Confidentiality, and Anonymity
EthicsPoint reports are secure, confidential, and anonymous. To ensure this, EthicsPoint does not generate or maintain any internal connection logs with IP addresses about reports.
EthicsPoint is contractually committed not to pursue a reporter's identity. In addition, Miami does not attempt to identify individuals who submit reports through EthicsPoint.
As a reporting party, you can ensure that you don't reveal your identity inadvertently. Avoid comments with identifying characteristics such as "from my desk next to John Doe" or "in my 34 years of employment."