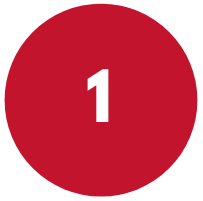 30 Graded Hours at Miami University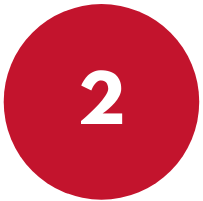 3.5 GPA in Miami Plan Foundation and Business Courses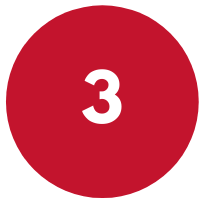 Completion of MTH 141 or MTH 151, and ECO 201
Meeting Admission Requirements
Effective summer 2015 for students enrolling at Miami University, Current Miami University students who were not offered direct admission or who did not apply to the Farmer School of Business may seek admission through a non-competitive process by completing the following admission requirements:
30 Graded Credit Hours at Miami University
Students must have 30 graded credit hours completed at Miami University. Questions can be directed to FSBStudentServices@miamioh.edu.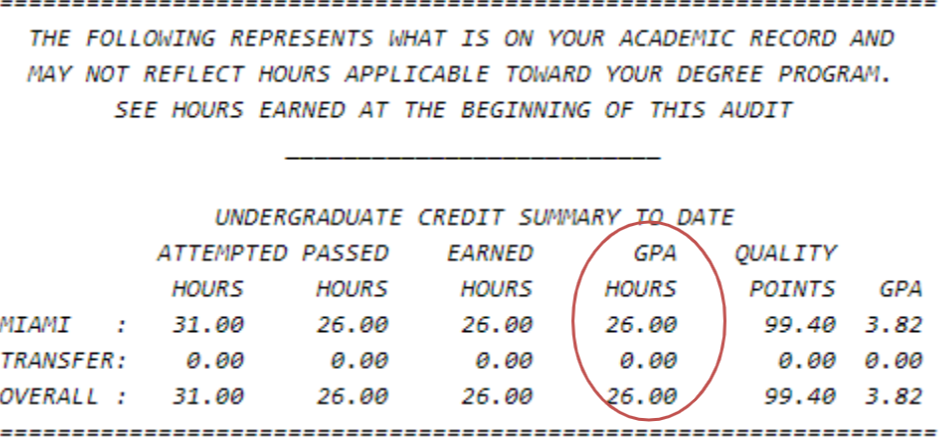 Additional Notes:
MTH 025 and other developmental courses (000-099 courses) do not apply to the 30 graded hours required for admission as they are not creditable toward a degree.
3.5 GPA in Miami Plan Foundation and Business Courses
The qualifying GPA for FSB admission may be different from your overall GPA. The specific GPA referenced for FSB admission can be seen on a University Studies DAR. If you are not a University Studies student, you will need to consult with an Academic Advisor to run a "What-If" DAR to access this GPA. When in doubt, consult with an academic advisor.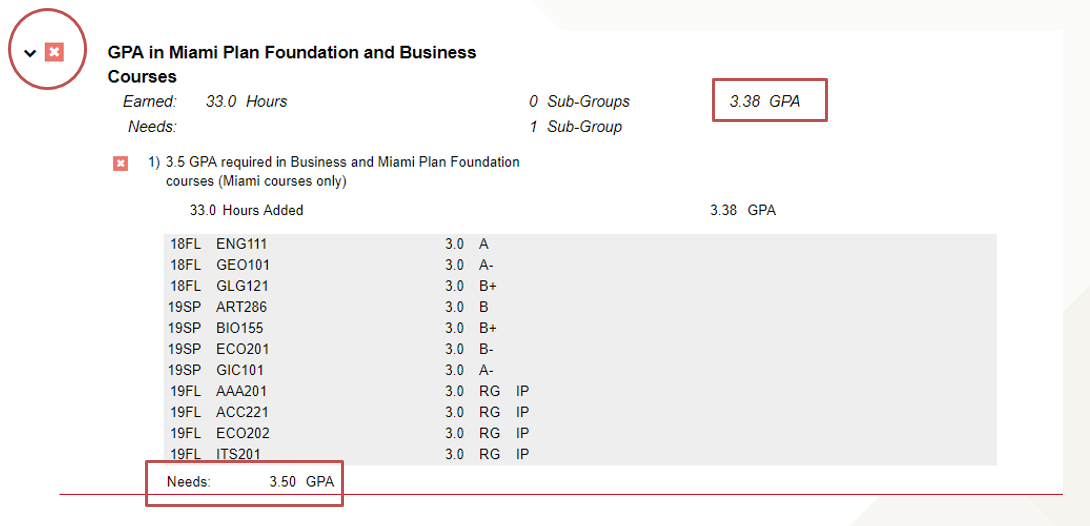 Completion of MTH 141 or MTH 151, and ECO 201
If taken at Miami University, ECO 201, and MTH 141 or MTH 151 must be completed in a graded status.
Additional Notes:
Summer courses should be completed no later than August 1 to ensure a timely transfer. Once you meet all of the admission requirements for FSB, and any transfer work is posted to your academic record, you are welcome to apply online. Visit the Transfer Credit page to learn more about transfer courses.
Upon admission to the Farmer School, students will pay tuition and fees set by Miami University, as well as an additional per-credit hour business surcharge for most business courses. For detailed information, visit the Office of the Bursar.
FSB Major and Career Information
The Farmer School of Business offers eight majors from a variety of business focal areas. The most recent major and career placement data for the class of 2020 can be found at the provided link.
To hear from faculty, staff, and students from each of our majors please see the videos below. The skills gained by pursuing each major, typical job titles upon graduation, and the top recruiters of each major can be viewed by clicking on the title of each major.
Accountancy
Business Analytics
Business Economics
Entrepreneurship
Finance
Human Capital Management and Leadership
Information Systems
Marketing
Supply Chain and Operations Management
Learn About the FSB Difference
What is the First-Year Integrated Core (FYIC)?
The FYIC curriculum builds a strong foundation for Farmer School students. Business is searching for new hires who can think critically, creatively, and conceptually, can understand coding and computational work, and can thrive in a constantly changing environment. Employers believe that college graduates are not adequately prepared in:
Ethical Decision-Making

Analytical and Research Skills

Written and Oral Communication

Adaptability

Working with Diverse Groups
We reviewed academic and practitioner literature and talked with our valued business partners. Then we researched the other top 50 business schools to see how they were helping students develop these key skills within their curriculum.
We learned that while some schools might work with students on an "as-needed" basis, no other school has an integrated core curriculum in the first year that is specifically designed to build the skills needed for student success in the workplace.
The eight credit-hour integrated core, which consists of four courses - Foundations of Business; Foundations of Business Communication; Creativity, Innovation and Entrepreneurship; and Introduction to Computational Thinking for Business - is required for all Farmer School first year students. Students move through these classes in teams, working together from the beginning of the semester to the end, culminating with a final client project.
The integrated core allows students to individually build critical skills and to work collaboratively for a real client while working with real data. Students learn skills, apply knowledge, and present their creative, computational, and analytic findings to senior executives.
What Student Organizations are in the Farmer School of Business?
Define your Farmer experience! Today's global and competitive job market demands that schools of business prepare their students to be dynamic leaders, great communicators, skilled collaborators, and bold visionaries. Active and engaged learning starts in the classroom but students must continuously sharpen and practice these skills.
In the Farmer School, student organizations provide the perfect place where students can lead teams, communicate with members, and problem-solve. FSB challenges our students to actively participate in one of our 25 organizations and 5 honorary societies. Employers expect students to be actively engaged in student organizations and extra-curricular activities. In fact, many organizations host employer functions and activities specifically for and with our clubs!
We believe that we gain valuable life skills learning, living, and working with people with different cultures, viewpoints, and lifestyles. As our students graduate and join an increasingly global workforce, this appreciation for individuals as individuals will better equip them to succeed and will create new communities that celebrate diversity.
How Diverse is the Farmer School?
We realize that top students have many options when selecting a business school. We want to make the choice to attend the Farmer School even easier by offering competitive scholarships, pipeline programs, and robust recruiting and retention initiatives to highly talented, motivated diverse students.
We have created several new scholarships aimed at attracting and retaining talented students of color and first-generation students. In addition to scholarships, we offer summer bridge programs and camps designed to attract students from a variety of backgrounds. Recently, the Farmer School has:
Established an FSB recruiting network comprised of alumni, current students, student organization leaders, and faculty to act as ambassadors to high school students. Target elite college prep programs in key geographic areas.

Established formal mentoring programs for underrepresented students.

Engaged corporate partners to assist with job shadowing and career placement opportunities.

Expanded academic advising, career development, and tutoring support.

Offered networking and support through the Multicultural Business Association (MBA).

Collaborated with veteran-friendly companies.
How are Farmer Students Equipped to Engage in a Diverse Workforce?
The Farmer School of Business is committed to ensuring its graduates are "BEYOND READY" for their lives and careers. The world is becoming increasingly diverse and complex. Within this environment, effective use of diversity within the workforce has proven to impact positively on both organizational and individual performance. According to the latest McKinsey report on Diversity and Inclusion. embracing different cultures and viewpoints drives innovation, improves decision-making, increases employee productivity and retention, and leads to higher profitability.
However, when working in culturally diverse organizations, most people struggle to communicate and work effectively. The key to being BEYOND READY to adapt to rapidly-changing and diverse environments is Cultural Intelligence [CQ].
The Farmer School of Business is developing students who are BEYOND READY for the complex business environment that awaits them in the workplace, marketplace, and society. The BEYOND READY CQ program is designed to provide students with a unified strategy and skill set for how to relate and work across cultural differences at home and abroad. All components of the program will be available as curricular offerings to Farmer School of Business students.
Can I Study Abroad and Graduate on Time as an FSB Student?
Want to study abroad? We will help make it happen! Over 65% of students in the Farmer School of Business study abroad! FSB Global Studies offers semester, winter, and summer term programs specifically designed for students studying in the Farmer School of Business. These programs offer business courses and professional development experiences specifically designed to help students prepare for the global marketplace. Current programs are offered in a variety of countries, including: 
Australia

Barcelona

Budapest

London

Luxembourg

Maastricht
Students work with the academic advisor to review program application logistics, scholarship opportunities, course equivalency options, and more. 
FSB students also have the option to take advantage of study abroad programs outside of FSB and are encouraged to collaborate with the appropriate office: 
Course Planning Resources
If you are admitted to business at the end of your first year, you can still graduate on time. We have sample plans below for each major or course of study that outline the recommended courses, semester-by-semester. Please review this prior to meeting with a business advisor during drop in advising. 
These are sample plans only. Students should regularly meet with an FSB Academic Advisor to plan their courses needed for degree completion.
Application Process
Students must have all admission requirements in progress or completed prior to applying. Any applicable transfer work must be completed and posted to the academic record at Miami to be admitted. Students must apply to the Farmer School of Business during specified application periods at the end of fall, spring, and summer terms. Students may apply to business following the winter term, but will not have the opportunity to enroll in business courses upon admission. Students may not be admitted to business outside specified application periods.
Windows to Apply
May 2022: Application will be open May 9 - May 20 with decisions sent May 27.
June 2022: Application will be open June 20 - July 1 with decisions sent July 8.
August 2022: Application will be open July 25 - August 19 with decisions sent July 29, August 5, August 12, and daily the week of August 15-19.
Information Sessions
Upcoming Information Sessions
Check back for upcoming admission information sessions!
For any additional questions, please connect with an FSB Academic Advisor during our remote weekday drop-ins.
Admission FAQ
Do I have to be in University Studies to be Admitted to Business?
Students do not need to be in University Studies in order to be admitted to business. The University Studies Degree Audit Report (DAR) has a section that shows a student's qualifying GPA for FSB Admission, making it easier for the student to determine which classes are included in Miami Plan and Business GPA used for FSB Admission; however, students from any major are welcome to apply once they meet the Admission requirements.
How do I Change my Major? Can I Declare Business Now?
There is no need to change your major at this time. Once you meet the admission requirements, you will fill out the application form online. Your major will be changed to business upon admission.
Is Admission to the Business School Competitive?
Even if the requirements for admission change, you will follow the admission requirements that were in place when you entered the university. We will admit all students who meet the admission requirements. 
Can I Take Any Business Courses Now?
Non-business students may access the Diversity courses, ECO 201, ECO 202, MTH 151, and STA 261.
The Business Core requires a

 

diversity course

. Most diversity courses are non-business and thus open to non-business students. 

ECO 201 and 202 are required courses within the Business Core, and either course will meet the GMP IIC Social Science requirement.

The Math Department requires an ACT Math score of 26+ or SAT Math score of 610+ to take MTH 151. See the Math Department's placement recommendation guide.

STA 261 is a general statistics course. If taken prior to admission, STA 261 and ISA 225 will meet the Business Statistics requirement. 
Typically, the departments will have seats available in ACC 221, the FYIC (BUS 101, BUS 102, ESP 103 and BUS 104), CSE 148, and ISA/STA 125 for students who are admitted to business at the end of fall and spring terms. For students admitted at the end of summer terms, course access may be more limited, but can include some business courses. Additional information about accessing these courses will be shared upon admission.
Is There a Petition Process if I do not Meet the Minimum GPA Requirement?
Exceptions to this requirement are extremely rare. Any exceptions to this policy will be dependent on remaining capacity in the Farmer School and will be evaluated individually based on significant and verified extenuating circumstances. Students seeking an exception will be expected to engage in a petition process and final decisions will be made by the Dean's office. Questions regarding this process should be directed to the Assistant Dean & Director of Divisional Advising.
I Want to Minor in Business. Do I Have to Meet the Admission Requirements?
Students may enroll in a maximum of two Farmer School of Business minors. Some minors are available to students on a first-come, first-served basis while others have entry restrictions or requirements. Therefore, to increase the likelihood of gaining entry into a FSB minor, interested students should contact the department offering the minor as early as possible in their academic careers. Completion of a FSB minor may require taking coursework during summer and winter terms and/or online.
Check out the different FSB Minors here.