Thank you for your interest in an assistantship with the Office of Residence Life! No matter where in Student Affairs your interests lie, we are sure that our assistantships will suit you and your talents!
About Our Graduate Assistantships
Graduate assistantships in the Office of Residence Life provide experience with staff supervision, training, and evaluation. You will develop time management, presentation and group facilitation skills. This position enables you to advise student groups and holistically educate students through individual and group interactions in a challenging and supportive environment. All graduate assistants must be full-time students enrolled for 9 - 13 credit hours in a graduate program at Miami University during the period of their assistantship. While assistantships are open to any graduate student at Miami University, first priority is given to students enrolled in the Miami University Student Affairs and Higher Education program.
All positions within the Office of Residence Life begin with mandatory training in mid-July each year. This is a full-time training which runs through August. All assistantships require some scheduled night and weekend obligations. These obligations can be associated with major office events, including, but not limited to: Move-In Weekends, the Week of Welcome Programs, Recruitment events, and hall closing days. As with any live-in position, staff members are also responsible for handling crises as they occur. These assistantships will average 20-25 hours per week over the course of the academic year.
Information on how to apply for our graduate assistantships is listed on the job description page.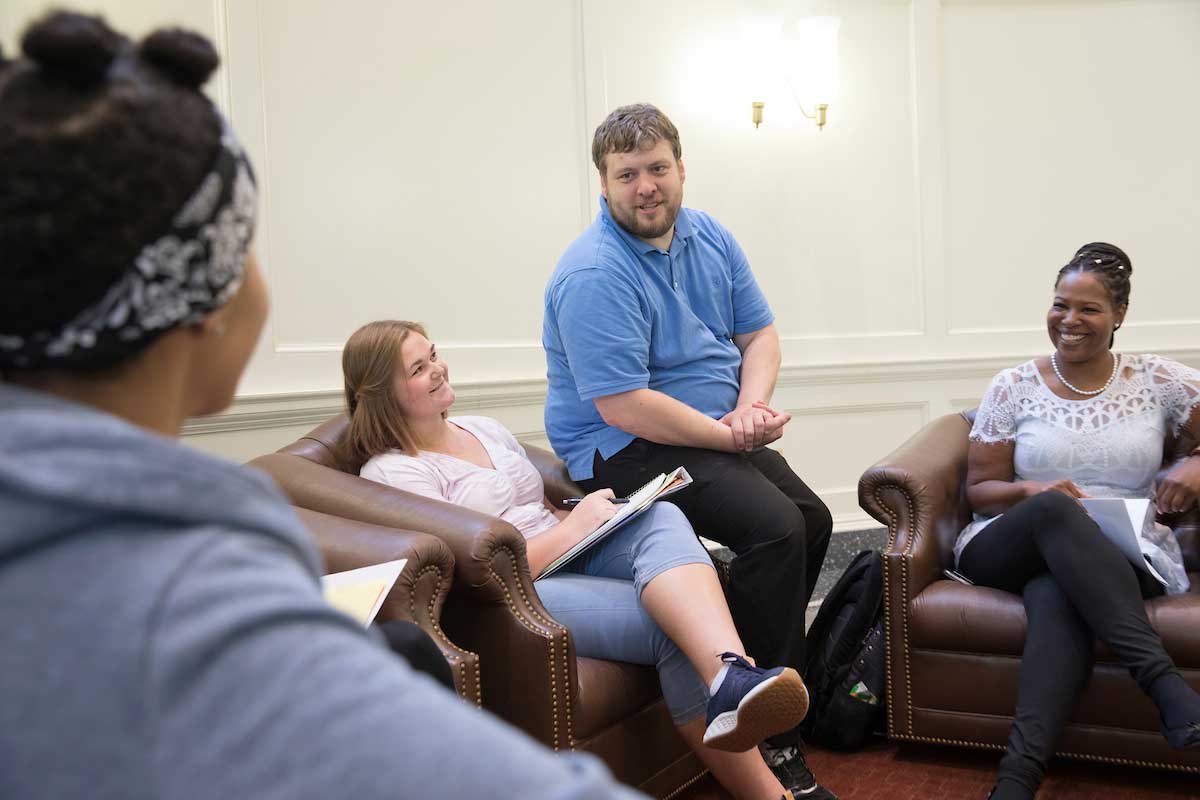 Graduate Students Terms of Employment
Graduate assistants are paid monthly, on the last working day of the month.
Graduate students are required to be enrolled in a minimum of 9 graduate credit hours per semester, with a maximum of 15 credit hours per semester allowed. Satisfactory progress toward the degree must be made, as evidenced by maintaining a cumulative graduate grade point average of at least 3.00 and by fulfilling academic requirements for the degree as determined by the department or program.
The duties associated with assistantships are assigned by the Director of Residence Life. Activities beyond those assigned for this assistantship will be considered for the purpose of fulfilling the requirements of your degree program.

Graduate assistants are granted remission of 93% of the comprehensive fee and 100% of the out-of-state surcharge (if applicable) for the period of this appointment, and for the summer session immediately preceding or following the year of appointment in accordance with the guidelines contained in the enclosures. Graduate assistants required to pay the remainder of the comprehensive fee, as well as technology, facilities, and metro fees (visit the One Stop website or more information regarding fees).
Statement of Non-Discrimination
Miami University, an Equal Opportunity/Affirmative Action employer, encourages applications from minorities, women, protected veterans and individuals with disabilities. Miami University prohibits harassment, discrimination and retaliation on the basis of age (40 years or older), color, disability, gender identity or expression, genetic information, military status, national origin (ancestry), pregnancy, race, religion, sex/gender, status as a parent or foster parent, sexual orientation, or protected veteran status in its application and admission processes, educational programs and activities, facilities, programs or employment practices. Requests for reasonable accommodations for disabilities related to employment should be directed to ADAFacultyStaff@MiamiOH.edu or 513-529-3560.
As part of the University's commitment to maintaining a healthy and safe living, learning, and working environment, we encourage you to read Miami University's Annual Security & Fire Safety Report, which contains information about campus safety, crime statistics, and our drug and alcohol abuse and prevention program designed to prevent the unlawful possession, use, and distribution of drugs and alcohol on campus and at university events and activities. This report also contains information on programs and policies designed to prevent and address sexual violence, domestic violence, dating violence, and stalking. Each year, email notification of this website is made to all faculty, staff, and enrolled students. Written notification is also provided to prospective students and employees. Hard copies of the Annual Security & Fire Safety Report may be obtained from the Miami University Police Department at (513) 529-2223. A criminal background check is required. All campuses are smoke- and tobacco-free.
Institutional Diversity Website
If you have any questions, please contact Tresa Barlage Zianno at barlagtm@MiamiOH.edu.