From the Executive Director
Aya ceeki 'greetings everyone'
It brings me great pleasure to serve the Miami Tribe and Miami University communities as the director of the Myaamia Center. As we enter the 2022 New Year, we find ourselves at the cusp of another new COVID surge and an opportunity to learn yet another letter in the Greek alphabet (Omicron). As I prepare these remarks, I learn that the Miami Tribe of Oklahoma has  yet again been forced to change plans for our much anticipated mid-winter stomp dance and storytelling event for the end of January at our tribal headquarters in Miami, Oklahoma.
Despite these ongoing setbacks, we have several milestones worth acknowledging. 2021 marked the twentieth birthday of the Myaamia Center, thirty years of the Myaamia Heritage Award and a hundred students who have graduated under the Myaamia Heritage Program. Our continued growth provides us an opportunity to reflect as we enter the New Year, where we will continue our celebration by marking fifty years of the relationship between the Miami Tribe and Miami University.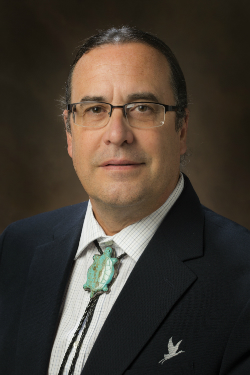 Those of us who work closely with our community have had to learn over the past two years how to navigate the many challenges the pandemic has produced. We have had to balance our frustration with constant program changes, accept the lack of in-person events, and to be creative as we find new opportunities for learning and sharing Myaamia language and culture. I cannot thank the staff of the Myaamia Center enough for their diligence, creativity, and willingness to face these challenges together with integrity, all while not losing sight of our mission of serving the Myaamia community. I am very proud of the progress our staff here at the Myaamia Center has made during these times, and be assured that our efforts to restore our Myaamia ways of knowing, being, and speaking will continue to prosper.
The pandemic may have caused us to isolate at times, but during these moments we have found opportunities to advance our planning and implementation of new programs despite the challenges of the pandemic. Being forced to deal with new virtual learning platforms has shown us the value of providing Tribal members who live far away more opportunities to participate virtually. With expanded virtual learning initiatives come new skill sets, content preparation, software upgrades, and reorientation in the ways we engage with our community learners. We have developed significantly during this time and look forward to our new initiatives rolling out to the community. 
We have also been very successful in our fundraising efforts during this time, with growth in all sectors of our fundraising campaign. This includes new grants from federal programs, foundations, COVID-related funding, private donations, and significant increases to the Myaamia Center endowment. We simply could not grow without everyone's support and I would like to take this opportunity to thank all our stakeholders including our donors and supporters.
I continue to hold a great deal of excitement and optimism for the coming year. In many ways, the pandemic has not only challenged us but also strengthened us in ways we may not have experienced otherwise, including this new electronic newsletter, which is one piece of a new communication strategy we are employing through the center.
In closing, please take a moment and join us as we begin to celebrate this incredible and unique relationship we share with Miami University. Please stand with us as we face a future of language and cultural revitalization efforts with determination and perseverance. We look forward to many new initiatives, programs, and opportunities to learn and share as we take time to celebrate this 50th anniversary.
Kikwehsitoole 
Daryl Baldwin
Executive Director