Miami Children's Book of Language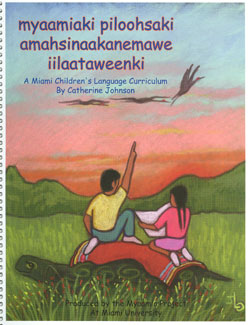 myaamiaki piloohsaki amahsinaakanemawe iilaataweenki ("Miami Children's Book of Language") provides curricular materials to assist in teaching children the Myaamia language.
This curriculum includes a booklet, two CDs, and printable teaching aids that explain and organize terms useful for children's language learning activities. These materials are designed for use in a camp/classroom setting or in the home with parent and child.
During the summer of 2002, Miami Summer Scholars student Catherine Johnson worked with the Myaamia Project to help compile a collection of children's Miami language activities.
Over the years, the Miami Tribe has used a variety of activities to teach children language. Some of these included games, songs, and objects to make and take home. This project was created out of the need to collect and organize these activities into an easy-to-follow curriculum for school and home use. The project was completed in summer 2003.
Catherine Johnson: Miami University student (curriculum author)
Gary Spencer: Miami University student (recording and production)
Daryl Baldwin: Miami Tribe of Oklahoma (voice)
Jarrid Baldwin: Miami Tribe of Oklahoma (voice)
Jessie Baldwin: Miami Tribe of Oklahoma (voice)