Headline Highlights: Miami and Miamians in the news in January
Our editors' picks for January provide a snapshot of recent news media coverage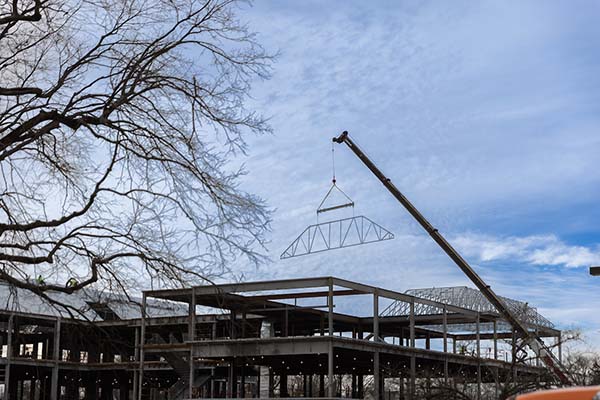 A "highlight" on the new Clinical Health Sciences and Wellness facility under construction (image by Scott Kissell)
Headline Highlights: Miami and Miamians in the news in January
#A "highlight" on the new Clinical Health Sciences and Wellness facility under construction (image by Scott Kissell)()
Compiled by university news and communications
Our editors' picks for January provide a snapshot of recent news media coverage:
Arts Engines, Jan. 8: Tammy Kernodle talks about developing the Harlem Renaissance Festival
Video interview with Tammy Kernodle, University Distinguished Professor of Music, as she shares her experiences collaborating with the New World Symphony and developing the Harlem Renaissance festival. 
Inside Higher Ed, Jan. 7: Curriculum Incentive Plan Prompts Political Backlash
Katherine Cho, assistant professor of Educational Leadership, is quoted in this article about incentives being offered to universities to incorporate equity and social justice into courses. 
 NBC News, Jan. 8: Sidney Poitier changed Blackness in the eyes of a generation of Black people
Rodney Coates, professor of Global and Intercultural Studies, is quoted in this story about actor Sidney Potier's impact on the Black community. 
WalletHub, Jan. 12: The Real Cost of Smoking by State; most effective strategies for individuals trying to quit smoking? What approaches typically fail? 
Philip Smith, assistant professor of Kinesiology, Nutrition and Health, discusses the most effective strategies for individuals trying to quit smoking.
Volt, Jan. 19: Why More Higher Ed Jobs Should Be Remote
Jaime Hunt, vice president and Chief Marketing and Communications Officer, writes about the importance of embracing remote work in higher education. 
SeattleMet, Jan. 20: Wunderground Cafe Wants to Make Mushroom Coffee Mainstream
Nicholas Money, professor of Biology, is quoted in this article about the use of medicinal mushrooms in coffee.

 
Smithsonian Magazine, Jan. 20: The True History Behind HBO's 'The Gilded Age'
Kimberly Hamlin, professor of History, writes about the true history of the era on which the HBO show, 'The Gilded Age' is based

.
Washington Post, Jan. 22: Drop in college enrollment threatens to cause long-term economic, social consequences
Jason Lane, dean of the College of Education, Health and Society, is quoted in this article on the economic impact that declining college enrollment could have on American society. 
 WGCH AM Radio, Jan. 23: Pet Owners and Sleep Disruption
Allen McConnell, professor of Psychology, is quoted in this radio broadcast about pet ownership and sleep disruption.

 
WVXU, Jan. 24: The Great Resignation
Peter Nencka, assistant professor of Economics, is featured in this broadcast about the Great Resignation.

Part 2
Verywell Health, Jan.25: Teachers Are Experiencing a Mental Health Crisis, Too
Deb Robison, project administrator for Miami's Center for School-Based Mental Health Programs is quoted in this article about research conducted by Miami University concluding that teachers are facing a mental health crisis amid the COVID-19 pandemic. 
Grunge, Jan 26: What Defines Each Generation?
Megan Gerhardt, professor of Management, is quoted in this story about the similarities and differences between each generation from the Lost Generation to Gen Z. 
Jason Feifer's "Build for Tomorrow," Jan. 27: Why People Can't Write, and How to Fix That
Elizabeth Wardle, director of the Howe Center for Writing Excellence, discusses

why we struggle to teach writing effectively, and how the problem goes back over a hundred years in the U.S. 
Diverse Education, Jan. 27: Only Ten Disability Cultural Centers Exist in the U.S. Institutions
Stephanie Dawson, director of the Miller Center for Student Disability Services, is quoted in this article about institutional disability cultural centers. 
Forbes, Jan. 28: An Organizational Vision And Mission For A New World And Workplace: Part 1
Miami University President Gregory Crawford writes about

the global pandemic elevating awareness of culture's vital role in an organization's success. 
Business Insider, Jan. 30: In Stores and Restaurants, the Staff Serving the Public May be Ill with COVID-19 because their Bosses Want Them to Keep Working, Say Employees
Kevin Reuning, assistant professor of Political Science, is quoted in this article about  employers expecting employees to work while ill and lack of sick pay.
CSPAN2: BookTV, Jan. 30: Colorization: One Hundred Years of Black Films in a White World