Miami's trustees approve renovation projects and 56 for promotion and/or tenure
Miami University's board of trustees on Feb. 25 approved renovation projects and 56 promotions and/or tenure to faculty and a librarian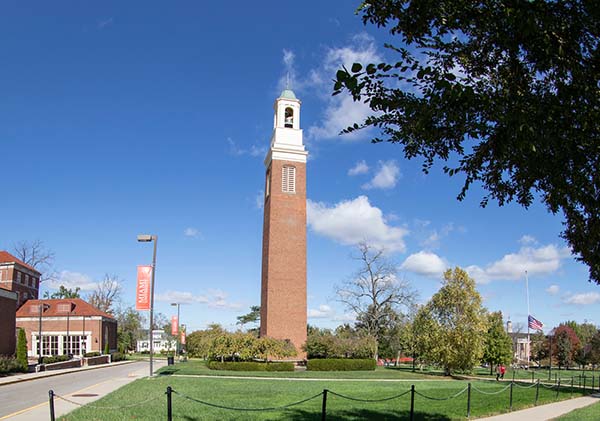 Bell Tower Commons, the dining hall within Bell Tower Place, is seen here at the lower left. Renovations of Bell Tower Place and Ogden Hall were approved by the board of trustees. The iconic Beta Bell Tower is in the center (image by Jeff Sabo)
Miami's trustees approve renovation projects and 56 for promotion and/or tenure
Bell Tower Commons, the dining hall within Bell Tower Place, is seen here at the lower left. Renovations of Bell Tower Place and Ogden Hall were approved by the board of trustees. The iconic Beta Bell Tower is in the center (image by Jeff Sabo)
Miami University's board of trustees on Feb. 25 approved renovation projects and 56 promotions and/or tenure to faculty and a librarian. 
Miami will move forward with the renovations of Ogden Hall and Bell Tower Place as part of the long-range Housing Master Plan. Bell Tower Commons, a dining hall located in the same structure as Ogden, will be partially renovated to support the building systems and prepared for future renovations. Plans to reimagine dining hall spaces across campus are likely to take place in the near future. 
The board also approved an increase in the budget for the College@Elm project. College@Elm will encompass a three-block area of uptown Oxford that includes a renovated community arts center, green space, and a now vacant building owned by Miami.
Trustees were presented with 55 faculty members and one librarian who met requirements for promotion and/or tenure. 
"I am humbled by the determination of these teacher-scholars who have reached such an important milestone in their careers, especially amidst a global pandemic," Miami University President Gregory Crawford said. "Their determination and passion to advance their teaching and research excellence are glowing examples of why Miami students receive a transformative education and graduate prepared to succeed in a rapidly changing world."
Miami's tenure-eligible ranks have grown by 10.5 percent in the past 10 years and continue to trend above the national average. Teaching professors, clinical professors, lecturers and clinical lecturers (TCPL) appointments have grown by 69 percent in the same span of time. The university's full-time faculty has also grown by 10.4 percent over the past decade.
The complete list of promotion and tenure is available online here.
The trustees also:
Granted emeritus status to one administrator.

Approved a 4.5 percent room and board increase for the Oxford campus for new incoming students for the 2022-23 academic year. Under Miami's Tuition Promise, fees will not increase during a student's four years at Miami.

Read a resolution of appreciation for outgoing board chair David Budig and student trustee Amitoj Kaur, whose appointments expire on Feb. 28.
Board of Trustee Meeting agendas and minutes are available online at MiamiOH.edu/trustees.