Farmer School professor's 'Big Idea' - Gentelligence - featured in Harvard Business Review
"My goal is for Gentelligence to become a movement, for it to fundamentally help people change how they look at the potential of a multi-generational workforce," Megan Gerhardt . "I'm very excited about new audiences, new places to have the conversation."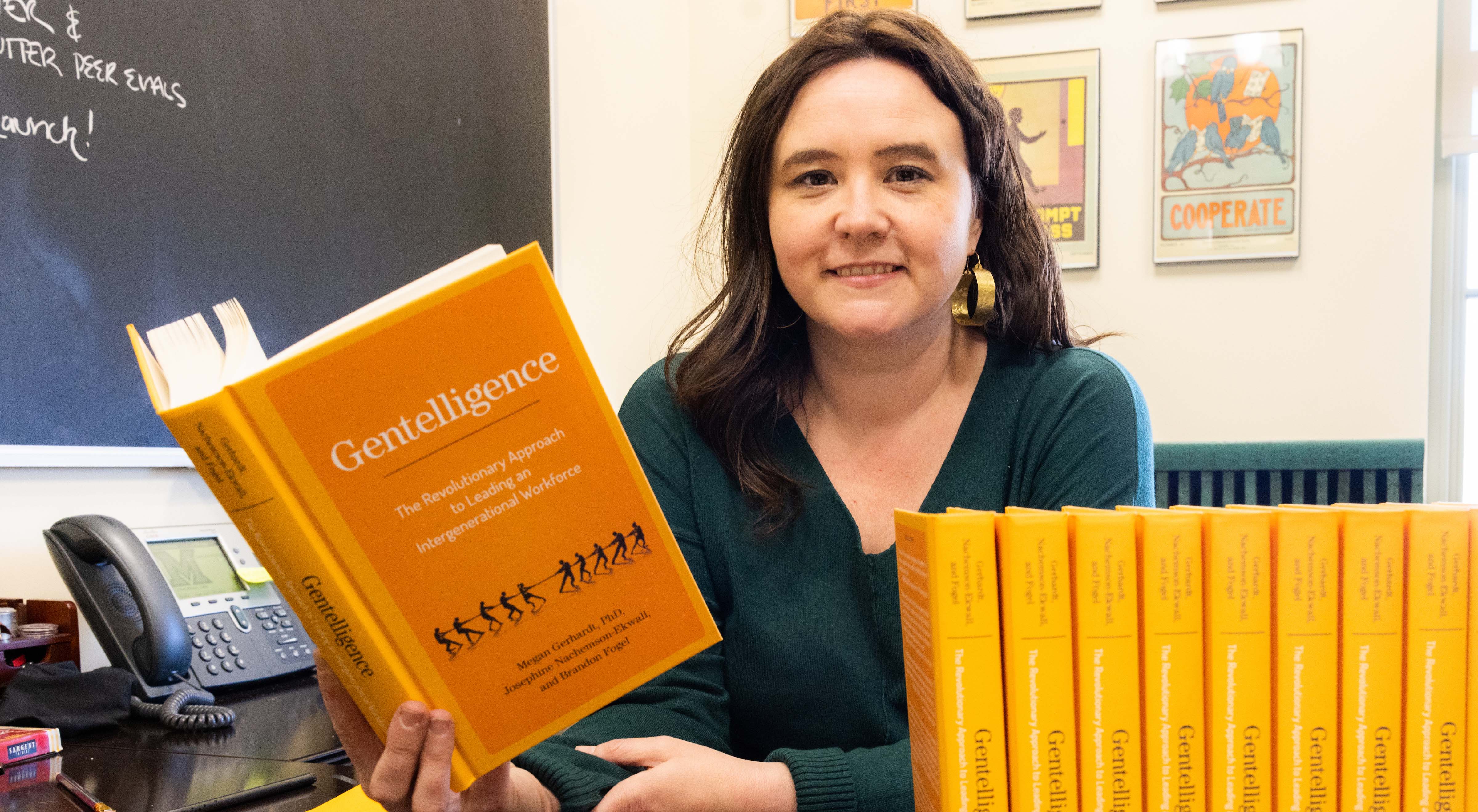 Farmer School professor's 'Big Idea' - Gentelligence - featured in Harvard Business Review
It took Farmer School Management professor Megan Gerhardt and her co-authors about a year to write "Gentelligence: The Revolutionary Approach to Leading an Intergenerational Workforce." When Harvard Business Review decided to make Gerhardt's work one of its "Big Ideas" for an upcoming issue, the process wasn't a lot shorter than writing the book itself.
"I heard from them in September, they greenlit it in November, and I was naive enough to think that meant we were close to done," Gerhardt said. "It was seven months start to finish, and the last month and a half was intense."
Gerhardt started looking at the challenges of the intergenerational divide not long after she began working at the Farmer School in 2003. "My early career strategy was asking for help and guidance from older colleagues, but I also really found myself asking students for feedback and input and perspective as well, and found that I learned a lot in both directions," she said.
So it came as a surprise when Gerhardt found that many companies were having a lot of trouble handling a workforce that transcended multiple generations. "I became really passionate about studying it academically, asking 'Why are we not looking at this as a kind of diversity?'" she said. "It's not included in most diversity and inclusion strategies, not looked at as a cross-cultural difference, it's just looked at as annoying.  So I became really fascinated with 'How do we change that?'"
"Gentelligence is about reframing. I think first and foremost, we have to change how we're looking at this. We've narrated or allowed this conversation to be narrated very negatively for a long time," Gerhardt said. "We wouldn't tolerate people using any other form of difference as an insult. That would be seen as a completely unacceptable, but yet age and generation seem to get a pass."
Years of work and research culminated in the publishing of "Gentelligence" last June with now-graduated Farmer School students Josephine Nachemson-Ekwall and Brandon Fogel. But Gerhardt knew that publishing the book was only the first step. "The dream was to take this beyond academic research and get it somewhere where people might use it," she said.
So when an HBR reporter reached out to get information for a story on generational workplace issues, Gerhardt gave her far more information than the reporter asked for – and it worked. "It all fell into place. She said, 'I love this. I think it should be its own article.'" Gerhardt said. "The choice I was given was, I could write something short, a quick, focused piece, pretty straightforward. Or I could write a proposal for their Big Idea series."
The story, Harnessing the Power of Age Diversity, was posted this week in the Harvard Business Review's The Big Idea Series. 
A corresponding podcast conversation with Gerhardt, "You're overlooking a source of diversity: Age" was posted on the HBR IdeaCast. 
Even after her book and HBR article, Gerhardt is still focused on getting the word out about Gentelligence. She's created Gentelligence Academy, an online program that helps teach methods and best practices for managers and companies that face generational workforce issues, allowing students to earn digital certifications.
"My goal is for Gentelligence to become a movement, for it to fundamentally help people change how they look at the potential of a multi-generational workforce," she said. "I'm very excited about new audiences, new places to have the conversation."