Padma Patil to lead Office of Institutional Research and Effectiveness
New associate vice president to lead data collection, analysis, and reporting and transform how data is used at Miami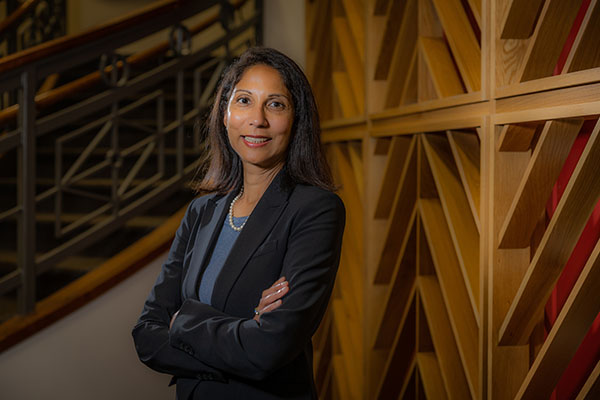 Padma Patil to lead Office of Institutional Research and Effectiveness
Last month, Padma Patil joined Miami University as associate vice president of the Office of Institutional Research and Effectiveness, where she will lead the team that gathers and analyzes university data to support and advance strategic priorities. Patil is also charged with transforming the way data is conceived, interpreted, communicated, and delivered at Miami. 
"I am so excited about this opportunity because Miami is such a special place and a great school," Patil said. "I am most looking forward to getting to know colleagues across campus and learning more about what our office can do to support them and the broader goals of the university with data resources and targeted analyses."
Patil comes to Miami from the Pennsylvania State University, where she was the director of analysis and research for the Commonwealth Campuses, overseeing institutional research for 20 locations across Pennsylvania. Patil's work focuses on identifying trends and opportunities in support of student achievement and outcomes as well as academic program optimization.  
She said she is passionate about finding ways to support student success and improve academic outcomes. 
"I see our office as a place that can help the university establish what the institutional goals are by helping leaders understand where we are now," she said. "We can help with benchmarking, planning, and providing a comprehensive analysis of the data. There is a lot of analysis involved." 
As associate vice president, Patil will provide leadership for managing and communicating accurate institutional data for a wide range of uses: budgeting and financial planning; enrollment projections; scorecards for productivity analyses; research funding; student success and post-graduate outcomes; mandated reporting (e.g., IPEDS, CUPA, Title IX, AAUP); state reporting (ODHE, HEI, NC-SARA); regional and specialty accreditation; academic program review; salary analyses; survey administration; and other projects. 
Patil said a common misunderstanding of offices of institutional research is that they just gather and report data. Really, she said, the work goes much deeper into providing value added analyses across the university to aid in decision making. 
"Our team can help the university make more effective decisions in resource allocation, goal setting, and programming based on the trends and narratives we can see in the data," Patil said. "In our world today, we have so much data and information at our fingertips, that we're not always able to process it. That's where our team can step in and help parse through what is meaningful data and what isn't, and to ensure that we are sharing that data in an accurate way." 
Prior to working in higher education, Patil had an extensive career in consumer goods marketing, managing food brands such as Entenmann's and Thomas' and serving clients such as Kodak and Motorola. She received a bachelor's degree in French literature and an M.B.A. in management from Cornell University and a Ph.D. in higher education from Penn State.