New chairs named for economics, marketing at the Farmer School of Business
Two new faces will lead two departments at the Farmer School this fall.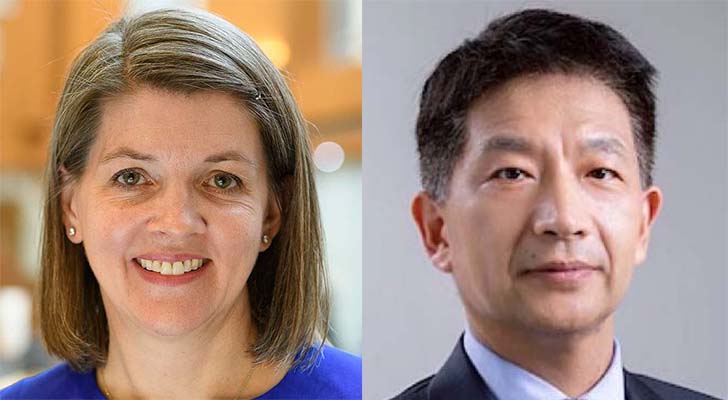 New chairs named for economics, marketing at the Farmer School of Business
The Farmer School is delighted to welcome two new department chairs who will join the Farmer School of Business on July 1.
Professor Jenny Minier will assume the role of chair of the Department of Economics. Jenny comes to us from the University of Kentucky where she is a Professor of Economics. She has also held other positions at Kentucky including Director, Center for Business and Economic Research and the Director of Graduate Studies (Economics). Prior to joining UK, Jenny spent several years on the faculty of the University of Miami (FL). She received her B.A. in Economics at Carleton College in Minnesota, and earned both her M.S. and Ph.D. in Economics at the University of Wisconsin - Madison.
Professor Minier's research areas are economic growth and international trade. She has published in several top economics journals including the Journal of Monetary Economics, American Economic Review Papers and Proceedings, and the Review of Economics and Statistics. Her work has been cited over 2,000 times, and she has received funding from the U.S. Department of Agriculture, the Kentucky Department of Public Health, and other organizations. She was also a Fulbright Scholar in Belgium, and received several teaching awards over her career.
As the Director of the Center for Business and Economic Research at Kentucky, Minier led a team doing grant and contract work for state and local agencies. She also organized the state's annual Economic Outlook Conference.
Jenny explained the reason for her decision to join FSB, "I've been familiar with the Farmer School's excellent reputation for a long time and am excited to be joining it. I've already been impressed by the students I've met, the important research of the faculty and their enthusiasm for teaching, and the coordination between faculty, administrators, alumni, and staff working together for student success."
Professor Zhiyong Yang will join us as the chair of the Department of Marketing. Zhiyong is currently professor and Department Head of Department of Marketing, Entrepreneurship, Hospitality and Tourism at the University of North Carolina at Greensboro. Zhiyong's research focuses on consumer decision making and he has published in all three of the top journals in marketing: the Journal of Marketing, Journal of Marketing Research, and Journal of Consumer Research.
Zhiyong's PhD is from the Concordia University in Canada. His research has been funded by Statistics Canada, Fonds québécois de la recherche sur la société et la culture of Canada, and the Association for Consumer Research. He also received competitive research awards from Harvard Center for Risk Analysis, the University of Texas-Arlington, and Cardiff University.
Before entering academia, Zhiyong spent over 10 years in industry, holding a number of industry positions, including project manager, marketing manager, and vice-president with major corporations. Zhiyong served on the President Advisory Committee at the University of Texas-Arlington from 2017 to 2018. He has given consumer insights seminars to industry professionals from North America, Europe, and China.
Zhiyong noted, "I'm excited to be in the Farmer School of Business, which has a national reputation for leadership, degree programs, community engagement, and innovative mindset in enhancing student success. This is a great opportunity to make an impact on the success of Marketing students and faculty."