COVID-19 vaccine mandates by colleges significantly reduced COVID spread and death last fall, a new study by Miami University economist and co-authors finds
Their study finds that college-imposed COVID-19 vaccine mandates for students reduced total U.S. COVID-19 deaths in fall 2021 by approximately 5%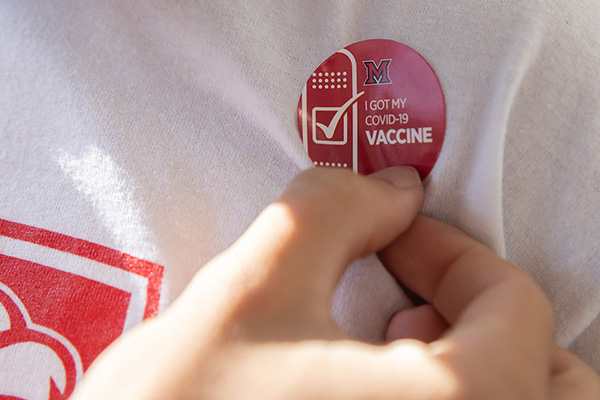 COVID-19 vaccine mandates by colleges significantly reduced COVID spread and death last fall, a new study by Miami University economist and co-authors finds
A new study by Miami University economist Riley Acton and her co-authors provides the first evidence in the literature on the question about how vaccine mandates impact community-wide COVID-19 infection rates, hospitalizations, and deaths, focusing on the context of colleges and universities.
The study authors found that over the first 13 weeks of the fall 2021 semester, college- and university-imposed COVID-19 vaccine mandates for students reduced new COVID-19 cases by 339 per 100,000 county residents and new deaths by 5.4 per 100,000 residents.  
These figures suggest that the mandates reduced total U.S. COVID-19 deaths in autumn 2021 by approximately 5%. 
Their paper, The Effect of Vaccine Mandates on Disease Spread: Evidence from College COVID-19 Mandates, was published this week in the National Bureau of Economic Research.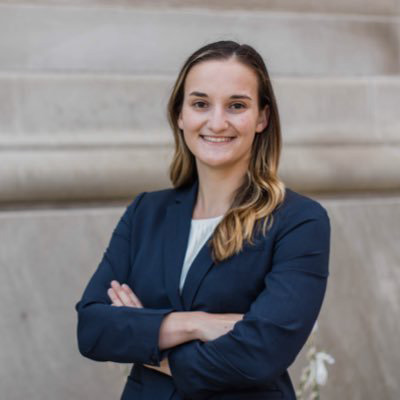 Riley Acton, assistant professor of Economics
Since the spring of 2021, nearly 700 colleges and universities in the U.S. have mandated that their students become vaccinated against the COVID-19 virus. Acton and her co-authors leveraged data on colleges' vaccination policies and semester start dates, along with a variety of county-level public health outcomes, to provide the first estimates of the effects of these mandates on the communities surrounding four-year, residential colleges.
The data came from the College Crisis Initiative at Davidson College, at which Acton is a research affiliate. Acton and her co-authors – all economists – dove into the data that became available from fall 2021, when many colleges returned to in-person classes on campus.
"We were interested in this as a public health policy and interested in how these vaccine mandates were affecting not just college students themselves, but the broader communities," Acton said. "One of the main arguments that you heard as these vaccine mandates were being implemented was this isn't just to protect the students themselves. We know that students interact with lots of other people – not just faculty and staff, but folks in the community when they go to bars and restaurants and stores and events. So what we were really interested in is how does having a vaccine mandate affect COVID-19 spread?"
Their analysis used an event study estimation strategy that compares counties with colleges and universities that had mandates to those that did not before and after fall 2021 semester start dates. 
"To our knowledge we are the first to estimate the causal effect of COVID-19 vaccine mandates on public health," the study authors  – all economists – said. 
Acton said that the methods the group used are crucial to the study of economics as well as public policy. "This paper is thinking about an idea that we think about a lot in economics, which is externalities – the idea that actions taken by one person, one group, one business, can have spillover effects onto another group of individuals, actions or outcomes."
"We did a lot of different statistical tests to be able to try to tell if the effect that we're finding was driven by the mandates, or was there something else going on? We worked to make sure that what we're picking up is a causal effect and not just a correlation. And that's something that economists have really developed over the past several decades is the ability and desire to try to tease out these effects," Acton said. 
It is unclear how the COVID- 19 pandemic will continue as new potential variants emerge. However, the study say, "public health officials and governments likely will continue to need to be nimble in how they try to reduce disease burden. This study shows that vaccine mandates, even in a young population, can be an effective tool towards achieving that goal."
Acton, assistant professor of Economics, joined Miami University in 2020. She is a research affiliate at the Institute of Labor Economics (IZA) and the College Crisis Initiative. Her research interests span labor, public, and health economics, with a particular focus on the economics of education.  Follow her on Twitter @riacton.
Study co-authors, all economists, are Wenjia Cao and Scott Imberman. Michigan State University; Emily Cook, Tulane University; and Michael Lovenheim, Cornell University.
Figure below provided by the study authors from their paper (Figure A.3): Mandate covered students as a share of total population.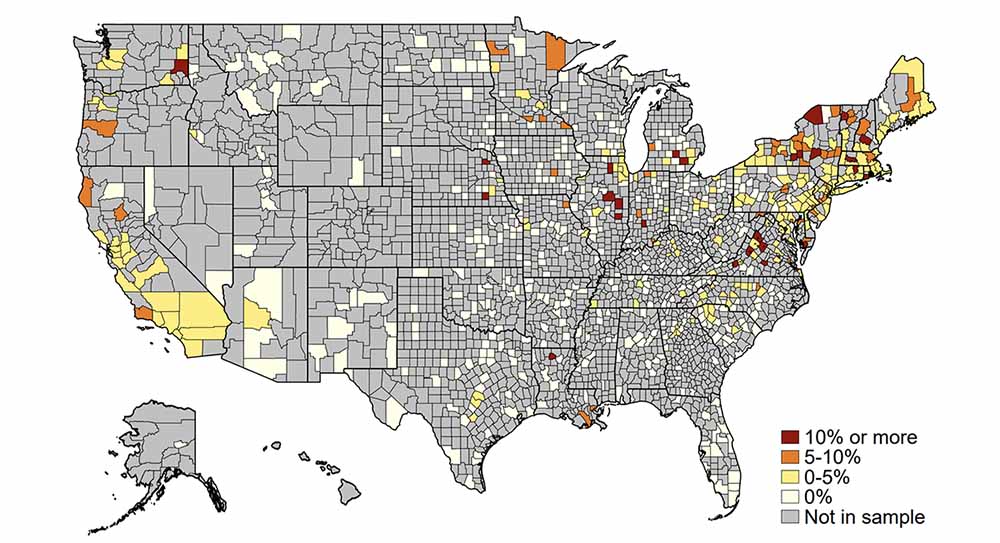 This county-level map shows the four-year students covered by a mandate as a fraction of population in each county. Counties that do not have four-year colleges and counties with incomplete or inconsistent vaccine data are excluded. In analysis, we also exclude the states that have no colleges with vaccine mandates.