Miami University, BCRTA partner to celebrate 50th anniversary of relationship with Miami Tribe of Oklahoma
Oxford bus features artwork highlighting Myaamia language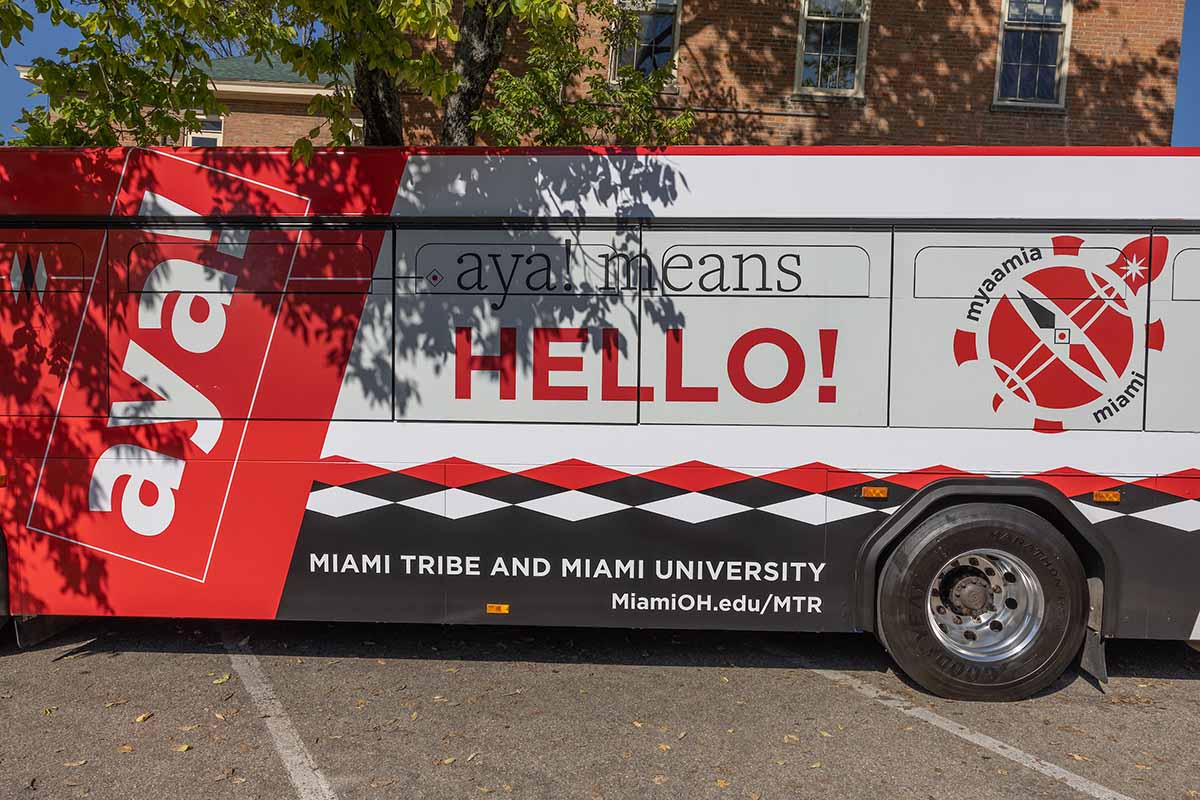 One side of the bus features aya! which means "hello" in the Myaamia language. On the other is neepwaantiinki, the Myaamia phrase for "learning from each other."
Miami University, BCRTA partner to celebrate 50th anniversary of relationship with Miami Tribe of Oklahoma
One side of the bus features aya! which means "hello" in the Myaamia language. On the other is neepwaantiinki, the Myaamia phrase for "learning from each other."
The Oxford community will see the 50th anniversary of the relationship between Miami University and the Miami Tribe of Oklahoma celebrated in a unique way – all day, every day.
Miami Tribe Relations and the Butler County Regional Transit Authority (BCRTA) unveiled a bus wrap on Thursday, Sept. 8, that highlights the relationship between the university and the Tribe through artwork. One side of the bus features aya! which means "hello" in the Myaamia language. On the other is neepwaantiinki, the Myaamia phrase for "learning from each other."
"The Miami Tribe of Oklahoma is greatly pleased and honored by the addition of graphics to these buses designed to share our language with the greater Oxford area," said Chief Douglas Lankford of the Miami Tribe of Oklahoma. "This project is yet another tremendous, respectful public display of the shared knowledge that is the core of our unique, reciprocal relationship with Miami University. Mihši neewe – our great thanks to both Miami University and the Butler County Regional Transit Authority for this contribution!"
Miami University President Gregory Crawford and Kara Strass, director of Miami Tribe Relations, were among the speakers during the unveiling ceremony at Bonham House.
The bus will remain in use beyond the 50th anniversary. BCRTA bus service around campus, Oxford, and the Regionals is free. 
"Our 50th anniversary celebration is an affirmation of the mutual respect we have for one another," President Crawford said. "It is wonderful that the BCRTA is helping us commemorate the importance of this relationship in a way that our community can appreciate for years to come."
BCRTA also has partnered with StreetSpark, an art program through the Fitton Center for Creative Arts in Hamilton, for wraps on three of its other buses. StreetSpark mural art is painted throughout the city, with the following artwork represented on BCRTA buses on routes in Hamilton:
Inspiring the Future – Booker T. Washington Community Center 

Taking Flight – (Corner of Second and High, Rotary Park, mural; and art on bus wrap)

Incrementum – Corner of High and Roosevelt (First Financial-Max Stacy Flowers building mural; and on bus wrap)
"The Butler County RTA is proud to celebrate the 50-year tribally-led and university-supported partnership between Miami University and the Miami Tribe of Oklahoma," said Matthew Dutkevicz, executive director of BCRTA. "As part of our own relationship with Miami we are pleased to help share this milestone with the local community by unveiling a vibrant new bus design that brings visibility to Miami Tribe Relations."
Miami Tribe Relations advances the university's educational partnership with the Tribe and provides ongoing support for Myaamia students at Miami.
More than 100 Myaamia students have graduated from Miami since 1991, with a 92% graduation rate for students in the Myaamia Heritage program.
"These bus graphics are a new and creative way to educate the Miami community and general public about the Miami Tribe of Oklahoma and share more about the relationship between the Miami Tribe and Miami University," Strass said. "I look forward to seeing the bus around town as a visual reminder of the now 50-year relationship between the two Miamis."