Miami University kicks off largest fundraising campaign in university history
For love. For honor. For those who will. made its debut during Homecoming on Oct. 8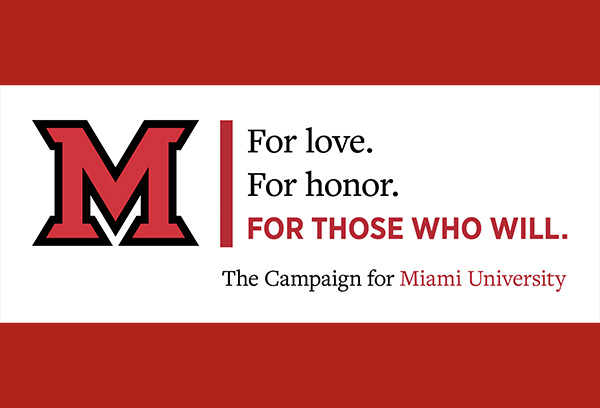 Miami University kicks off largest fundraising campaign in university history
Miami University celebrated more than one kickoff when the RedHawks took the field against Kent State this weekend. With the first kick, Miami celebrated the official launch of a new, comprehensive fundraising campaign – For love. For honor. For those who will.
With a financial goal of $1 billion, the campaign is the largest in the university's history. It is a goal that Miami President Gregory Crawford says reflects the aspirations and vision for the future of the university.
"The vision for this campaign emerged from Miami's ambitious strategic plan," President Crawford said. "The plan reflects our mission to become the nation's most influential and inspirational undergraduate institution with premier graduate programs. Miami's future is about leading transformational change that will advance our academic disciplines, elevate the wellbeing of individuals and society, solve grand global challenges, and answer enduring questions in our dynamic and interconnected world. Our unwavering will, clarity of vision, inclusive mindset, and spirit of Love and Honor will drive this campaign in the coming years and empower us to accelerate positive change." 
The campaign name was inspired by the legacy of Love and Honor that has become a touchstone for Miamians. It is anchored by the phrase "those who will" as a connection to Miami's new brand concept The Power of Will, which also rolls out this fall. For love. For honor. For those who will. sends a clear message that we respect our legacy even as we look to the future. 
Four Cornerstones for the Future
The funding priorities (called cornerstones) for the campaign are based on expanding or creating programs in emerging and high-demand areas of study. Clinical health sciences, business and entrepreneurship, and digital innovation and technology, along with scholarships, comprise the four campaign cornerstones. Fundraising efforts will be concentrated on these four areas.
"These are areas where the university has already made significant investments, and where, through philanthropic support, Miami can be best in class. Underlying all of this is our number one priority — scholarships. We must ensure that deserving students from all backgrounds have access to a Miami education for generations to come," President Crawford said.
The campaign also reflects the transdisciplinary focus that is the hallmark of a Miami education. Each of the academic divisions set campaign goals that align with the campaign cornerstones, and many of the initiatives involve multiple colleges coming together in powerful ways to ensure that Miami students are prepared to tackle the challenges of our time. Examples of this include initiatives for infrastructure and new buildings that bring multiple disciplines together as well as infusing entrepreneurship across the academy.
Off to a Strong Start
The campaign is off to a strong start, with the university surpassing the halfway mark and raising more than $564 million toward the $1 billion goal since fundraising efforts began in July 2016.
"It is extraordinary to be kicking off a campaign of this magnitude having already raised more than half of our goal," said Brad Bundy, vice president for University Advancement. "However, For love. For honor. For those who will. is about more than breaking financial records. It is about ensuring that Miami University continues to thrive for generations to come."
Bundy said that the momentum for the campaign continues, announcing two new transformational gifts. John Metz '57 and his husband, Ali Khan, have a made the commitment to bequeath Miami University $46 million upon their passing. This is the largest individual gift in Miami's history, and 100% of it is designated for scholarships in support of students who are Pell-grant eligible. These are students who are the most in need of financial assistance.
Bundy also announced a $2 million gift from Dinesh Paliwal MS '83, MBA '85 and his wife, ILA, to endow a deanship for the College of Engineering and Computing (CEC) and fund scholarships for CEC. Both the deanship and the scholarships will be named in honor of Dinesh and ILA.
"We're launching this campaign on the heels of a record-breaking fiscal year for fundraising," Bundy said. "Thanks to those who will – our donors and corporate supporters – we have strong momentum carrying us into the launch."