Miami University's FOCUS program brings prolific storyteller to campus on Feb. 8
Sterlin Harjo's "Reservation Dogs" earned Peabody Award in 2022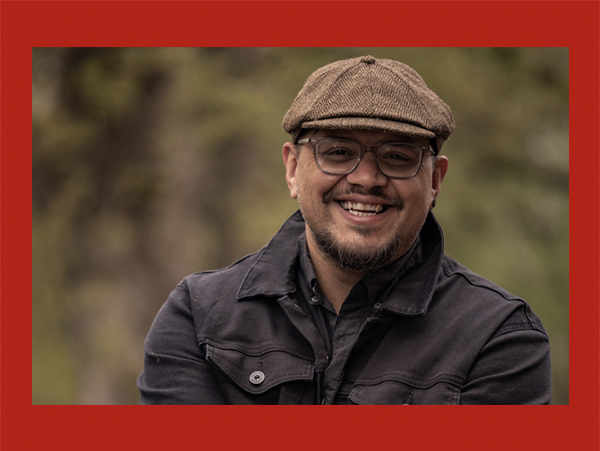 Sterlin Harjo
Miami University's FOCUS program brings prolific storyteller to campus on Feb. 8
Sterlin Harjo
For more than 15 years, Sterlin Harjo has been telling stories through film, television, music, and more.
The prolific filmmaker will share his experiences with the Miami community on Wednesday, Feb. 8. Part of the FOCUS initiative, an Evening with Sterlin Harjo starts at 7 p.m. at Hall Auditorium and is free and open to all but will require a ticket.
Harjo's first feature film, "Four Sheets to the Wind," premiered at the 2007 Sundance Film Festival. Currently, his television series "Reservation Dogs" airs on FX for Hulu. "Reservation Dogs" is about four indigenous friends who live on a reservation in Oklahoma.
Bringing in high-profile speakers like Harjo will help broaden awareness of the FOCUS initiative, now in its second year, said Andrew Sawyer, Education Outreach Specialist for the Myaamia Center. FOCUS is a collaboration that brings diverse perspectives to bear on a topic, question, or problem of importance to the university, region, and world.
This year's FOCUS theme is Tribal Sovereignty. Each year, the FOCUS theme provides opportunities, like Harjo's visit, for teaching, engagement, and learning on Miami's campuses.
"His productions have really broken through into the mainstream  spotlight in the last couple of years," Sawyer said of Harjo. "There have been several Indigenous written and produced TV shows and movies in the last few years. They are really kind of having their own moment right now."
"Reservation Dogs" earned a 2022 Peabody Award, as well as a 2022 Television Academy Honors award. The show also has been honored with an Independent Spirit Award for Best Comedy Series and was an American Film Institute Awards Honoree.
Harjo also has a new series, "Poster Girls," co-written with bestselling novelist Jonathan Lee, in development with FX Productions.
"It's a really unique opportunity that we're bringing someone of Sterlin's profile to campus," Sawyer said. "This is really a great chance for us to bring some Indigenous creators to campus. People will get a chance to come and see them, listen to them, and learn more about Tribal Nations that are working on issues of sovereignty."
Following Harjo's visit, award-winning podcaster Rebecca Nagle and historian Gregory Ablavsky, the Marion Rice Kirkwood Professor of Law at Stanford University, will appear on campus in March as part of the FOCUS program. 'Winter Stories at the Library,' featuring storytellers from the Myaamia Center, is Feb. 17 at King Library.
A special exhibit, "Since Time Immemorial … The Place of the Miamis," spotlighting the 50th anniversary of the relationship between the Miami Tribe of Oklahoma and Miami University is available at the Walter Havighurst Special Collections in King Library until March 3.
"It's a good chance for people who just aren't familiar with contemporary Tribal Nations to get a little bit of perspective on some of the issues these nations are dealing with today," Sawyer said. "There are 574 sovereign Tribal Nations within the boundaries of the United States, and for some, this might be their first introduction to that. Hopefully this will make them more aware of issues of sovereignty that are dealt with on a day-to-day basis."