Farmer School of Business again ranked in the top 15 public schools by Poets and Quants
School also ranked in top 10 for career outcomes and academic experience
Farmer School of Business again ranked in the top 15 public schools by Poets and Quants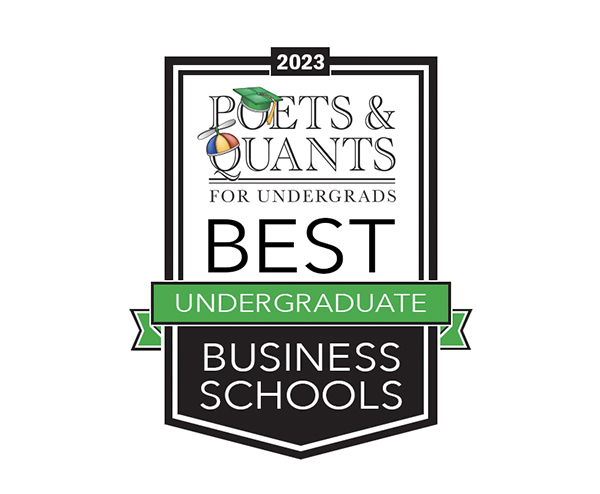 In the just released, highly competitive 2023 rankings from Poets & Quants, the Farmer School of Business at Miami University has retained its ranking as one of the nation's top-15 public undergraduate business schools. The school has also been ranked in the top 10 for both career outcomes and for academic experience.
The data for the 2023 undergraduate business school rankings were compiled by surveying more than 5,700 alumni and by using school reported data. Recent graduates across the 932 schools were surveyed on aspects of faculty availability, extracurricular opportunities, and accessibility of the alumni network.
"We place great value on these rankings because they are a result of our alumni's experience at the school and based on hard data," said Jenny Darroch, dean of the Farmer School and Mitchell P. Rales chair in business leadership. "We believe that our faculty are second to none, and the relationships they create with their students last far beyond their Farmer School years."
Part of what makes Poets & Quants unique is the rankings use data specific to the business school and business majors, not the entire university. This data is not found anywhere else and measures admissions standards, student experience, and career outcomes.
"The rankings also show how focused we are on preparing our students for career and personal success by providing them with opportunities to 'practice what we teach' with innovative curriculum, hands-on learning, access to internships, and opportunities to study abroad and away," Darroch said. "Hearing that our alumni believe that we succeeded, and that they want to remain engaged and support and elevate the next generation of students, is perhaps what gives us the most satisfaction."