Serving on Miami University's board of trustees: a Q-and-A with senior Dawson Cosgrove
The senior majoring in Business Economics recently completed his two-year term as a student member of the Miami University Board of Trustees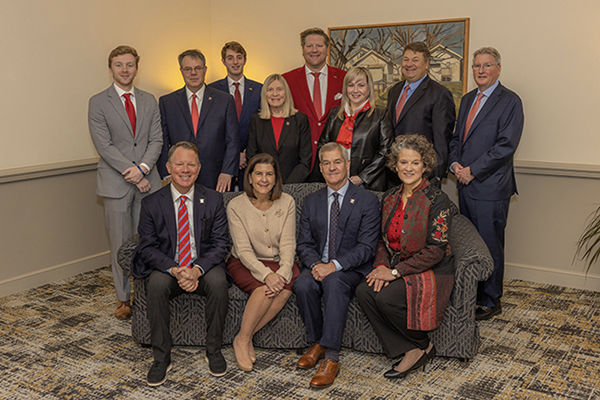 Dawson Cosgrove, top left, stands beside members of the Miami University Board of Trustees. He recently completed his two-year term on the board.
Serving on Miami University's board of trustees: a Q-and-A with senior Dawson Cosgrove
Dawson Cosgrove, top left, stands beside members of the Miami University Board of Trustees. He recently completed his two-year term on the board.
Dawson Cosgrove, a senior from Kirtland majoring in Business Economics, recently completed his two-year term as a student member of the Miami University Board of Trustees. (Another student member, John Fazzio, will serve through next year.)
Cosgrove told the board that he initially planned to stay at Miami for only a year but changed his mind. In May, he will graduate with a bachelor's degree from the Farmer School of Business and then start a new job in Chicago.
We caught up with Cosgrove to find out why he decided to stick around, more about his Miami experience, and his plans for the future.
Why did you choose Miami?
I came on my first visit to campus and really loved the environment I was able to witness for a day or so. It was one of two schools that I applied to in the state of Ohio. Coupled with the scholarship, it was by far the best option for me in terms of finances. The total cost offered me some opportunities to explore the study abroad programs. It also helped knowing that a few people from my high school were going to be here as well, so I was not starting from zero.
You planned to stay for only a year and then transfer but you never did. What happened?
My dream was always to go to a Big Ten school with 40,000-plus students and to just be another fish in a huge pond. However, throughout my first year I realized that that goal was somewhat naïve because I was able to thrive at Miami due to the people who have dedicated so much of their time to ensuring student success, namely Michelle Thomas (director of student engagement and diversity) in Farmer.
Michelle takes the time to meet with so many students to ensure they have a community and can find a sense of self on Miami's campus. That is what she did for me. Just in a couple conversations, she was able to understand where my talents and passions would best align with others to allow me to grow into the best student I could be. 
It is truly the people who I was able to connect with early in my college career who kept me in Oxford. Those early connections allowed me to continue to connect with people on this campus and off that hold a special place in their heart for Miami University. All these connections ultimately gave me a voice on this campus and were pivotal in me landing my job postgrad.
Tell us more about the job you have lined up in Chicago.
I will be working with JPMorgan Chase as a middle market banking and specialized industry analyst (a mouthful, I know). I was lucky enough to connect with Miami alumni who work at JPMC in the summer between my sophomore and junior year who helped me land an internship in the same role.
Ohio Gov. Mike DeWine '69 appointed you to the board of trustees. What was this experience like?
It was a very stressful but rewarding process in becoming the student trustee. Interviewing with a panel of student leaders who then select you to interview with the governor's office is a very unique feeling knowing that other student leaders can recognize me as a potential leader. 
My role as student trustee allowed a space for me to grow both personally and professionally while also having the opportunity to learn about Miami University. It also connected me with the wonderful people who make Miami so special. It was the honor of a lifetime for me to have access to the room where such high-level decisions were made, and I know I made connections that will stick with me far past my time in Oxford.
What advice would you give to students who are considering coming to Miami or about to embark on their journey here?
You get out what you put in on campus. My first semester, I was not embracing the opportunity I had here at a highly ranked university. I was taking my time for granted and not opening myself to new experiences. 
The most rewarding and memorable moments for me at Miami are those where I tried to appreciate and thrive on ambiguity and being uncomfortable because that is where I grew the most. 
I would advise students to join clubs or organizations they have a passion for and join some that simply spark an interest. These four years go by fast; enjoy the opportunities that lie in front of you while appreciating the journey that gets you there.