Headline Highlights: Miami and Miamians in the news in April
Our editors' picks for May provide a snapshot of recent news media coverage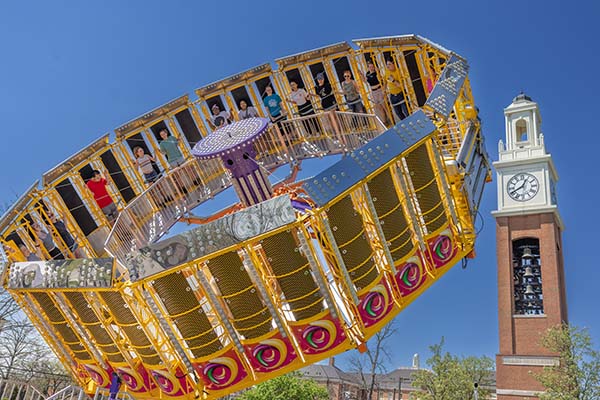 Students spin on the Tilt-a-Whirl, one of the many attractions during SpringFest at Cook Field in April (image by Scott Kissell)
Headline Highlights: Miami and Miamians in the news in April
Students spin on the Tilt-a-Whirl, one of the many attractions during SpringFest at Cook Field in April (image by Scott Kissell)
Our editors' picks for May provide a snapshot of recent news media coverage
NPR, WVXU, Ch. 91.7, April 27: Biden releases new campaign video, Carlson out at Fox News and more to discuss with Ken Rudin
This episode of the live NPR radio program, Cincinnati Edition, features Anne Whitesell, assistant professor of Political Science and associate director for the Menard Family Center for Democracy.
Newsweek Online, April 25: What America Gets Wrong About Tipping
This article on the practice of tipping of service workers quotes a study completed by William Even, professor emeritus of Economics.
Bloomberg, April 20: Retailers' 'Borderline Misleading' Accounting Targeted by SEC
This article on public companies not complying with Securities and Commissions regulations features comments by Matthew Wieland, associate professor of Accountancy. 
Cincinnati Enquirer, April 19: Sean McVay's Miami University Cradle of Coaches induction, statue unveiling set for May 6
This article announces that Sean McVay, head coach of the Los Angeles Rams, will be inducted into Miami University's Cradle of Coaches on May 6 with a bronze statue unveiling. McVay played football at Miami 2004-2007. 
Journal-News, April 18: Miami University business law student gets prestigious scholarship
This article announces that Miami student Cameron Tiefenthaler is one of 62 college students nationwide to become a Harry S. Truman Scholar. 
The Tablet, April 5: Oldest Hebrew Bible Expected to be Big Ticket Item at Auction
This article tells of the upcoming (May 2023) Sotheby's auction of the Codex Sassoon (the oldest, most complete Hebrew bible). James Hanges, professor and chair of Comparative Religion, is quoted in the article.
The New York Times, April 5: 5 minutes that will make you love Mary Lou Williams
This article features Tammy Kernodle, University Distinguished Professor of Music, who recommended Mary Lou Williams' performance piece "A Grand Night for Swing."
CBS - WKRC, Local 12, Ch. 12, April 2: What's Happening in Health
This broadcast news story features Randi Thomas, vice president of ASPIRE, and Miami senior VaLanDria Smith-Lash discussing the Lee and Rosemary Fisher Innovation College@Elm.