Planning starts on Miami's next Queer and Trans Conference (QT-Con)
Capstone course allowed students to have important role in organizing event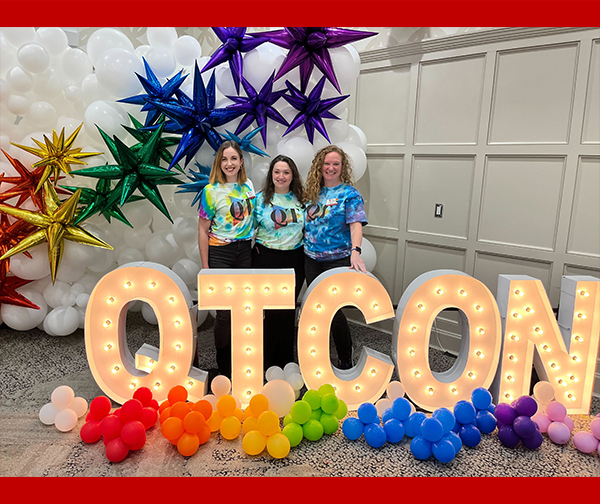 From left to right, Tina Coyne, Kenna Neitch, and April Callis — the three co-founders of QT-Con — stand in front a lit-up sign at the conference last November.
April Callis heard so much positive feedback from students after Miami University's first Queer and Trans Conference (QT-Con) that they're already planning the next one.
The three-day event in November won the Diversity Event of the Year award when Miami honored faculty, staff, and students who promote diversity and inclusion.
"The feedback we got from a lot of our students was they felt really seen, and they felt like for the days this conference was going on, their identities were front and center," said Callis, associate director of LGBTQ+ initiatives in the Center for Student Diversity and Inclusion. "I think that visibility is so incredibly important."
The Center for Student Diversity and Inclusion and the Women's, Gender, and Sexuality Studies program put on QT-Con with the help of several co-sponsors, including the Office of Institutional Diversity and Inclusion, Diversity Affairs Council, University of Cincinnati LGBTQ Faculty and Staff Association, Miami Regionals' Center for Diversity, Equity and Inclusion, the Department of Family Science and Social Work, the Sexuality Education Studies Center, Oxford Area PFLAG, and Spectrum. 
To begin planning the event, Callis pulled in Tina Coyne, assistant director of LGBTQ+ initiatives and gender equality, as well as Kenna Neitch, assistant professor of Women's, Gender, and Sexuality Studies.
"Kenna said she was teaching a capstone class (WGS 401) and that this could be a really good way of bringing in student voices," Callis recalled.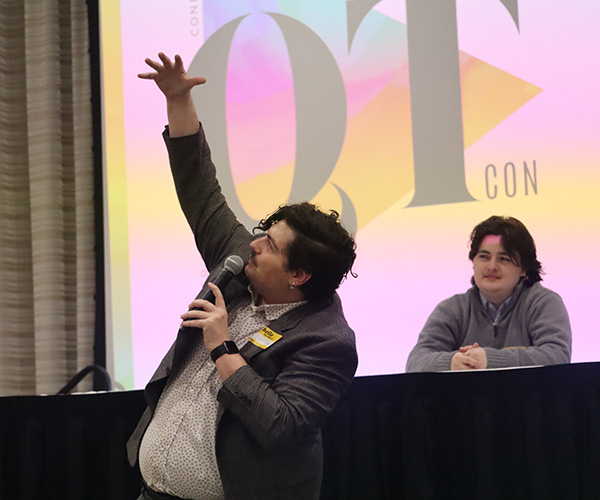 Dylan Carter, who is pursuing a master's degree in Anthropology at the University of Cincinnati, gives a presentation on "The New Lens of Normality: An Exploration of Queer Representation in Fair Tales, Revisited."
One of those students was Alexandra Leurck of Cincinnati, a senior with a double major in Theatre and Arts Management/Entrepreneurship with minors in Dance and Women's, Gender, and Sexuality Studies.
"I know Miami has been working hard to make spaces inclusive, where people genuinely feel welcome," Leurck said. "I think that's what we were able to do with QT-Con."
Leurck enjoyed being involved in the planning so much that she told Neitch she'd like to be involved again next year even though she completed the class. She also liked how Miami collaborated with the Regionals as well as the University of Cincinnati on the event.
"One of the most important aspects is student input, participation, storytelling, and performance," Leurck said.
Neitch said students were involved with so many different elements of bringing QT-Con together. Student groups reviewed and scheduled conference submissions, created and distributed promotional materials, and planned the closing Drag and Fashion Show. As a class, they also brainstormed about potential features, speakers, and aesthetic elements, and they worked behind the scenes on set-up, on stage as moderators, and shared their own expertise as presenters and performers.
More than 50 presentations were shared by students, staff, faculty, and community members. "This conference provides a space for knowledge and experience about people in our community from multiple generations, races, ethnicities, genders, religions, and disciplinary background," Neitch said.
Callis said the conference, which will be held again next spring, is all about helping the students find their spark.
"Politically, the last few years have been difficult for people of a lot of marginalized identities and definitely for LGBTQ+ individuals," Callis said. "Sometimes, at least for me, I need something to give me this spark to remind me I love this work, I love these identities, I love this community."
Neitch, Callis, and Coyne will give a workshop session on QT-Con and strategies for implementing student-centered queer conferences when they present at the National Women's Studies Association's conference in Baltimore in October and at the Midwestern Bisexual Lesbian Gay Trans Asexual College Conference in Lexington in November.