Miami honors faculty, staff, and students who promote diversity and inclusion
"Our Code of Love and Honor calls on us to 'welcome a diversity of people, ideas, and experiences,'" Cristina Alcalde said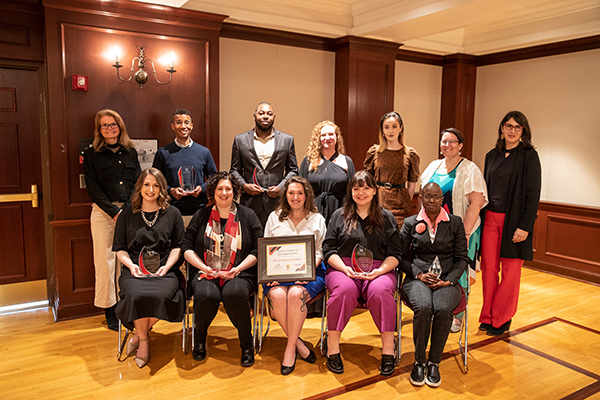 Award winners include, from left to right, front row: Laura Birkenhauer, Jennifer Heston-Mullins, Kenna Neitch, Kennedy Hughes, Jacky Johnson. From left to right, second row: Renate Crawford, John Ward, Darryl Rice, April Callis, Tina Coyne, Megan Kuykendoll, Cristina Alcalde. (Photo by Jeff Sabo)
Miami honors faculty, staff, and students who promote diversity and inclusion
Award winners include, from left to right, front row: Laura Birkenhauer, Jennifer Heston-Mullins, Kenna Neitch, Kennedy Hughes, Jacky Johnson. From left to right, second row: Renate Crawford, John Ward, Darryl Rice, April Callis, Tina Coyne, Megan Kuykendoll, Cristina Alcalde. (Photo by Jeff Sabo)
Miami University faculty, staff, and students who embrace diversity and inclusion in their positions and across campus were honored with University Diversity and Inclusion Awards on April 26.
Cristina Alcalde, vice president for institutional diversity and inclusion, said Miami's Code of Love and Honor calls on the campus community to welcome a diversity of people, ideas, and experiences.
"We are proud of our differences – across gender, race, language, location, age, ability, and many other aspects – and of the diversity of experiences, trajectories, and backgrounds each person brings to the Miami community," she said. "All of these enrich our community."
University Ambassador Dr. Renate Crawford said, "Every one of us has a role in inclusive excellence, and today we gather in celebration of individuals who continue to be exemplars of our community in building a more inclusive community."
Ray of Light Award
This award recognizes members of the Miami community who have demonstrated, advanced, or promoted activities, programs, or actions supporting campus efforts to help enrich the experiences for faculty, staff, and students.
Laura Birkenhauer, Student Success librarian for campus engagement, Miami University Libraries
Darryl Rice, assistant professor of Management, Farmer School of Business
Jennifer Heston-Mullins, associate director of research and senior research scholar, Scripps Gerontology Center
Diversity Event of the Year
This award recognizes an individual or group who hosted an event or series that engaged the campus community in a meaningful diversity and inclusion experience. The event was a collaborative effort with various campus stakeholders to extend the scope and impact of the event on campus.
Queer and Trans Conference (QT-CON) - Center for Student Diversity and Inclusion
Co-sponsoring organizations included the Center for Student Diversity and Inclusion; Women's, Gender, and Sexuality Studies; Office of Institutional Diversity and Inclusion; Diversity Affairs Council; University of Cincinnati LGBTQ and Staff Association; Miami Regional Center for Diversity, Equity, and Inclusion; Department of Family Science and Social Work; Oxford PFLAG; and Spectrum.
Distinguished Service Award
This award recognizes the creative/academic contributions of a unit steeped in a consistent record of service that has highlighted or supported diversity and inclusion or directly shaped and positively affected the meaning and understanding of diversity and inclusion on campus.
Student Counseling Service - Director John Ward
Diversity and Inclusion Advocate – Undergraduate
This award recognizes a current undergraduate student who has worked tirelessly on campus and/or the local community to advance diversity, equity, and inclusion. This could have been accomplished through programming, policy, community building, and/or other initiatives to support Miami University's commitment to an inclusive campus community. 
Kennedy Hughes, a senior Political Science and Philosophy double major and the Associated Student Government secretary for diversity, equity, and inclusion.
 Institutional Inclusive Excellence
This award recognizes trailblazers on campus who have led or impacted a policy shift, innovative programming, or demonstrated scholarly opportunities for the Miami community to engage in diversity and inclusion activities directly on campus.
Jacky Johnson, University archivist, Miami University Libraries