Miami Regionals, Cincinnati State creating an 'educational ecosystem'
Partnership develops new educational pathways for student success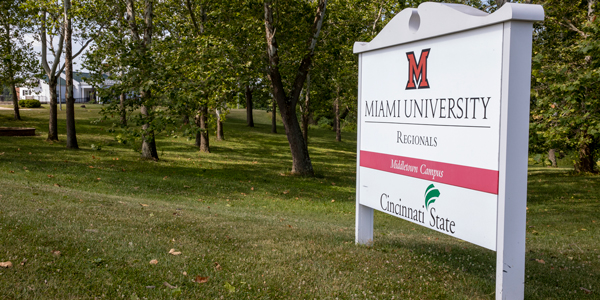 Located just across the street from one another, very little space separates Miami University's Middletown campus from Middletown High School. Now, there is even less distance between Miami Middletown and Cincinnati State Technical and Community College.
With the addition of a Cincinnati State branch location to Miami's Middletown campus starting this fall semester, the close proximity of those three schools creates what Ande Durojaiye calls "an educational ecosystem" for Middletown. 
"Our vision is that anyone in Middletown and the community can get anything they need, from K-12 up to a college degree," said Durojaiye, vice president and dean of Miami's College of Liberal Arts and Applied Science. "We thought it was a win-win for all parties involved."
The move was announced in December and completed in July. It is part of the shared vision between Miami and Cincinnati State to create a seamless transfer system for Cincinnati State students who want to continue their education at Miami.
With this collaboration, Cincinnati State students have access to the library, computer labs, Bennett Recreation Center, student activities, and more on Miami's Middletown campus. That helps give those students more of a collegiate experience, said Tom Hale, director of Cincinnati State's Middletown campus.
Cincinnati State spent a little more than a decade at its previous location at 1 N. Main St. in Middletown's downtown area, where the nearest library was about three blocks away.
"The experience of having a campus opposed to an office building that was converted to hold classes is going to be a big perk," Hale said.
A two-year public and technical community college that offers 130 degrees and certificates, Cincinnati State also has locations in Clifton, Harrison, and Evendale.
Hale said in late July there were nearly 60 Cincinnati State students registered to begin classes Aug. 28 on the Middletown campus. Classes also start the same day for Miami students.
"Having students on campus will be a little smoother because we've dress rehearsed for a month," Hale said.
"It's a beautiful campus. I feel good about being here. Everyone has been very welcoming, and we're looking forward to the upcoming academic year."
Miami and Cincinnati State are part of Moon Shot for Equity, an initiative that is committed to ensuring students from greater Cincinnati and northern Kentucky graduate from college.
Moon Shot for Equity also includes Northern Kentucky University and Gateway Community and Technical College.
"This is all about creating greater access to higher education for students, expanding their options, and ensuring they have multiple pathways to their desired goals," Miami President Gregory Crawford said.
Moira Casey, Miami's regional senior associate dean for academic affairs, noted Middletown offers multiple options for students and prospective students interested in a degree, improving their skills, or moving forward in their career.
On June 30, Miami students gave current and prospective Cincinnati State students and their families tours of the campus. Casey said the event was well attended and a positive experience that bodes well for the partnership.
"It's the logical next step in the relationship," Casey said. "Having Cincinnati State on the Middletown campus allows us to provide more options for students in the area."
Cincinnati State has a suite of offices in Johnston Hall. Hale said there are three full-time employees and a part-time tutor currently on campus, with about 20 classes in Middletown scheduled for the first semester.
The new location provides Cincinnati State students an earlier introduction to Miami's four-year degree opportunities.
"Cincinnati State students can see themselves immediately as a Miami student," Durojaiye said. "We wanted to rethink the transfer process, rethink innovation, and rethink those academic pathways for students to be successful."