Ten new things Miami University students will see in the 2023-2024 academic year
Two new academic buildings, Panera, food delivery robots, and more
Ten new things Miami University students will see in the 2023-2024 academic year
The Clinical Health Sciences and Wellness facility is now open.
1 – The new Clinical Health Sciences and Wellness facility is open
Students in the first cohort of Miami's new Master of Medical Science/Physician Associate Studies program started classes May 15 in the north academic wing of the $96 million, 165,000-square-foot building at 421 S. Campus Ave.
The Department of Speech Pathology has moved there from Bachelor Hall, and the Oxford cohort of the BSN Nursing program is moving from Pearson Hall.
"The Department of Nursing is excited to welcome close to 240 first-year nursing students in the fall semester, representing the largest incoming class in the program's 56-year history," said Stephanie Nicely, interim chair and associate professor of Nursing. The Oxford cohort of 160 first-year students will start in the facility Aug. 28  along with nearly 250 upper-class students.
The new facility also is home to Student Health Services, the Student Counseling Service, and the Office of Student Wellness. Read more about the facility, including the new Pulse Café.
2 - McVey Data Science slated to open in January
Miami broke ground in October 2021 on McVey Data Science, a $58 million, 87,000-square-foot space located on Tallawanda behind Benton Hall. The building will house the Department of Emerging Technology in Business + Design, as well as the departments of Statistics and Computer Science and Software Engineering, the Armstrong Institute for Interactive Media Studies, and the Center for Analytics and Data Science. It is slated to open in January. Learn more about the new buildings and renovation projects.
3 – Panera, meal delivery robots, and more
The robots are coming — and they're bringing the latest dining options from Bell Tower with them. From ghost kitchens to Starbucks to delivery robots, Bell Tower offers Miamians a unique dining experience for to-go options. Patrons can place an order through the Grubhub app or from one of Bell Tower's convenient kiosks. Orders will be ready in one of Bell Tower's pick-up lockers or delivered around campus by a Starship autonomous robot. Find more details.
There are some fresh updates in dining options at Armstrong Student Center, including Panera.
Kabar has been replaced by Sumeshi, which has moved back to its previous location where Field to Fork was.
One important change is the allergen-free station in Western Dining Commons is being replaced by True Balance in Maplestreet Dining Commons and Clean Plate in Armstrong. Both offer dishes free of the top nine food allergens. (Clean Plate at Haines has replaced Evergrains at Haines).
At Western Dining Commons, the previous allergen-free station has become a new bakery shop and a chef highlight station. Western Dining also offers a station for made-without-gluten offerings. Pulse Café, a new cafe similar to King Cafe, is located in the new Clinical Health and Wellness facility.
4 – Composting at Armstrong and a smart recycling assistant
A composting program is now available at Armstrong Student Center. Through an Ohio EPA education grant to reduce landfill waste, five
OSCAR waste stations from Intuitive AI
have been installed. This smart recycling assistant is designed to identify recyclable and compostable items. The units use artificial intelligence to scan what items diners are holding and inform them where each item goes (compost, recycling, or landfill).
Dining will be collecting compost from the back of the house, and all catered events in the building will collect compostable materials in the kitchen. Compost will be picked up by GoZERO Services, a food waste courier based in Springfield.
5 – Four new majors and six new minors
The four new majors taking effect this fall include a Bachelor of Science in Cybersecurity; a Bachelor of Science in Information Technology - Cybersecurity and Networking major; a Bachelor of Music - Music Composition major (it was a concentration); and a Master of Education - Curriculum and Instruction major.
New minors include Climate Accounting and Engineering; Hospitality Management; Health Behavior; Primary Special Education (with Licensure); Digital Commerce; and Sales Management.
6 – Climbing wall refresh and pickleball courts
The Recreational Sports Center has added three new pickleball courts (for a total of seven), and the climbing wall has a new look. It has a re-textured surface, fresh coat of paint sporting Miami's colors, and all new pads for the main climbing wall and bouldering cave. The pad layout was redesigned at the main wall, which expands the surface area for bouldering for 20%.
"We saw such a demand for (pickleball courts) last fall and winter, so when the opportunity came for us to resurface the courts this summer while things were slower, we jumped on it," said Beth Keith, associate director of customer and facility services.
Responding to student requests, the Rec also has added several new machines to the fitness area, plus two lanes for entry at the gate system for patrons using their Miami ID or Mobile ID.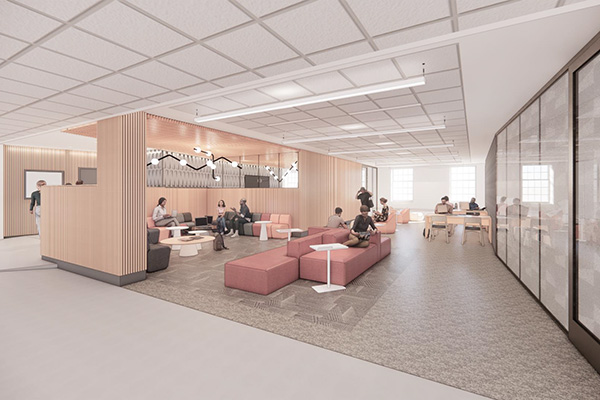 An artist rendering of the planned lounge at King Library
7 – Renovations and other building updates
The Graduate School office has moved from Roudebush Hall to Laws Hall to accommodate growing staff in the provost's office (also in Roudebush) and to give the Graduate School a space that is more accessible to students.
Renovations to Ogden Hall, a residence hall, will be completed around November and open to students in fall 2024.
Work in Harris Hall has begun to accommodate the English Department and ACE program moving out of Bachelor Hall, where construction to renovate it will start next summer.
Miami also has completed the Central Campus Heating Hot Water Conversion Project to eliminate steam heating from nine buildings in the center of campus, saving energy and reducing use of fossil fuels. Also, five residence halls on Western Campus are now getting their water heated by the geothermal plant rather than natural gas boilers, said Robert Bell, university architect and director of Planning, Architecture, and Engineering.
8 – Library space renovation and Amos Music Library closing
Renovation of the former Center for Information Management (CIM) space on the first floor of King Library will start soon and be completed by late December. The space will be transformed into an open lounge area, 24-seat classroom, 16-seat conference room, and 20-seat breakout space.
Meanwhile, Amos Music Library in the Center for Performing Arts (CPA) is closing permanently after 5 p.m. on Sept. 1. The staff and music librarian will move to King Library — and all the materials will, too — but in phases over the next year.
All music library materialswill still be available to students, faculty, and staff. The library staff can pull and deliver materials to King, Wertz, or the Regionals and have it at the circulation desk for pickup. They also can deliver to residence halls and academic departments.
9 - The Regionals
With the addition of a Cincinnati State Technical and Community College branch location to Miami's Middletown campus starting this fall semester, the close proximity of those three schools creates what Ande Durojaiye, vice president of the Regionals and dean of the College of Liberal Arts and Applied Science, calls "an educational ecosystem" for Middletown. The move was announced in December and completed in July. It is part of the shared vision between Miami and Cincinnati State to create a seamless transfer system for Cincinnati State students who want to continue their education at Miami.
With this collaboration, Cincinnati State students have access to the library, computer labs, Bennett Recreation Center, student activities, and more on Miami's Middletown campus. That helps give those students more of a collegiate experience, said Tom Hale, director of Cincinnati State's Middletown campus.
10 – Miami on Threads
Miami's social media team in July launched the official Miami University Threads account. The account has earned at least 7,468 followers. By following Miami's official account, discover a wide range of content, including photos of our beautiful campus, faculty and student research, Swoop appreciation threads, conversations with Miamians all over the world, and more. Check it out on Threads.