UniDiversity Festival Sept. 22 to celebrate 20th anniversary during Hispanic Latino-American Heritage Month
Latin Grammy-winning flutist Nestor Torres will perform and speak on the Oxford and Regionals campuses and lead a music clinic at Talawanda High School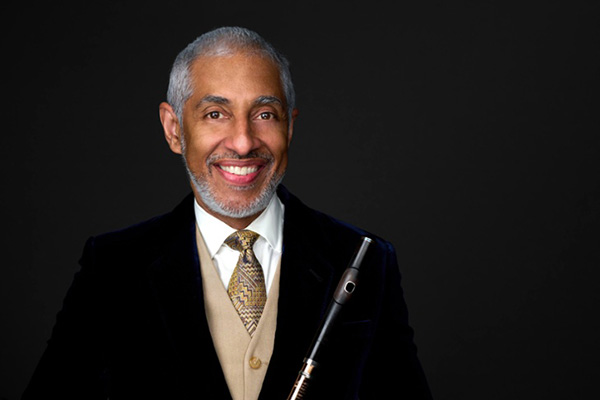 Latin Grammy Award-winning flutist Nestor Torres
UniDiversity Festival Sept. 22 to celebrate 20th anniversary during Hispanic Latino-American Heritage Month
Latin Grammy Award-winning flutist Nestor Torres
Miami University welcomes Latin Grammy Award-winning flutist Nestor Torres as a performer and artist-in-residence during Hispanic Latino-American Heritage Month.
Events include:
The festival — organized and sponsored by the Center for American and World Cultures in Global Initiatives and several university units and community partners — is free and open to the public. All are welcome.
Torres — who has had 17 recordings as a soloist, four Latin Grammy nominations, and one Grammy nomination — won a Latin Grammy Award in 2001 for his album, This Side of Paradise, which won for Best Pop Instrumental Album.
He has showcased his versatility and artistry through collaborations with diverse artists such as Gloria Estefan, Kenny Loggins, Dave Mathews, and Herbie Hancock, as well as performances with orchestras in Cleveland, Singapore, and the New World Symphony in Miami Beach, among others. His latest album is expected to be released this year.
"He is not only well known for his amazing talent as a musician but also for his commitment to international peace and support for philanthropic causes that give him 'a strong sense of mission and purpose' as he has stated in the past, said Jacqueline Rioja Velarde, associate director of the Miami University's Center for American and World Cultures, who chairs the UniDiversity program planning committee.
Rioja Velarde said Torres' visit goal aligns with UniDiversity's mission to support public education from K-12 to higher education and beyond.
He will put on a music clinic at Talawanda High School, where he will engage with the classes of Mike Marston '97 MA '08, including the Jazz Group, the Steel Band, among other groups of students.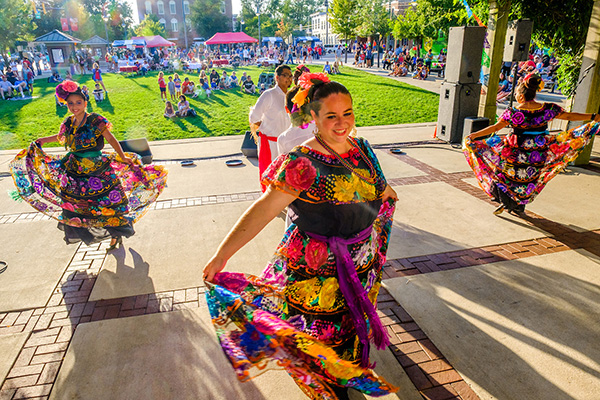 Dancers perform at the UniDiversity Festival in 2016.
UniDiversity Festival
UniDiversity was created by the Center for American and World Cultures in 2003 in collaboration with the Department of Spanish and Portuguese and the emergent Latin American Studies Program now Latin American, Latino/a, and Caribbean Studies.
UniDiversity has provided a solid curriculum and co-curriculum programming, a strong collaborative platform across campuses and divisions, and overall a new way to embrace world cultures and contributions of people with diverse identities, world views, and cultural practices.
"The celebration of this visionary initiative makes us feel empowered and grateful for being part of such a unique collective journey," Rioja Velarde said. "UniDiversity made us reimagine, create, and recreate ways of building a strong community challenging stereotypes, misconceptions, and expanding opportunities for intercultural engagement."
The UniDiversity event — supported by numerous other Miami sponsors and community partners — continues to provide a wealth of opportunities for global learning and intercultural engagement with the goal to develop a better understanding of the cultural, social, economic and political impacts of the Latin American and Caribbean community, one of the largest growing demographic groups in Ohio and the U.S.
Festival highlights
This year, the UniDiversity Festival will recognize and welcome back to the stage Paula Gandara, professor of Spanish and Portuguese, and Thomas Caracas Garcia, professor of Ethnomusicology. Jaime Morales Matos, associate professor of Music, will lead Son Del Caribe, widely known as one of top Salsa bands in Ohio. 
Rioja Velarde said student participation is at the "core of this cultural enterprise."
Student groups will perform a Strolling by Alpha Psi Lambda, National, Inc., and two dance performances: Clavaito, Bachata by Miami University Ballroom Dancesport, and Colombia Tierra Querida, Cumbia Colombiana by Miami University Latiné Student Alliance.
"We are also welcoming back one of the first groups that performed at the UniDiversity Festival - El Corazon de Mexico, Ballet Folkoric, directed by Elaina Hernandez," she said. "This talented group provides a rich repertoire of Mexican traditional regional dances performed by multiple generations of dancers."
Given the success of the dance workshop at last year's festival, UniDiversity again will offer a dance workshop and performance, this time conducted by Andre Delgado from CinciMovement.
One of the highlights of this community celebration is the International Peace Day Flags Parade promoting solidarity and unity in community. It will be led by Roxanne Ornelas, professor emerita, who will be joined by members of the Oxford Citizens for Peace and Justice; Miami and Talawanda students, faculty and staff; and members of a variety of community organizations.
UniDiversity also will feature:
An information fair featuring about 20 organizations.
Traditional children's games and other cultural activities led by Oxford NAACP Chapter and the Oxford and Fairfield Lane libraries.
A petting zoo, a strolling balloon artist, and a Latin American-theme photo booth for people to preserve their memories of this community celebration.
And, as with every year, the festival will bring the taste of Latin American diverse cuisines.
Because part of the success of this community event relies on volunteers, if anyone is interested in joining the volunteer team, registration is still open.
In addition to the Office of Institutional Diversity and Inclusion, the main sponsor of Torres' Artist-in-Residence visit, other sponsors include the Department of English; Department of Global and Intercultural Studies; Grayson Kirk Endowment Fund; Latin American, Latino/a, and Caribbean Studies; Center for Career Exploration and Success; Center for Diversity, Equity, and Inclusion; Center for American and World Cultures; Department of Music; Performing Arts Series; Association of Latinx Faculty and Staff; Sigma Lambda Gamma National Sorority Inc.; and Latiné Student Alliance.