Miami alumnus Juan Gilbert '91 awarded National Medal of Technology and Innovation by President Joe Biden
It is the nation's highest honor for technological achievement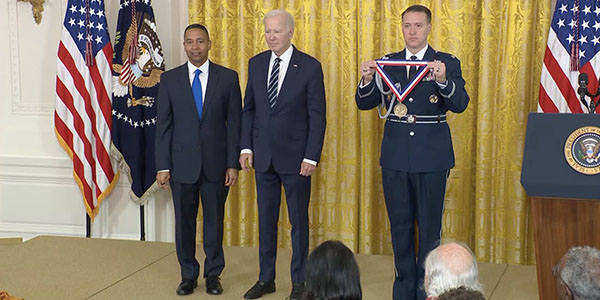 Miami alumnus Juan Gilbert '91 awarded National Medal of Technology and Innovation by President Joe Biden
President Joe Biden has awarded Miami University alumnus Juan Gilbert '91 the National Medal of Technology and Innovation for pioneering a universal voting system that makes voting more reliable and accessible for everyone and for increasing diversity in the computer science workforce.
The medal — the nation's highest honor for technological achievement — was awarded at the White House on Oct. 24 to Gilbert and nine other Americans who have made exemplary achievements in science, technology, and innovation to strengthen our nation's well-being.
"It was amazing," Gilbert said. "Words really can't describe how I felt."
Gilbert is the Andrew Banks Family Preeminence Endowed Professor and Chair for the Computer and Information Science and Engineering Department at the University of Florida, where he leads the Computing for Social Good Lab.

The computer scientist, educator, and researcher earned a degree in Applied Science from Miami University, where he majored in Systems Analysis in the College of Engineering and Computing.

"Miami prepared me for my graduate studies and beyond. I discovered research at Miami and it changed my life," Gilbert said. "I am forever grateful to Miami University for my education."
Beena Sukumaran, dean of Miami's College of Engineering and Computing, said Gilbert's work "advances democracy by increasing our trust in voting machines."
She added, "He also works on minimizing bias in AI algorithms, which is increasingly important in our world. His research is therefore of utmost importance as we build a more inclusive and better world."
Gilbert, a Hamilton native, earned his master's at the University of Cincinnati and became the first Black person at UC to graduate with a Ph.D. in computer science. Since then, he has worked to encourage underrepresented students to pursue graduate degrees.

"At times, I felt isolated, but I knew what I had to do, so I was able to build community to support my goals," he said.

He said David Haddad, chair of the Department of Computer Science and Software Engineering at Miami from 1982-1989, had a major impact on his direction.
"Dr. David Haddad is the reason I went to graduate school and the reason I am a professor today. He suggested that I would be a great professor someday and encouraged me to pursue a Ph.D.," Gilbert recalled. "I encourage others because I was isolated and I know what that feels like. So, I encourage others and help them because I didn't have that."
Gilbert received the Presidential Award for Excellence in Science, Mathematics, and Engineering Mentoring from President Barack Obama in 2012.
That same year, he was awarded the Miami University Alumni Robert Hamilton Bishop Medal, named in honor of Miami's first president. Established in 1936, the Bishop Distinguished Achievement Medal is given to an alumna or alumnus who has made contributions in service to humanity or who has reached the pinnacle in a field of endeavor.
In his Computing for Social Good Lab at the University of Florida, a "Change the World" sign reminds students of an ideal they work toward in the field of voter technology.
"
People have died for the right to vote. Voting is essential to our democracy," Gilbert said. "Our work matters. It enables people to vote and supports our nation's democracy."