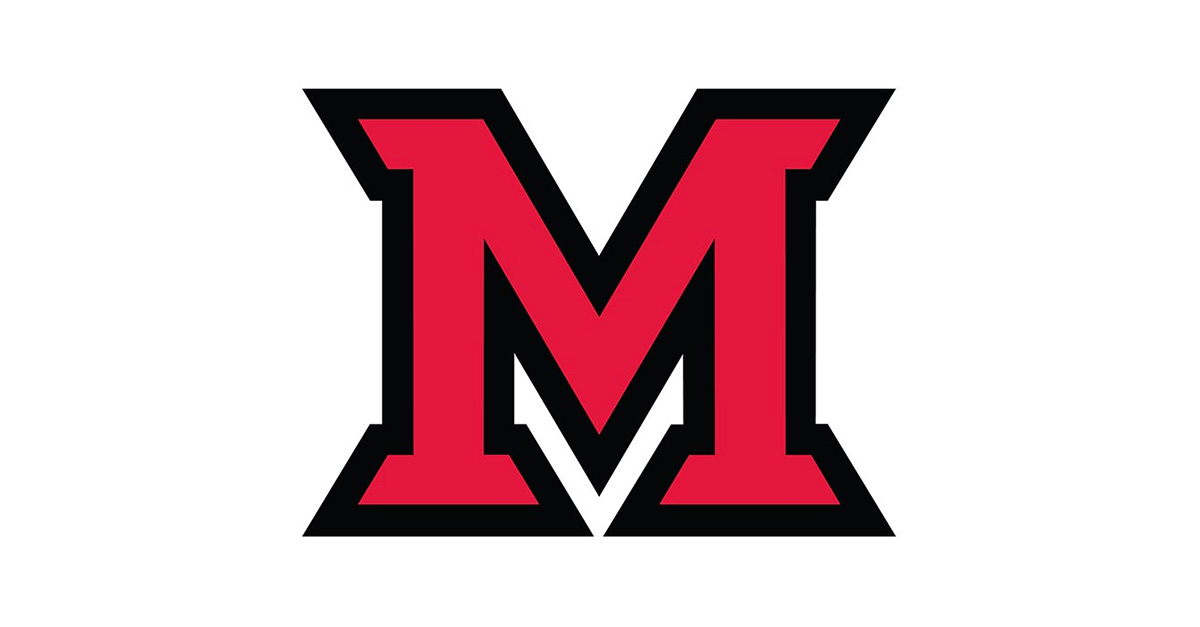 Sep 19, 2013
Local foods featured in Cultivating Community Theme Dinner
Cultivating Community
Miami's dining services is dedicated to seeking out locally purchased foods: During the 2012-2013 academic year, dining services sourced approximately $2.6 million in local/Ohio companies, representing 25 percent of its annual food budget.
The sixth annual Cultivating Community Theme Dinner, featuring traditional fall favorites and new entrees using locally grown, raised and produced ingredients, will be held 5-7 p.m. Tuesday, Sept. 24, at Miami University's Harris Dining Hall. The dinner, hosted by housing, dining, recreation and business services (HDRBS), is open to the entire community.
Students may use their meal plan; others may use cash, credit or payroll deduction for the $14.75 dinner.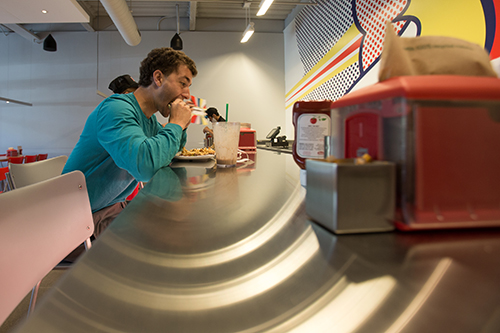 A student enjoys a meal at MapleStreet Station's EnCounter, a premium burger venue that features all-natural beef raised at Reserve Run Farm in Oxford. Americas, one of the anchors of MaplesStreet, features Reserve Run Farm's pasture-raised poultry and beef - part of Miami's focus on local food.
The Cultivating Community Dinner menu includes:
Walnut Creek Cheeses 
Butternut Squash Soup
Roasted Ohio Amish Chicken
Roasted Vegetable Lasagna
Braised Cabbage with Apples & Bacon
Cauliflower Gratin
Roasted Squash with Butter & Sage
Salted Watermelon with Mint
Homemade Breads and Desserts
Young's Jersey Dairy Vanilla Ice Cream
Focus on Local Foods
Reserve Run Farm all-natural beef and pasture-raised poultry are featured in the new Maplestreet Station restaurants at EnCounter (premium burger venue) and at Americas, one of the two anchors of Maplestreet. Miami started a partnership last year with Drew Johnson (fourth generation Miamian) of Reserve Run. 
The farm's beef and poultry are also sold at Market Street at MacCracken, with other local foods such as Madisono's Gelato and Sorbet, Jeni's Splendid Ice Creams and products from The Organic Farm at Bear Creek.  
Local apples appearing Sept. 22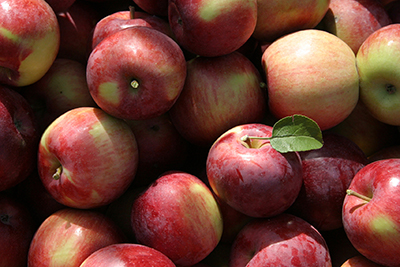 In time for the autumnal equinox, fresh local apples from Downing Fruit Farm will be available at Market Street at MacCracken, Spring Street Market in Shriver Center and Bell Tower Place starting Sept. 22.  
Local Pumpkin Smoothies will be available beginning Oct. 1 at Bell Tower Place, Ovations and The Greystone.
Written by Susan Meikle, university news and communications, meiklesb@MiamiOH.edu.