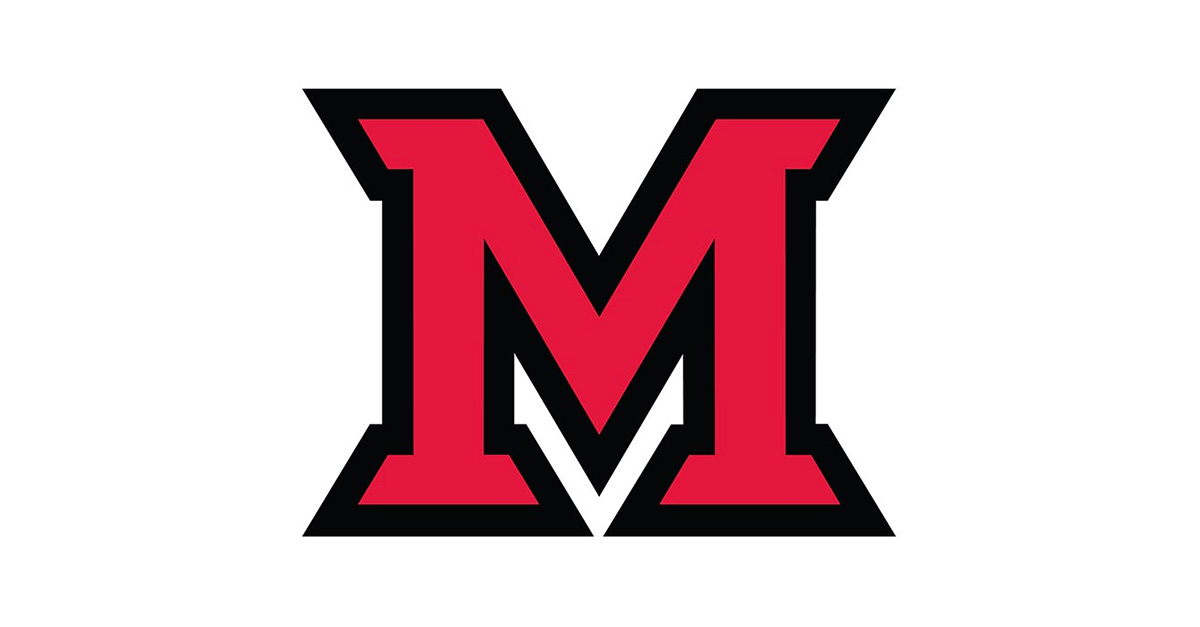 Sep 13, 2013
Meet the team: Hockey Fan Appreciation Pep Rally Sept. 17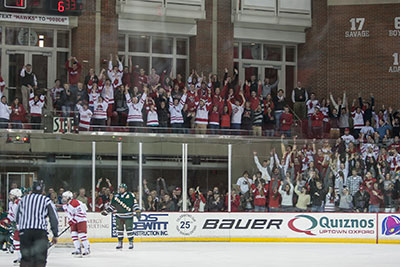 RedHawk fans cheer on Miami's hockey team.
RedHawk fans can get their first chance to meet Miami's hockey team at a Fan Appreciation Pep Rally 7 p.m. Tuesday, Sept. 17, at Goggin Ice Center. The event is free and open to the public.
The Fan Appreciation Pep Rally is for fans of all ages, as there will be activities for Miami students, season-ticket holders, community members and families with young children. Highlighting the event will be the opportunity to hear from Enrico Blasi, head coach, around 8:15 p.m. on the upcoming season during Miami's new conference. Attendees will also have the chance to meet and interact with the players.
"We are excited about the Fan Appreciation Pep Rally and hope to see all our fans, both students and in the community, at Goggin on Sept. 17," Blasi said. "We feel this event will give fans a chance to get to know our program and meet our players, while also having fun, learning about our new conference and getting fired up for the upcoming season."
In addition to Miami's coaches and players, Miami's nationally-recognized synchronized skating team will also be on hand to skate while the Band of Brotherhood will be belting out gameday tunes throughout the evening. Part of the Pep Rally will include an open skate for fans to get on the ice with the hockey players and synchronized skaters. Gameday chants will also be taught at the event.
Door prizes will be given away throughout the night. For the younger fans, there will be magicians, face painting and a balloon animal maker. For students, broomball will be available later in the night, as well as other games. The concession stands will also be open to offer food, such as hot dogs, nachos and more, with all menu items less than $4.
Fans will have the chance to purchase single-game tickets to both Miami football and hockey games during the Pep Rally at the ticket window in the Goggin Ice Center lobby, as well. Those attending the Pep Rally should enter Goggin Ice Center through the main lobby (not off of Oak Street).
The Miami Hockey Fan Appreciation Pep Rally takes the place of the preseason Faceoff Event that has occurred the last few years. The event is presented in conjunction with community partners - Oxford Visitors Bureau, Oxford Chamber of Commerce and the Blue Line Club.
Miami opens a new era of RedHawk Hockey in 2013-14, as the program begins its first season in the newly formed National Collegiate Hockey Conference, of which Miami is a founding member. Miami opens the season with an exhibition game on Saturday, Oct. 5, against Windsor.