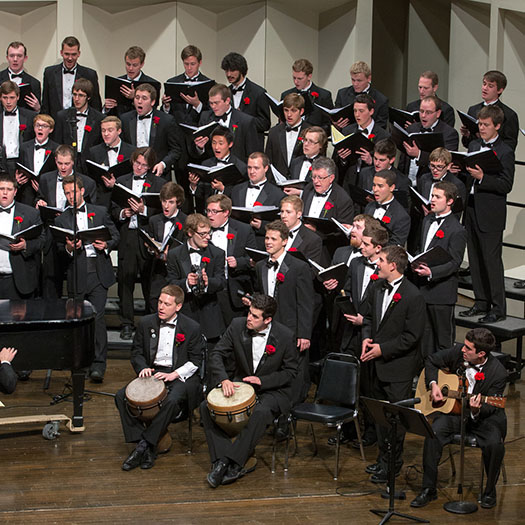 Oct 22, 2013
Collegiate Chorale and Men's Glee Club concert Oct. 25
The Miami University Collegiate Chorale and Men's Glee Club, conducted by Jeremy Jones, will perform at 7:30 p.m. Friday, Oct. 25, in Hall Auditorium.  Tickets, $5 students/seniors and $7 adults, are available at the box office.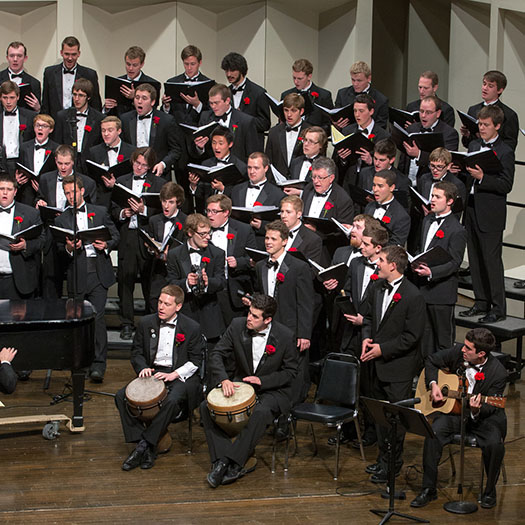 The Men's Glee Club (above, from their spring 2013 concert) will perform with the Collegiate Chorale Oct. 25 (photo by Ben Taylor).
The Collegiate Chorale will perform works from various cultures including  "Vox Populi" by Giedrius Svilainis; "Tangueando" by Oscar Escalada; "Mata del Anima Sola" by Antonio Estevez; and "It Takes a Whole Village" by Joan Szymko. They will also perform iconic American spirituals including Aaron Copland's "Zion's Walls;" Moses Hogan's "Ride On, King Jesus;" and Thomas Dorsey's "Precious Lord."
The Men's Glee Club will also perform works from various cultures, including "Ritmo" by Dan Davison and "Dravidian Dithyramb' by Victor Paranjoti as well as popular songs including Paul Simon's "Bridge Over Troubled Water" and selections from the Broadway musicals "Show Boat," "Ragtime" and "South Pacific."
The concert will also feature the a capella group The Cheezies.
Student conductors are Caitlyn Lana, Alex Port and T. Jordan McCarthy; student accompanists are Kaitlyn Haight, Ryan Hamilton and Jon Sanford.