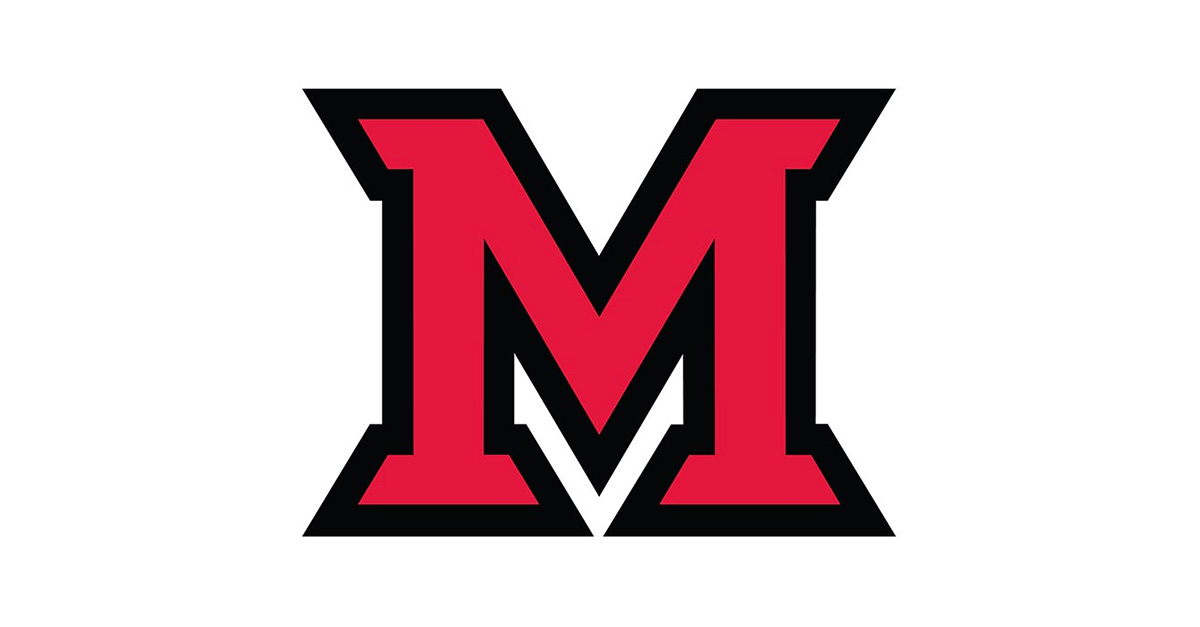 Oct 11, 2013
Global Rhythms World Series Oct. 19
The Miami University Global Rhythms Ensemble, directed by Srinivas Krishnan, will present a three-performance "Global Rhythms World Series" Saturday, Oct. 19.
"Global Rhythms: Boundary Breakers" will be held at 1:30 p.m. and at 3:30 p.m. at the Oxford Community Arts Center, 10 S. College Ave.
This concert features guest artists and world music including:
• Lynnelle Ediger and the American Youth Harp Ensemble 
• Vocalists Shelby Bowling and Sheila Houlahan, mezzo-soprano
• Anupama Bhagwat, sitar virtuoso from India
• Marion Peraza de Webb and students from the Allegro and Vivace String Ensembles 
• Vocal duo Tao Tong, tenor, and Dan Liao, soprano, from Chengdu Symphony Orchestra in China 
The 3:30 p.m. performance includes a food tasting and additional performers:
• Kung Dong, first prize winner of the Yehudi Menuhin Competition for Young Violinists in a special tribute to Maestro Ravi Shankar
• Vocal Spectrum, an award-winning vocal quartet from St. Louis 
"Global Rhythms: From Dawn to Dusk" will be held at 7:30 p.m. at the Performing Arts Center at Talawanda High School.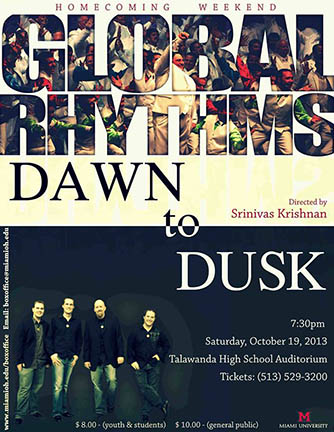 This concert features world music from guest artists, Miami ensembles and others, including:
•  Ambassadors of Harmony  - the St. Louis area's premier men's a capella chorus of more than 130 voices; winner of three gold medals in the Barbershop Harmony Society's international contest
• The Oxford Chamber Ensemble conducted by Ricardo Averbach
• World Percussion All-Stars
• African Gyle Ensemble directed by Leon Enneking
• Guru Asnawa and the Miami Gamelan Ensemble directed by William Albin
• Talawanda High School choruses directed by TJ Pearson
• Miami student a capella group Euphonik
Krishnan, a master percussionist, is the founder and artistic director of the Global Rhythms Music Ensemble and artist-in-residence at Miami's Center for American and World Cultures (CAWC). He is a member of the guest faculty and advisory panel of the KM Music Conservatory, a multidisciplinary music education center established by Grammy Award-winning composer A.R. Rahman's foundation. 
Tickets for each performance are $8 students/youth and $10 general and are available at the Miami University Box Office.