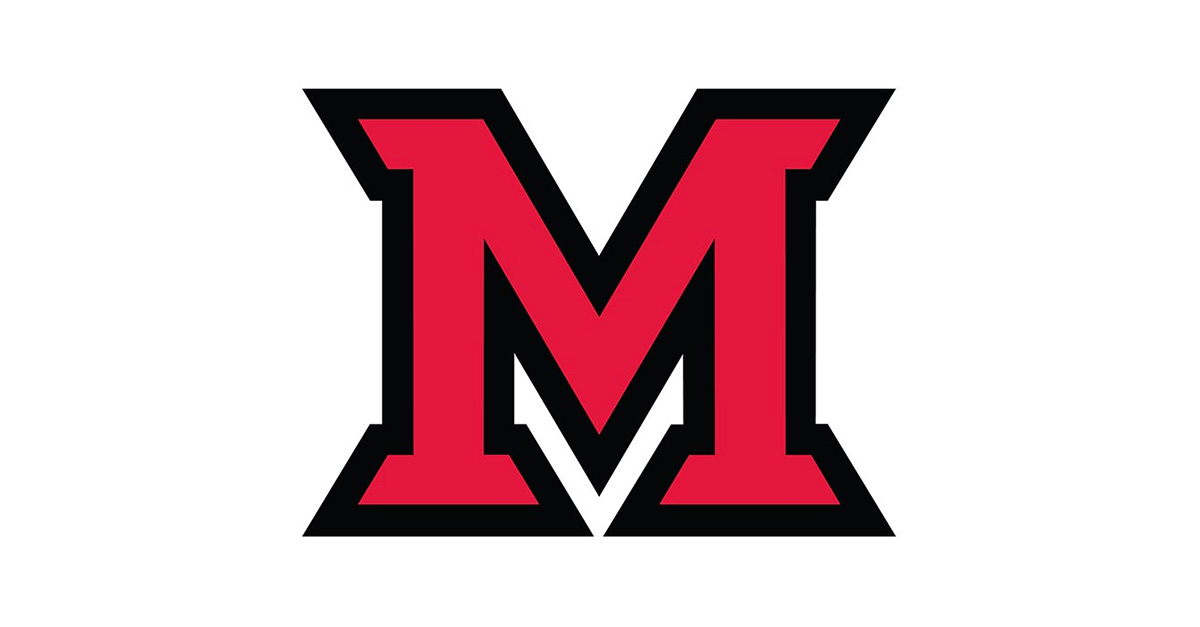 Oct 03, 2013
A Miami Moment with Matthew Frericks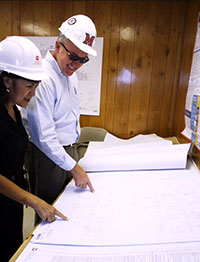 Matthew Frericks and Elaine Brandner, senior interior designer
Among orange barrels, steel plates, hard hats and fencing, you couldn't miss the Miami Makeover construction this summer on South Quad.  It took a team to complete the project and Matthew Frericks (Miami '88), the senior director for auxiliary planning & facilities, saw it from the inside.
Q: How did you get involved in this summer's construction?
A:
I joined Miami's housing, dining, recreation & business services in the fall of 2007. Originally I was primarily responsible for capital improvements, renovation and construction projects related to our housing and dining facilities, but over the years my responsibilities expanded. Those responsibilities include our department's recreational facilities, basic facility maintenance, custodial services and energy conservation efforts, as well as taking an active role in the development of the university's Long Range Housing Plan (LRHP). The LRHP got underway in 2011 with the renovation of Elliott and Stoddard halls and most recently with the renovation of Bishop Hall and construction of Maplestreet Station and Etheridge Hall.
Q: What is different about these residence halls and rooms from others?
A:
Maplestreet and Etheridge residence halls are unique because they introduce an exciting new residential community model to the campus known as the "house" concept. The house concept is different from our traditional residence hall model in that each "house" has a separate living room with TV, dining space, kitchenette and study room designed for the exclusive use of the approximate 30 students who live in their particular house. Another way to think of it, conceptually, is as a 15 double-occupancy bedroom apartment. The buildings also offer community space on a larger scale for the different houses/residents to interact that include living rooms, rec rooms, laundry rooms, group study rooms, full-size kitchens, etc.
Q: What makes the "house" concept so special?
A:
Maplestreet consists of three houses while Etheridge has eight houses. Not only is it expected that the residents of the house will develop a stronger sense of identity with their Living Learning Community (LLC), but it will also strengthen the community bond between them. The house design encourages social interaction with all the house residents as they interact in and pass through the common living spaces at the front of the house. In this way, it creates frequent opportunities to "see and be seen" in regards to who's hanging out, studying, coming/going or whatever else is going on in one's house.  Etheridge accommodates more students, because it is only a residence hall.  The entire first floor of Maplestreet Station serves food and consists of seven different restaurants.
Q: Is it safe to assume you've eaten at every one?
A:
Although I haven't been a customer in all the restaurants yet, I have tried all the food at one time or another. Lucky for me, I got to be a frequent "taste tester" during the past year as the chefs tried out and perfected the recipes now being used in each of the restaurants.
Q: If you could only recommend one dining facility, what would it be?
A:
How can one choose? It depends on the mood I'm in and what I'm hungry for at the time. That's the great part of Maplestreet Station; there's tremendous food variety and options for every meal every day of the week. And while Maplestreet's food is great, I must confess I have a soft spot for La Mia Cucina, the Italian restaurant in Harris Dining Hall. The pesto pizza is one of my all-time favorites. But no matter where I eat, I always try to save room for a dessert treat from the Patisserie at Maplestreet.
Q: What's next for you now? 
A:
Well, I am busy with the new Western Dining Commons, which will open before spring semester.  And the three residence halls on Western will open in fall 2014. By opening the halls on Western, we're able to renovate nearly all of East Quad.
Q: Why all the construction if the new halls do not increase bed count?
A:
The new projects (construction or renovation) are so important because they update Miami's housing stock by keeping the university competitive with other institutions.  We offer the "complete package," such as outstanding academic programs matched by a comparable, outstanding residence and dining experience. The new construction also creates the bed space needed to allow us to take other buildings offline for renovation.  Some of the residence halls haven't been updated in decades, and they don't meet current Americans with Disabilities Act (ADA) standards.
Q: What's your favorite part of what you do? 
A:
There are many things, but I would have to say that the creative process of my job is best. It is a great feeling to be involved in a project from the conceptual stage through the construction to its ultimate completion. It is greatly satisfying to me to know that for as long as these buildings exist, I played a significant role in their creation and/or renovation. That will be a legacy that will endure for future generations of Miamians long after I am gone.
Q: What is one thing most people don't know about you?
A:
I'm from Circleville, Ohio, which is pretty rural.  It's just south of Columbus.  I am the baby and the 10th of 10 children (and no, I'm not the spoiled one).