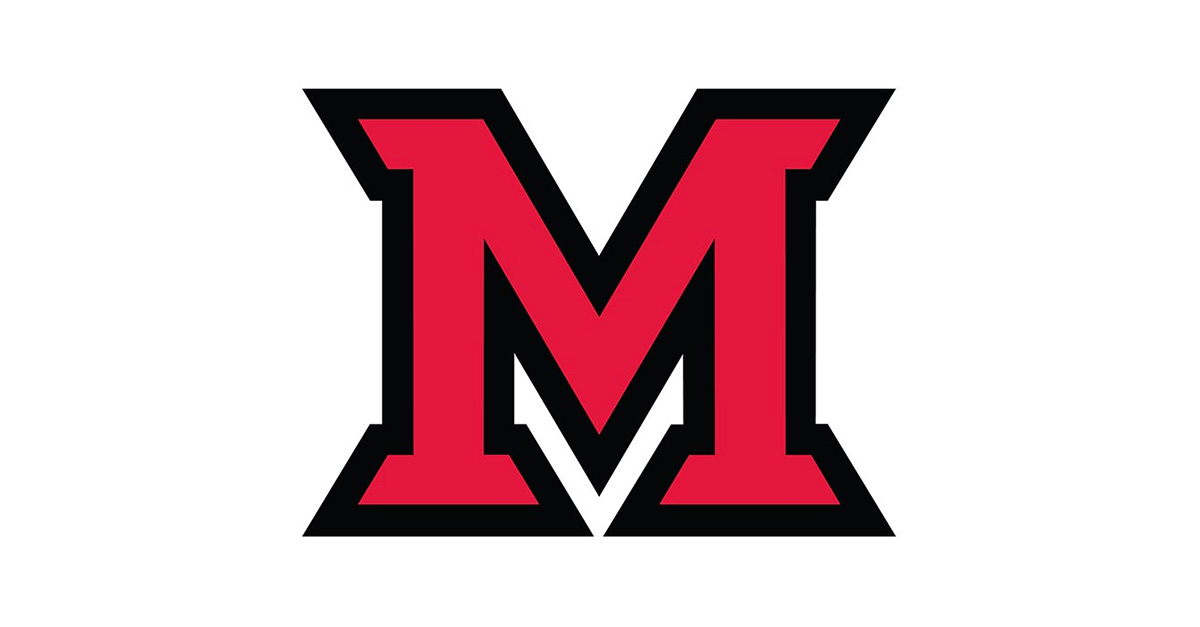 Oct 19, 2013
A Miami Moment with MUPD K-9 Ero and officer Keith Hibbard
The Miami University Police Department (MUPD) is officially retiring its first canine, Ero, this morning after eight years on the job.  Imported from Germany, Ero was bred to work with police and since 2007 has spent most of his time with one man, MUPD officer Keith Hibbard. We talked man's best friend with Hibbard (and Ero).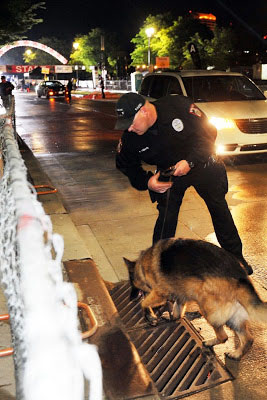 Officer Keith Hibbard and Ero on one of Ero's last details. They were one of only 14 K-9 teams to search the entire route of the 2013 Flying Pig Marathon a few weeks after the Boston Marathon bombing.
When did you start working with canines and how did you get started?
My interest in K-9 work came from interacting with other K-9 officers. I started working with MUPD's first dog, Ero, in 2007. K-9s are a locating tool whether they are looking for drugs, bombs, people, etc. Watching a trained dog search for and locate what they're trained to find is a very impressive thing to observe. And I've enjoyed watching Ero the past six years.
How much of Ero's training did you do?
Ero and I began working together when he was three and I was in my fifth year at MUPD.  Ero was purchased after he had learned basic obedience. I attended the Cincinnati Police K-9 academy for three months with Ero upon my assignment to the K-9 Unit. After the K-9 academy, Ero and I trained daily on things such as obedience, explosive detection, tracking and suspect apprehension. 
What is the training for a police service dog?
Training for a potential police K-9 begins with selection testing when the dogs are about one. Kennels in Europe present dogs to vendors in the U.S. for testing, which includes a complete physical including X-rays of hips and elbows, temperament test and measurements of how much drive a dog possesses. If the dog exhibits the traits necessary to be a police dog, a vendor buys the dog and it is then shipped to the U.S. and offered to police agencies for purchase. Once a dog has been purchased, initial training can vary but is normally between four and 12 weeks long, depending on the dog's purpose. Training a dual purpose dog (apprehension and drug or bomb detections) includes on and off lead obedience, agility exercises, searching for hidden persons in an open area, tracking a person, apprehension including handler protection, searching for discarded evidence and searching indoors/outdoors for drugs or explosives. Once initial training is completed a dog performs an operational test of each phase to achieve state certification before it can begin working the road. 
After such serious training and distinguished service, how will Ero spend his retirement?
Relaxing! Lounge on the couch, nap, bark at squirrels in my neighbor's yard. He's almost 10 and has had some health problems recently. He still has the desire to work but, due to arthritis and some loss of vision, he just isn't physically able to perform his duties. I do still work with him on obedience, take him for walks and hide stuff so he can search. It's important to keep his mind and body active so he can enjoy retirement.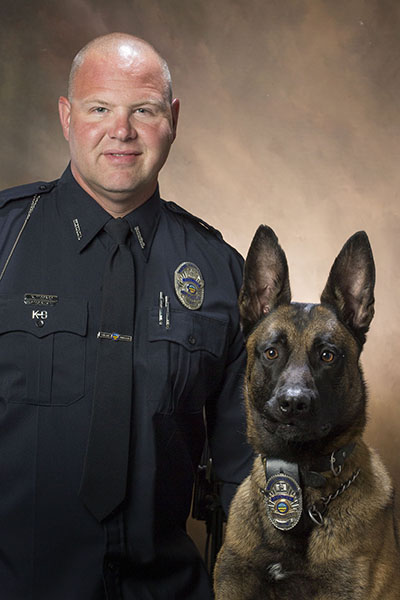 Officer Keith Hibbard and Figo.
Was Ero replaced?
Ero can never be replaced, but MUPD did get a new dog, Figo. He's a Belgian Malinois and was chosen because his desire to get his reward drives him to search in a very energetic manner.  He was only about 19 months old when MUPD acquired him. He completed initial training in early July 2013 and passed state certification in mid-July.
How is Figo different than Ero, or is he?
The biggest difference I've noticed is the energy level. Part of that is comparing an older dog to a young one, but it's also because they are different breeds. Ero had a tendency to pace himself but Figo's motor is always on. He has an endless supply of energy and is always sniffing trying to find explosives so he can get his reward. Ero took commands in German, Figo takes his in Dutch, so I am suspecting he may end up bilingual.
Who names the dogs?  Is it a department discussion?
Before dogs are purchased by police departments they have already been assigned a name. Some K-9 handlers choose to rename the dog, however I chose to use the names both Ero and Figo had been given.
Do you have to remind yourself the dogs are colleagues, and not pets?
I spend more time with my partner than I do my family so I'm very attached to both dogs. With that said, police service dogs are equipment. I accept that there may come a day that one of them may be injured or killed protecting others.
Will the dogs only listen to you?
Because Ero was primarily only with me, he was better at taking commands from me.  Figo is learning to take them from everyone at the department.  That's the nice thing about our department.  Many of our officers, dispatchers and support staff began their careers at other public safety agencies, and when they came to Miami, those employees brought a wealth of knowledge and experience with them. The result of that collective knowledge and experience in public service means there are very few situations someone on our staff has not encountered before.  We all work well together!
Written by Ritter Hoy, university news and communications, ritter.hoy@MiamiOH.edu.