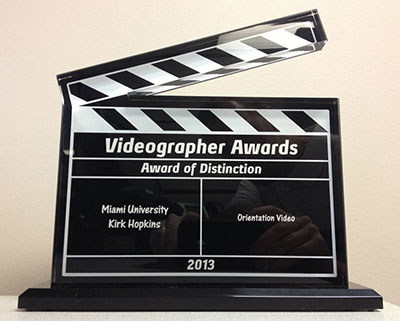 Oct 08, 2013
Miami-produced videos earn international recognition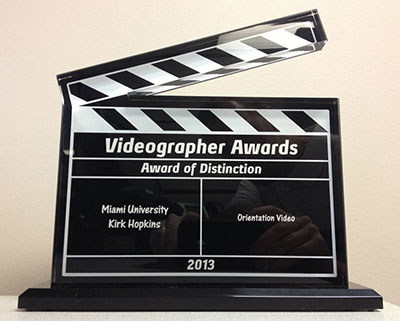 Miami-produced videos receive awards.
For the seventh year in a row, Miami University originally-produced videos were recognized at the 2013 Videographer Awards from a pool of over 1,500 national and international entries.
The "Orientation" and "Miami Chef" videos both received the Award of Distinction, which was given to just 12 percent of the entries.  The music for the "Orientation" video, featuring 30 Miami students and airing during 2012 summer orientation, was composed and performed by Kirk Hopkins, manager of information technology for housing, dining, recreation and business services. He also produced the video.
The "Miami Chef" video, produced by Hopkins, features culinary artists from across the university showcasing their talents in an 'iron chef' style competition.
Now in its 17th year, the Videographer Awards are considered one of the most prestigious in the industry.  The competition receives entries from thousands of production and communication professionals. Winners range from large international companies to freelancers.