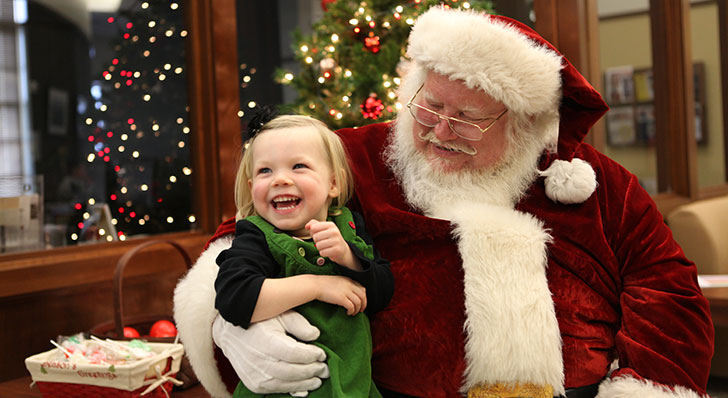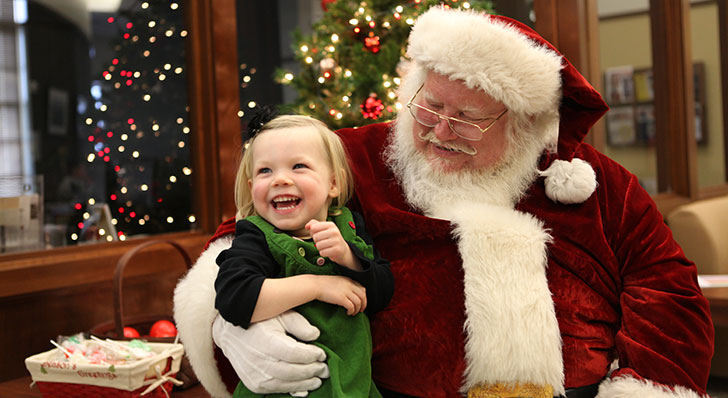 Lila Miller, age 2, visits with Santa Claus at Miami's Voice of America Learning Center
Photo: Brad Farr
Dec 18, 2013
All they want for Christmas ...
Miamians spread holiday cheer
* Miami Holiday Project received $7,350 this year, plus $3,000 in gift cards from Meijer. This has been the greatest year for giving of gift items. The Miami Holiday Project is sponsored by CPAC (Classified Personnel Advisory Committee) and UPAC (Unclassified Personnel Advisory Committee) and is an endorsed service project of the Club Sports Advisory Council.
* After Meijer, University Advancement is the largest contributor, making more than $2,500 at the division's annual auction this year. In addition, they also made $150 through a bake sale, and had a jeans day where they paid $5 to wear jeans as did University Communications and Marketing.
* IT Services held a drawing to collect for the Holiday Project, selling tickets at $5 each for four $50 gift cards. The department also contributed a $50 gift card to Kohl's, $645 in cash and lots of baby items stuffed in stockings handmade by IT staff.

* Miami's athletes shopped and wrapped presents for Bring Joy to a Child, a local organization for elementary and middle school children.

* Miami's Libraries conducted a canned food drive for the Oxford Community Choice Pantry.

* Miami University Hamilton each year collects canned food donations for Shared Food Harvest and has donated 47,822 pounds of food and $6,082 since 2004.

* The recreational sports center collected items for Toys for Tots.

* The Farmer School of Business Red Mittens program, run by the Business Student Advisory Council, helps Talawanda School children in need. Paper mittens with such items as a coat, hat, games, Kroger gift cards and school supplies written on them are taped to the office windows in FSB 1022, and faculty, staff and students take those mittens and buy the requested items.

* Miami students collected holiday baskets for the Over-the-Rhine community. Urban Teaching Cohort student Anna Hartman, one of the main organizers this year, reported that students delivered approximately 60 baskets to OTR's Rothenberg Preparatory Academy for local distribution.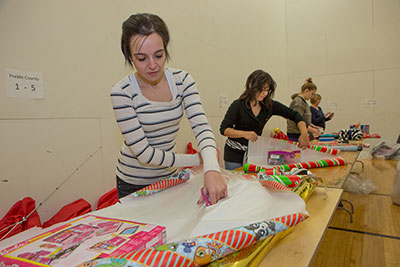 Students join staff and faculty to wrap presents for Miami Holiday Project (photo by Scott Kissell)
Because of the Miami Holiday Project, three brothers not expecting any presents this year will each receive a new fishing pole plus tackle box. When two sisters unwrap items pulled from their bright red nylon bags, they, too, will find gifts only hoped for — air mattresses and pillows.
An air mattress might seem like an odd request from a child until you hear that these girls are probably sleeping on the floor.
These five and 175 other children in Butler and Preble counties will have new clothes and toys this Christmas because Miami staff, students and faculty shared their money, gifts and time. All of these kids — from newborns to 18-year-olds — are under county court supervision, many due to abuse, neglect or abandonment.
For some of them, this will be the first time they've ever received presents.
First present ever
"We heard a story from the CASA (Court Appointed Special Advocate) that one little boy dumped out his toys and just got in the bag and thought the bag was the gift," said Anita Sackenheim, who has chaired the Miami Holiday Project for the past 12 years. "He played with the bag for two hours and didn't know that he was allowed to open the presents or even what they were."
During finals week, Sackenheim, program assistant in kinesiology and health, spent her lunch hour supervising students, staff and faculty, all volunteers, wrapping presents in Phillips Hall's racquetball courts.
Pushing aside a box of
Diary of a Wimpy Kid
books to make room on one of the tables, she spread out pages of lists detailing the kids' sizes and favorite colors — a list of needs and wants so well organized it would make Santa proud.
Running a finger down through the pages, she sees one little girl who asked for nothing more than a toothbrush and toothpaste. Skimming down a few more lines, Sackenheim points out another who needs a winter coat and a third child who simply requested socks. It's not unusual for these kids to be wearing only pajamas and flip-flops as they're taken from a home in the middle of the night.
"It's not like they're saying, 'I want the world.' They're not expecting anything at all."
Spirit of giving
Santa, who visited many good little boys and girls of Miami employees and friends at the Voice of America Learning Center Saturday, Dec. 14, is also witnessing children's selfless attitudes these days.
"It's no longer children asking for a present. They are asking for things like … please get my parents back together or find my dad a job. You have the little ones asking for a home for the homeless.
"I tell the little ones, 'Oh, that makes Santa's heart grow so big when he knows people like you are worrying about others.'"
Although this is Santa's busiest time of the year, he makes a point of parking his sleigh at the VOA every year because Miami is special to him. He's earned both a bachelor's and a master's degree from here.
"That's why Santa wears red and white," he kindly explains. "I'm a Miami alum."
Being a lifelong student-cum-teacher, he shows even the littlest how they, too, can join in the spirit of giving. He explains to them that it's as easy as smiling at an elderly couple walking past or helping a neighbor retrieve a newspaper from the bushes.

Corrin Reardon, age 2, looks for magic in Santa's hat (photo by Brad Farr)
Questions for Santa
With his hundreds of years of experience, Santa can handle any question put before him, and more than one person sitting on his lap has tried to stump him.
Q. Will you bring me a puppy?
A.
Santa can't bring live pets, sweetheart. They would freeze up there in the sleigh because we're so high. Because the reindeer are always running, they stay warm so they're fine. To have a puppy in the sleigh, that's just not right. Besides, that's a family decision.
Q. Why do you come down the chimney and what about the fire?
A.
Santa coming through the front door, that would make all kinds of noise, right? You'd hear Santa. So I shrink down and come down the chimney after the fire has died, and I quickly step in. That's why you hear about Santa getting soot on his suit.
Q. How do you get into the house when there's no fireplace?
A.
I have a set of brass keys. Oh, I don't have them with me tonight because your host let me in.
Q. Favorite reindeer?
A.
Alexander. He was my first hundreds of years ago, long before the eight you've heard of, when Mrs. Claus and I made little toys and sweets for only the neighbors' children.
Q. Will we get presents if we don't have a tree?
A.
Oh, yes. That's just a little bit of the celebration. We were giving gifts long before we had Christmas trees.
Ultimate gift of joy
For Santa, making children and adults smile is his best gift.

That's true for Anita Sackenheim, too.

"As soon as I get these lists, I cry," she said. "I'm so excited. I just can't wait to do something for the kids."

When kids in one group home received their red Miami bags, the adult delivering the gifts had to explain that they were allowed to open and enjoy the toys.

"And so they played with them and when the CASA was ready to leave, the oldest child said, 'Hurry, hurry,' and all the other little kids started putting their stuff back in the bags because they thought they had to give them back," Sackenheim said. "We want to help those kids know what receiving a gift is like. And it makes Miamians happy to know that they can help out."

Written by Donna Boen, university communications and marketing, editor of Miamian