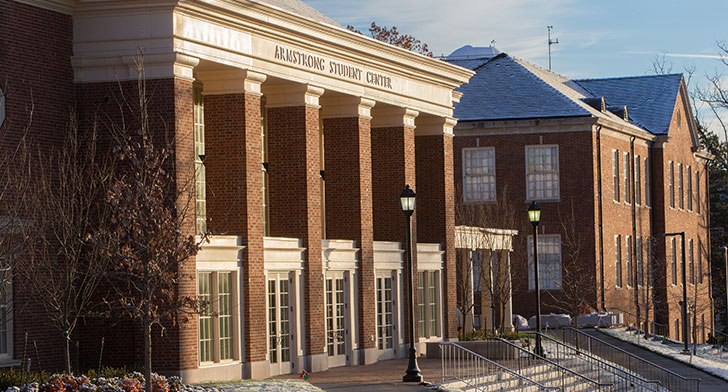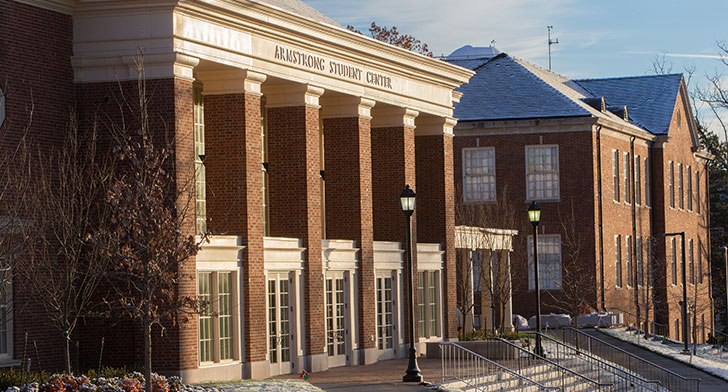 Armstrong Student Center
Jan 24, 2014
Learn more about the Armstrong Student Center
Check out the most commonly asked questions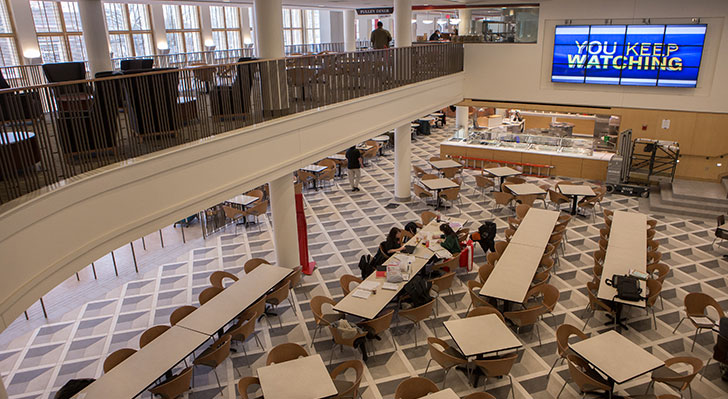 Monday, Jan. 27, is the official opening day of the Armstrong Student Center.
Q: When does the Armstrong Student Center open?
A. We're almost there! The Armstrong Student Center opens to students on Jan. 27, 2014. A campus-wide celebration in honor of the opening is scheduled for 2 p.m. Feb. 7, 2014. All are welcome!
Q: Will there be special activities on opening day?
A: Doors open 24 hours a day at 7 a.m. Monday, Jan. 27 at 550 E. Spring St., in the heart of campus. From 10 a.m.-8 p.m. that day staff members, building managers and Armstrong board members will give hourly tours departing from the information desk, accessible through Spring Street/Shade Family Room entries. Monday also begins two weeks of activities leading up to a campuswide dedication ceremony and open house 2-4 p.m. Friday, Feb. 7.  Open to the public, the event will feature a brief program and presentation featuring Mike and Anne Armstrong and will be followed by musical entertainment, building tours and complimentary tastes.
Q: Why did the students need a new student center?
A. As Miami strives to promote "'an innovative, engaged learning and discovery environment that produces extraordinary student and scholarly success," it must meet the needs of its students and provide new opportunities for engagement, leadership and personal growth. Miami's student leadership expressed this need for more than a decade before construction of the student center was approved by Miami's board of trustees in 2008.
Q: Isn't a student center just a place for students to hang out?
A: While social interaction is an important element of college life, the Armstrong Student Center is far more than just a place to 'hang out.' It includes a two-story leadership center that provides meeting rooms, works spaces, and lounge spaces for Miami's more than 400 student organizations. In addition, the Armstrong Student Center features numerous group meeting and study rooms to accommodate the increasing number of group projects undertaken in the classroom. Of course, the Armstrong Student Center also includes 24/7 food service areas and spaces for recreation and social interaction that are in high demand on campus.
Q: How are we paying for this?
A: The Armstrong Student Center is being supported through private donor support and through student fees, as approved by Miami's Associated Student Government. To date, more than 11,000 alumni and friends have contributed and pledged more than $32 million to the project.
Q: Why is this building so special?
A: The Armstrong Student Center is more than a building. It is a 24/7 hub of campus life and a family room for Miami's students to engage one another through class work, co-curricular organizations, and social interaction. It is designed solely with the students in mind, and it will be a focal point of every student's Miami experience.
Q: Is it too late to get my name in the Armstrong Student Center?
A: Not at all. While some opportunities may be sold out for the initial construction phase, there are still a variety of major gift opportunities, and additional named recognition opportunities will be made available as part of the East Wing Expansion project. Contact Susie Brower Sadler '84 at 513-529-9217 or sadlers@MiamiOH.edu to learn more.
Q: What is the Armstrong Student Center's East Wing Expansion?
A: The East Wing Expansion project will connect the existing Armstrong Student Center to the former Culler Hall via an atrium. This expansion will feature a new larger and more accessible home for Miami University Career Services, a student senate chambers, a large Miami sports lounge and ample quiet study and meeting space throughout.
Q: How do I book space in the Armstrong Student Center for events?
A: Room scheduling for student organizations began the end of October and is going extremely well, said Katie Wilson, director of the center. Spring semester scheduling opened Nov. 18 for academic departments and divisions. Although evening times are being reserved by student organizations, university departments may request space for events ending before 4 p.m. If a space is still vacant 30 days before the event, university departments may request it for any time of the day. A designated student fee primarily funds the student center. Therefore, a fee structure is in place for university department events. Space requests for the Armstrong Student Center can be made through the classroom scheduling system (miamioh.edu/roomsched).