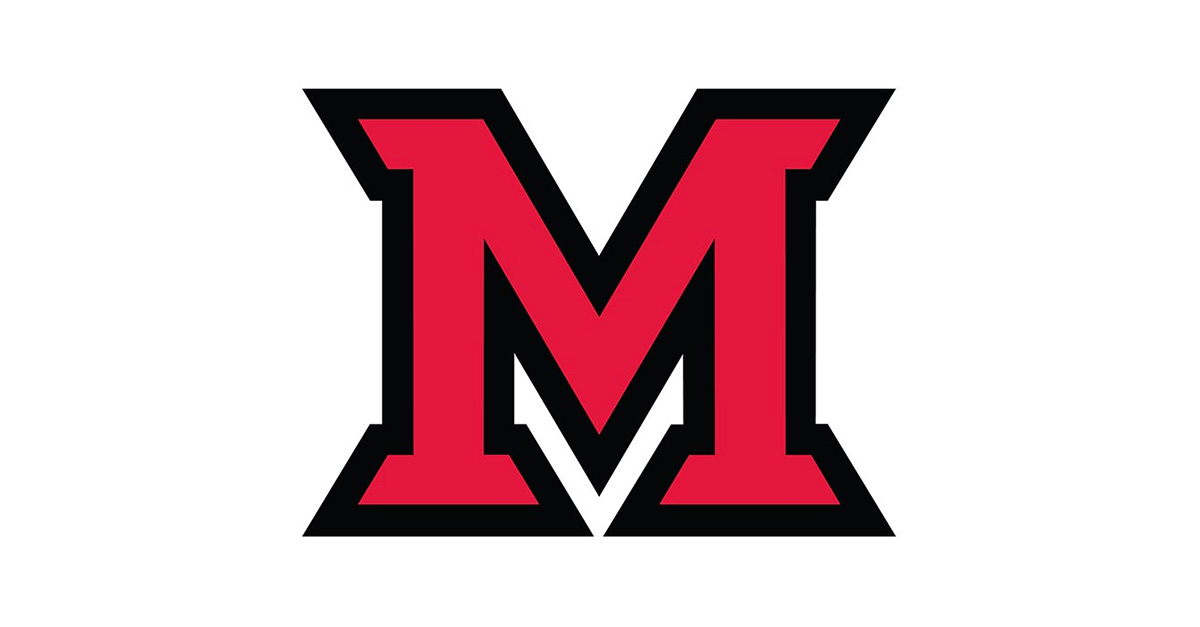 May 14, 2014
Miami Second Year Achievement Award winners announced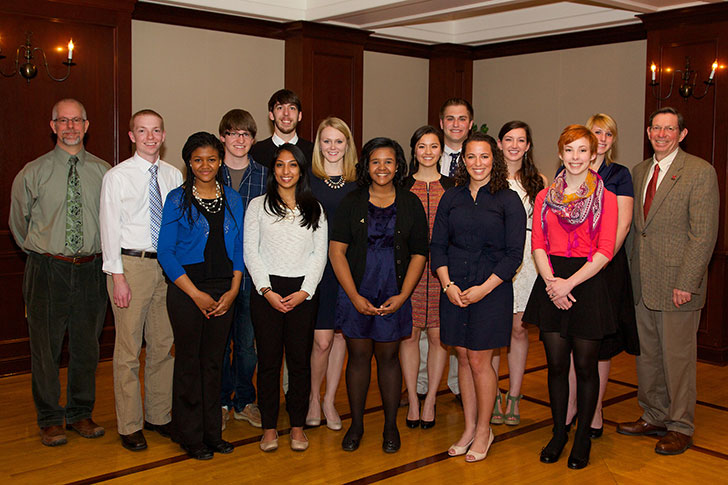 Miami recognized 14 second-year students for their outstanding leadersship contributions. The students are pictured with President David Hodge, right, and Mike O'Neal, left, director of second year programs.
Fourteen Miami University second-year students received the Second Year Achievement Award for their contributions in undergraduate research, leadership and community service.
The award is sponsored by Miami's second year programs. Students honored:

Alex Belman, political science and economics double major from Clarksburg, Maryland, for his work raising money for breast cancer research with the "Beards For Boobs" student organization and the Susan G. Komen "Passionately Pink" campaign.

Taylor Bryant, interactive media studies major from Fairfield, for her work with the Campus Activities Committee and as an orientation leader on the Miami University Hamilton campus.

Briana Deer, zoology major from McMurray, Pennsylvania, for her work with the First Year Research Experience as an undergraduate research assistant and for her work with the campus chapter of OXFAM.

Matthew Dunn, microbiology major from Dublin, for his work with the honors program, undergraduate research, the scholar leader community and St. Jude Hospital.

"Gabe" Fisher, university studies major from Trenton, for his outstanding work and leadership in the Voice of America Learning Center, the Professional MBA program and the Corporate & Community Institute.

Deepika Hebbalalu, psychology major from Mason, for her work as a student orientation undergraduate leader.  She is also a member of the honors program and now serves as president of the honors program advisory board.

Sharon Kootin-Sanwu, marketing major from Cincinnati, for her work with the Wilks Leadership Institute, the Scholar Leader Community, the Indian Student Association and Black Women Empowered.

Catherine Lok, biology major from Upper Sandusky, for her work with the office of community engagement and service, Leukemia & Lymphoma Society, Alzheimer's Association, American Diabetes Association and End Slavery Cincinnati.

Alex Mains, integrated mathematics education major from Harrison, for his work with Miami's Adopt-a-School program, the Miami Bridge Church tutoring program, The 707 (a collegiate ministry program) and Global Buddies, as well as his work as a student employee.

Tanner McClellan, kinesiology major from Columbus, for her contributions to EDL 206: The Nature of Group Leadership and for her leadership with Best Buddies Friends Choir, a singing group for adults with disabilities.

Stephanie Raudenbush, athletic training major from Chesterland, for her work and leadership on the university club sport Quidditch team, the equestrian team and for service planning a universitywide blood drive.

Janell Roeper, music education major from Grafton, for her work as a resident adviser, a librarian in the Amos Music Library and a staff member in the financial aid office. She also is a member of Tau Beta Sigma, a squad leader in marching band, president of symphony band and an ambassador for the College of Creative Arts.

Cody Rush, kinesiology major from Hamilton, for his service as a student worker and student manager in the Haines Food Court and the Armstrong Student Center.

Hollie Schaffer, biochemistry major from Saint Charles, lllinois, for her work with the First Year Research Experience, for writing and receiving a grant to pursue research on pancreatic cancer, for leadership with Miami Navigators and for the creation of a Miami chapter of the Global Medical Brigade.