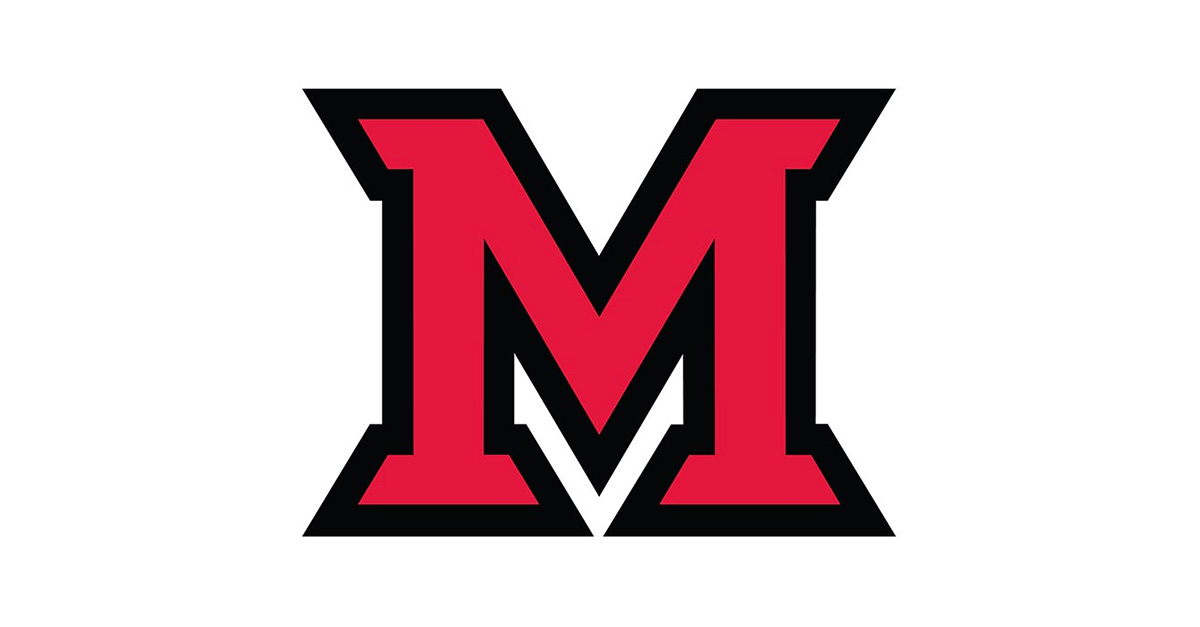 Oct 17, 2014
Miami athletics announces Hall of Fame Class of 2014-2015
written by Angie Renninger, intercollegiate athletics
Seven individuals comprise the Miami University Athletics Hall of Fame Class of 2014-2015 and will be recognized at events Oct. 31-Nov. 1.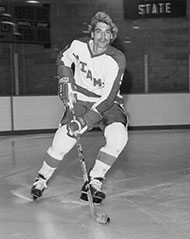 Rick Kuraly (Miami '83), ice hockey
Kuraly played from 1979-1983 and holds several Miami hockey records. He is Miami's career record holder for goals (101), power-play goals (36) and hat tricks (9) and ranks third in career points (179). In addition to his career numbers, Kuraly also holds Miami single-game records for goals in a game (5) and for fastest goal at the start of a period (0:07) and ties for the longest scoring streak, scoring at least one point in 17 consecutive games. Kuraly also earned Academic All-CCHA honorable mention honors as a senior.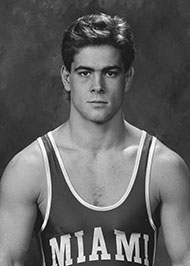 Hamilton Munnell (Miami '92), wrestling
From 1988-1991, Munnell amassed 100 wins. One of six wrestlers in Miami history to win three consecutive MAC individual championships, he captured titles in the 190-pound weight class in 1989, 1990 and 1991 to earn trips to the NCAA Championships each year. As a junior, Munnell placed seventh at the NCAA Championships to seize All-America honors. A four-year letter winner and two-time captain, Munnell was selected the Outstanding Wrestler at the 1991 MAC Championships. He also served as an assistant coach in 1992 as Miami captured its second straight MAC team title.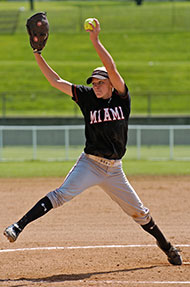 Jackie Poggendorf (Miami '05), softball
Poggendorf, pitcher for the softball team from 2002-2005, led Miami to its first MAC Tournament Championship and NCAA Tournament appearance as a senior in 2005. She captured third-team all-region honors and was a three-time All-MAC selection, earning first-team distinction in 2005. She was twice named the MAC Tournament MVP (2003, 2005) and was named Miami's Female Co-Athlete of the Year in 2005. Poggendorf placed her name on every single-season and career pitching top-10 list and finished her career with four pitching records.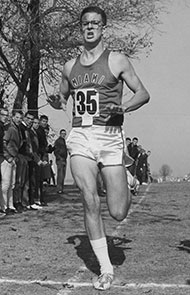 Andy Schramm (Miami '67), men's cross country/track and field
After capturing an individual MAC cross country title and earning All-America honors with a seventh-place finish at the NCAA Championships in 1963, Schramm was hindered by mononucleosis and a series of other illnesses that took him out of running for two years. He won the MAC individual cross country crown in 1966 and helped set varsity records in the four-mile and distance medley relays in outdoor track in 1967 and the distance medley in indoor track earlier that season. Schramm is being inducted posthumously.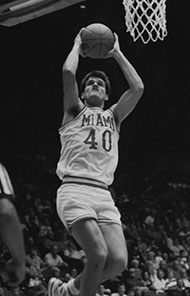 David Scott (Miami '06), men's basketball
Scott played from 1988-1992 and finished his career as Miami's fourth all-time leading scorer with 1,410 points, which currently ranks 11th among Miami leaders. He led Miami in scoring for three seasons and twice earned first-team All-MAC status (1991, 1992). Heading into his final season, Scott was the nation's leading scorer as a sixth man. As a senior he made the game-winning shot with 10 seconds remaining to lift Miami to its second MAC tourney crown and was named to the 1992 MAC All-Tournament Team. Scott went on to a professional basketball career that spanned 13 years in Europe and South America.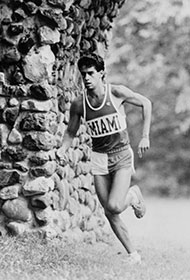 John Van Scoyoc (Miami '89), men's cross country/track and field
Van Scoyoc ran for Miami from 1985-1989 and was a two-time All-American, earning the honors in cross country in 1986 and in track in 1989. Van Scoyoc was tabbed the Ohio Cross Country Runner of the Year in 1987 and was an NCAA qualifier three times. In track, he won the 5,000-meter run at the 1988 MAC Championships as a junior and was the runner up in the 10,000-meter in 1987 and in the 5,000-meter and 3,000-meter steeplechase in 1989. He twice qualified for the NCAA Championships in track. Over his career, Van Scoyoc was a four-time All-MAC selection in both cross country and track and lettered four times in each sport.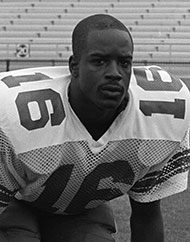 Sheldon White, '91 (football)
A four-year starter at defensive back from 1984-1987, White was named first-team All-MAC his final two seasons before being selected in the third round of the NFL draft by the New York Giants. At Miami, he helped the team to a MAC Championship and bowl appearance in 1986. After playing six years in the NFL, White continued his affiliation with the league and is in his 18th year with the Detroit Lions, currently serving as vice president of pro personnel. White was also a sprinter on the Miami track and field team for four years and part of the second-fastest 4x100 meter relay team in school history at the time.
The members of the Hall of Fame class will be honored during the induction dinner Friday, Oct. 31, at Shriver Center's John E. Dolibois Room (formerly multipurpose room). There will be a reception from 6-6:30 p.m. with the dinner and induction ceremony to follow. Reservations for the dinner may be made online or by calling (513) 529-0422.
Cost of the dinner is $40 per person and reservations must be made by Monday, Oct. 27. Space is limited and reservations will be taken on a first-come, first-served basis. No walk-up patrons will be admitted.
This year's class will also be recognized at halftime of the Miami football game Saturday, Nov. 1.