Dec 17, 2014
Chris Makaroff to be interim dean of College of Arts and Science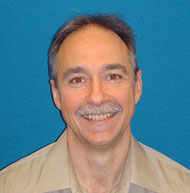 Chris Makaroff
Chris Makaroff, associate dean and professor, has been named interim dean of the College of Arts and Science effective Feb. 1, when current dean Phyllis Callahan begins in her new position as Miami's provost and executive vice president for academic affairs.
Makaroff has taught at Miami since 1989 as a professor in the department of chemistry and biochemistry. His research involves multidisciplinary approaches to understanding the relationship of protein structure to biological function. In 2009 he was awarded the Miami University Distinguished Scholar award for his research accomplishments.
Makaroff was named the Distinguished Scholar of the graduate faculty in 2005 and received the Sigma Xi Researcher of the Year award in 2004.

Before becoming an associate dean of CAS in August 2012, he served as chair of chemistry and biochemistry for nine years.
"I am confident that Chris will continue the outstanding progress made by Phyllis Callahan," said Ray Gorman, interim provost.

Makaroff also co-leads Miami's participation in a five-year, $3.5 million National Science Foundation grant to help increase underrepresented student success in science, technology, engineering and mathematics (STEM) disciplines among 11 Ohio colleges and universities. In 2010, he co-led the university's Strategic Priorities Task Force.