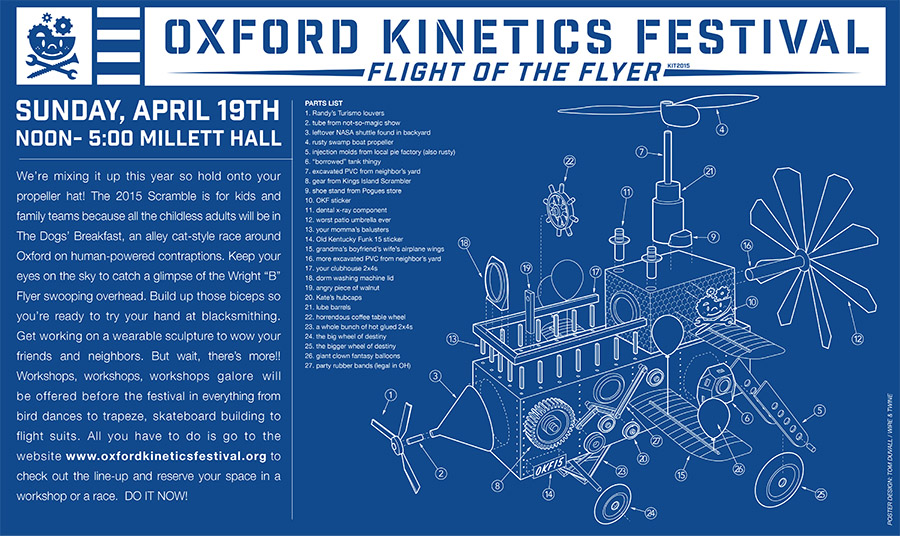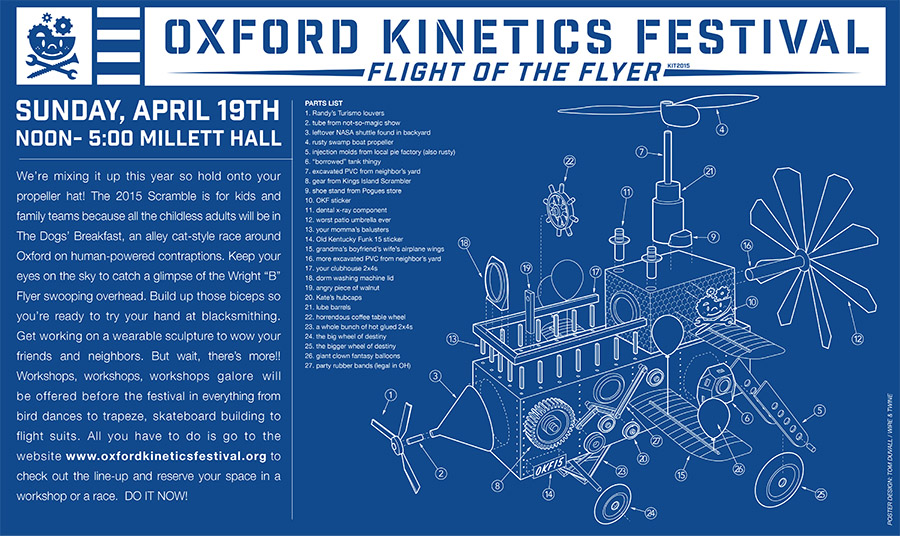 Mar 18, 2015
Planning to participate in the Oxford Kinetics Festival April 19? Free how-to workshops next four Saturdays
Free welding instruction, materials and studio space to build your own creation
By Susan Meikle, university news and communications, meiklesb@MiamiOH.edu.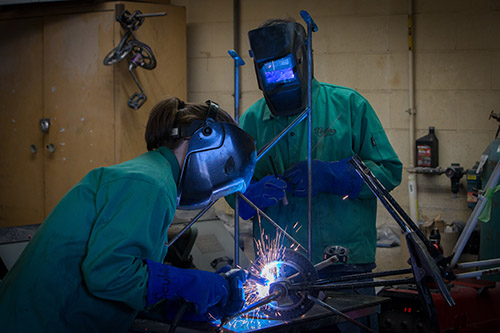 Welding bicycle parts during last year's free workshops (photos by Scott Kissell; poster above by Tom Duvall/Wire & Twine).
Are you planning to participate in the Oxford Kinetics Festival's Scramble or other races April 19 with your own people-powered creation? Come to the free how-to workshops, 9 a.m.-2 p.m. Saturdays, March 21 and 28 and April 4 and 11, in the sculpture studio located in the ground floor of Hiestand Hall.
RSVP for a workshop on the Oxford Kinetics Festival website.
MAKETANK Inc. will host the workshops, providing design consultation, welding instruction and materials (including bicycles) for groups and individuals to build their own original creations to use as race vehicles in the festival.
To Bring: 
Ideas, sketches, bikes/wagons/carts that you may want to alter, and safety glasses if you have them.
New races this year: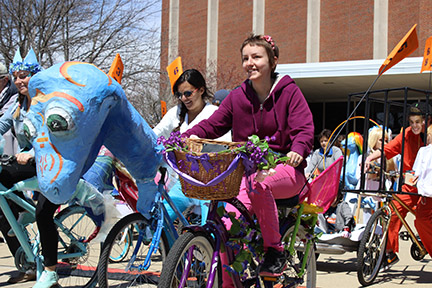 Racing in the Scramble at the 2014 Oxford Kinetics Festival.
The Scramble: This year the Scramble will be for kids under the age of 18 and family-teams.  The Scramble is "part parade, part race, part obstacle course and all fun." Registration required. Register here.  
The Dog's Breakfast: New for adults 18 and over, The Dog's Breakfast, is an alley-cat style race on human-powered contraptions to five different locations around Oxford. The race begins at the Oxford Community Arts Center and ends at the festival at Millett Hall. Various challenges will be presented at the check-in stations along the way. Register here. 
The Tall Bike Biathlon: Show off your tall biking skills and your aim in the Tall Bike Biathlon.On the grounds of Millett, tall bikers will compete for speed and accuracy. Competitors will race a course dotted with pole-mounted devices for target shooting. Register here. 

Don't have a tall bike?  Make one at the free workshops. "But be warned, tall bike building takes more time than you might initially think," festival organizers Rod Northcutt and Kate Curry said. "If you want to get yours done in time for the festival you will likely need to get started at the first workshop." 
2015 Oxford Kinetics Festival — "Flight of the Flyer"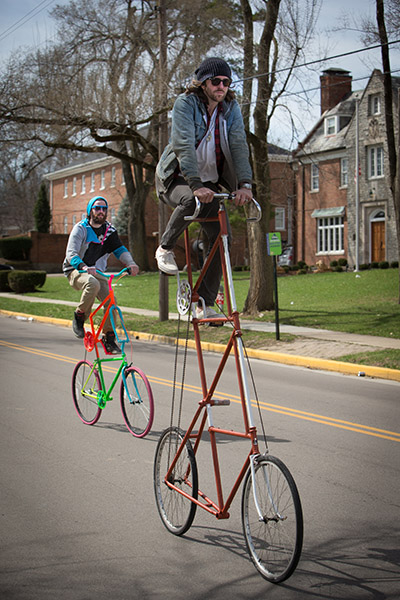 Tall Bikers
This year's festival will feature the Wright "B" Flyer among other flight-related demonstrations and a series of workshops held on the weekend of the festival. Visit the website to learn more and to register.
Build Your Own Skateboard: a two-day workshop April 17-18 led by the team from Station North Tool Library in Baltimore, Md., will teach participants to build their own laminated wood skateboard ($85 fee).
Bird Brigade: Kids ages 8-12 will learn flatfoot and other traditional dances with bird-related themes noon-2 p.m. April 18 at the Oxford Community Arts Center.
The Flying Trapeze: The Cincinnati Circus will bring its traveling trapeze set-up to Oxford for the weekend.  This workshop will be held April 18 on the grounds of Millett Hall.  Juggling and tight rope walking instruction is included. Two time slots will be available for ages 9-17 and two time slots for ages 18 and older. Participants will be able to show off what they have learned for the community on the following day at the festival ($25 fee).
MAKETANK Inc.
MAKETANK Inc. is a non-profit that administers the Oxford Kinetics Festival and year-round programming involving art and STEM education.
"Our focus is on skill-sharing, building community through creative programming and giving individuals confidence in their creativity," Northcutt said. "All of our programming is guided by a mission to reach the underserved in our region."
Rod Northcutt, assistant professor of art, is co-organizer of the Oxford Kinetics Festival with local artist Kate Currie (Miami '93).