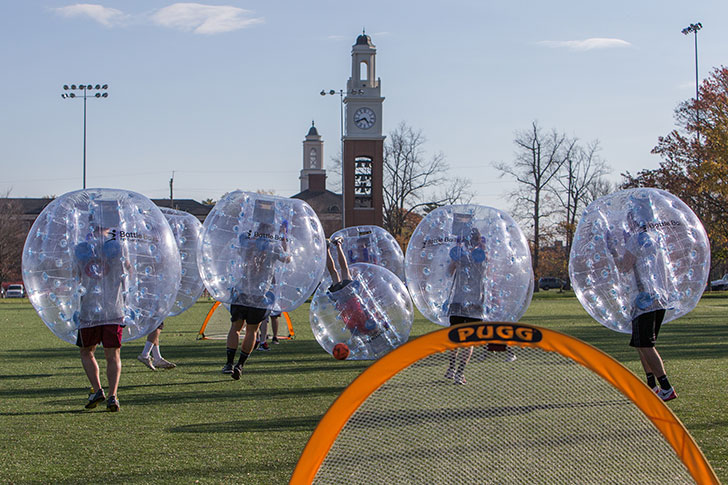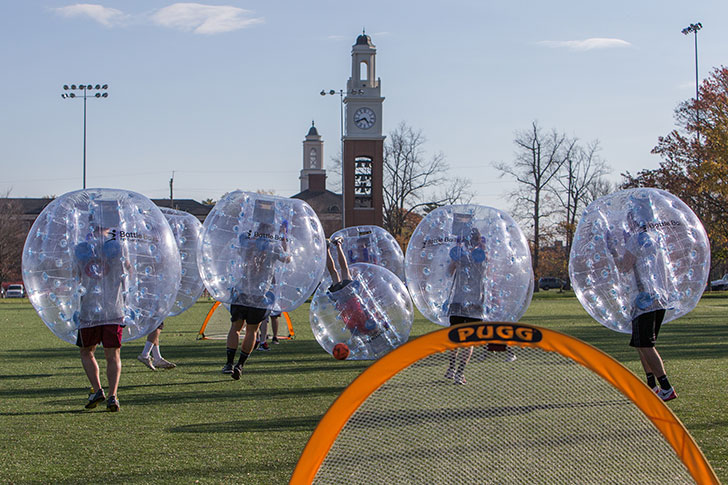 Students enjoy a round of bumper ball.
Photo: Scott Kissell
Apr 23, 2015
President Hodge braves bumper ball, Miami's newest intramural sport
By Mekenna Sandstrom, university news and communications intern

They are big and bouncy with humans inside and used in Miami University's newest intramural sports—bumper ball.
-
In bumper ball, people not only kick a ball to make goals but they also are the balls themselves.

From the waist up, players are enclosed in large plastic beach ball-like spheres. Players bump and get bumped with the goal of getting the soccer ball into the net.
"I loved it," said President David Hodge, who tried bumper ball with some willing students.

Hodge commented on the benefits of play in the winter 2015 issue of the Miamian. (See the Miamian online.)

"Physical play, such as broomball and bumper ball, cranks up my endorphins and keeps me happy—especially when my team wins," he said in the magazine article.

Ruchelle Dunwoody, director of intramural and club sports, said two students told her about the sport.

"One of the students said he saw it being played overseas in Italy," Dunwoody said. "At the time the sport was being played as a halftime program, but we decided to give it a try (here at Miami)."

Dunwoody said what makes the sport appealing is simply the concept of the players being balls themselves. Each team consists of four players, and there are no goalies.

"People love the beginning of the game, because they run toward each other and bump around everywhere," Dunwoody said. "You don't have to be athletic at all to play the game."

Miami held tournaments in the fall, and the next bumper ball tournament is Friday, April 24, with co-ed and men's teams.  

Sophomore Mickey Whitford is on a co-ed team for the tournament and said he's looking forward to playing.

"I've seen hilarious videos on the Internet, and it seems very fun," Whitford said. "I have never played the sport before, but I think it'll be one of the highlights of the spring."

Including bumper ball, Miami offers more than 15 intramural sports and more than 35 activities such as the Red Brick Run (5K).

Intramural sports are classified as recreational sports that are organized among colleges and universities across the United States. Miami was one of the first educational institutions in the country to establish an intramural program for students.
The goal is for students as well as faculty and staff to have fun and be safe while playing some of America's favorite pastimes.