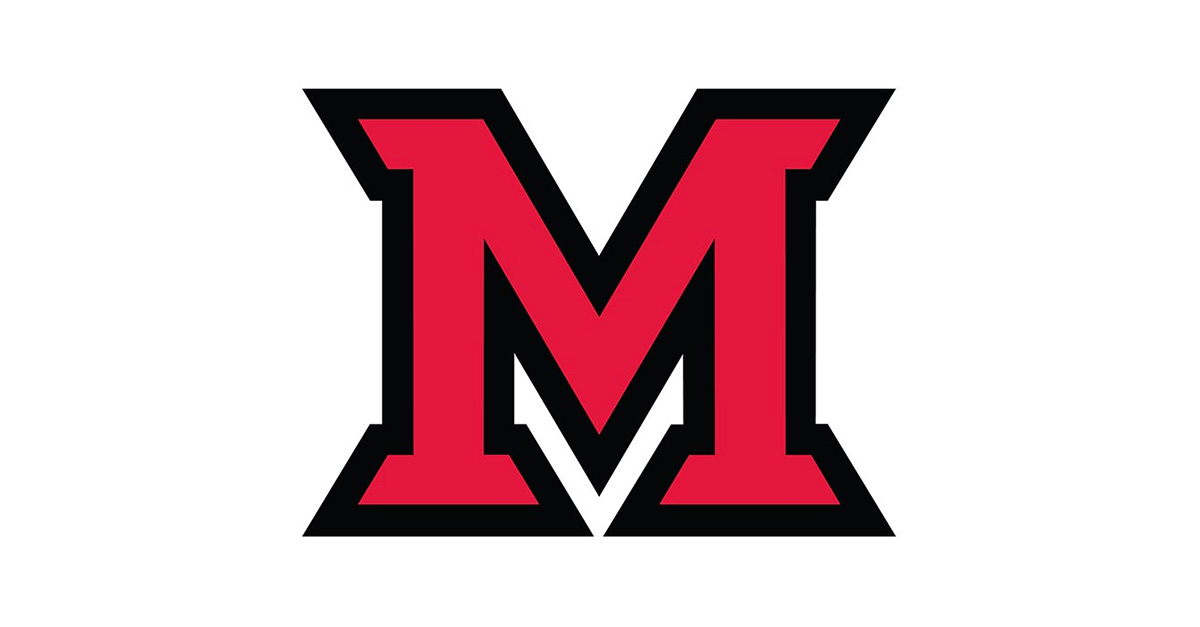 Apr 02, 2015
Families, friends of three students killed in off-campus fire 10 years ago find ways to make something positive grow out of the tragedy
By Margo Kissell, university news and communications, kisselm@miamioh.edu
Doug Turnbull has spent most of the past decade trying to save lives since his daughter Julie and two other Miami University students died in an off-campus house fire.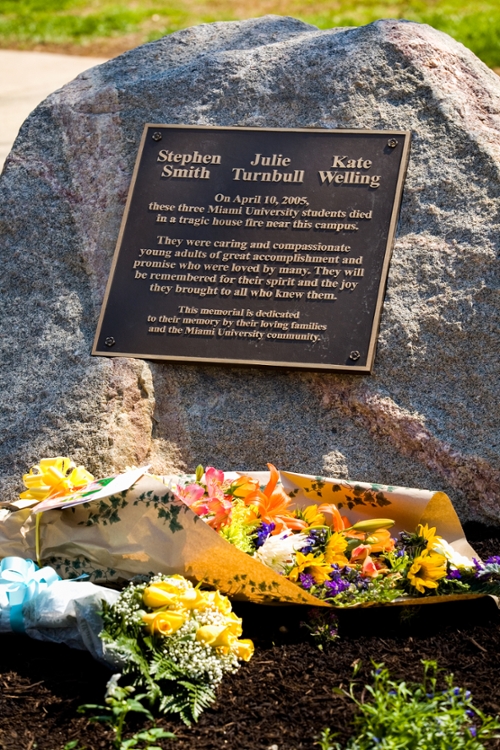 Memorial (near King Library) dedicated April 10, 2007 (photo by Scott Kissell)
Turnbull has become a leading advocate for photoelectric smoke detectors, which are capable of detecting smoldering fires like the one that started in the two-story rental house April 10, 2005.
The detectors are now required in residential properties in Oxford, Cincinnati and several other cities largely due to the efforts of Turnbull and Dean Dennis, whose daughter was one of five college students killed in a house fire near Ohio State University in 2003.
"I did it for Julie," said Turnbull of Milford. "I did it so other parents wouldn't have a day like I had 10 years ago."
Julie Turnbull was a senior majoring in mass communication. Also killed were Kathryn "Kate" Welling, a junior business major from Bronxville, N.Y.; and Stephen Smith, a senior marketing major from Bethesda, Md.
Investigators determined the fire at 122 N. Main St. was accidental, and that it started when smoking materials ignited a couch in the first-floor living room about 4:30 a.m. Eight people escaped.
In the 10 years since the fire, families and friends have found several ways to honor the students and make something positive grow out of the tragedy. A disability awareness lecture series held each April at Miami spotlights one of Kate's passions. Her parents also established the Kate Welling Distinguished Scholar in Disability Studies.
Two dozen Miami students have benefited from scholarships remembering Julie.
Fred Smith and Edye Smith, Stephen's parents, hold fundraising events in Maryland each year that benefit the school he attended from fourth through 12th grade. Those events, along with an annual award given for leadership and spirit in Stephen's name, are "very healing and important to us," Edye Smith said.
To mark the 10th anniversary, the families will again participate in an organized release of balloons wherever friends and family are now to honor Julie, Kate and Stephen on or near the anniversary date. Members of Julie's sorority, Pi Beta Phi, will release balloons from the Oxford campus again this year.
The balloons carry tags that tell about the students and how they touched so many lives.
"Here it is 10 years later and it's still going on," said Turnbull, who started the balloon release with his wife, Linda.
Scholarships help two dozen Miami students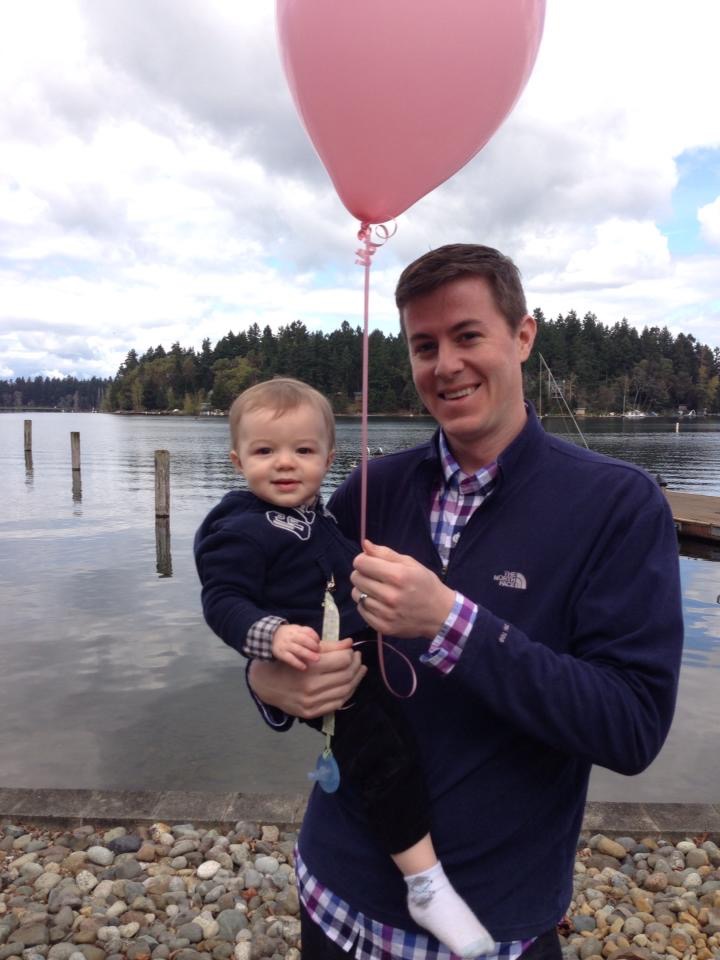 Army Maj. Bill Scully, M.D., (Miami '04).
Army Maj. Bill Scully, M.D., (Miami '04) learned about the fatal fire while he was in his first year of medical school at Georgetown University in Washington, D.C.
Scully — now an orthopedic surgeon based at Fort Benning, Ga. — had been back at Miami two weeks before the fire to enjoy dinner with Julie and others in their tight-knit group of friends.
Devastated by the news, he wanted to do something to honor all three.
He and Jessie Hypes (Miami '05), Julie's best friend and sorority sister, came up with the idea of raising money for scholarships by running in their memory at the Chicago Marathon that fall. They secured sponsorships from friends and families and involved fraternities and sororities as well as some alumni chapters.
About 25 people participated in the marathon, wearing running singlets with Julie's, Kate's and Stephen's names on the front and "Running to Remember" on the back. More than 100 people turned out for the race, which included a fundraising dinner the night before. Together the events raised $11,000.
"It was a way for me to find some sense of closure," Scully said.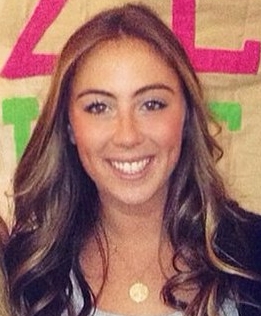 Jordan Chaisson 
Julie's sorority also helped collect memorial donations for a scholarship fund in her name that has helped 24 Miami students, including senior Jordan Chaisson, a management information systems major.
Chaisson, who graduates in May, has accepted a position with General Electric's two-year information technology leadership program. This year's $2,300 scholarship helped the Boston student with out-of-state tuition and other expenses.
"I feel very lucky to have received that scholarship," she said.
Educating others about disability rights
Welling's parents, Tom and Helen, endowed the Kate Welling Disability Awareness Lecture Series in 2007 and a fund to partially support a distinguished visiting scholar.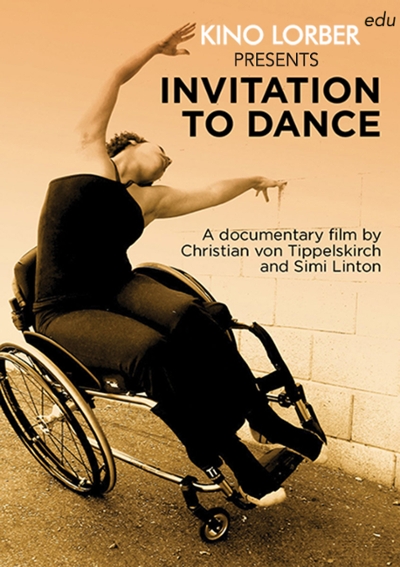 Kathy McMahon-Klosterman, professor emerita of educational psychology, had Kate in her class and remembers her as a quiet but enthusiastic student who developed an interest in disability rights.
The Wellings, along with their two older sons, will return to campus Monday, April 13, for the annual lecture, which will feature the screening of the documentary film "Invitation to Dance" about the life of activist Simi Linton. Linton, who is disabled, was injured at 23 while hitchhiking to the nation's capital to protest the war in Vietnam. Kate had read her memoir, My Body Politic.
Linton and her co-director Christian Von Tippelskirch will field questions afterward. The film will be shown at 7 p.m. in Taylor Auditorium in the Farmer School of Business.
Kate's brothers also will speak about what the family has learned regarding disability rights thanks to their sister's legacy.
"What it tells us is the impact one person can have in educating others," McMahon-Klosterman said.
"It may have made a difference."
Turnbull and Dennis, who met at Julie's funeral, teamed up to help educate others about what they'd learned from research into photoelectric smoke detectors.

Kate Welling, Stephen Smith and Julie Turnbull
"Once we had this knowledge, we felt obligated to educate people," said Turnbull, whose mission started eight years ago after an assistant fire chief in Boston called him to share his research into the detectors. He told Turnbull that Julie would probably be alive if those had been in use at the time.
There were 17 ionization smoke detectors in the house. Six were found to be working, five had been disabled and the others weren't recovered from the debris.
"The smoke would have built up in the house quite a bit before those smoke detectors would have gone off," Oxford Fire Chief John Detherage said. Julie and Kate died of carbon monoxide and smoke inhalation as they slept in beds on the second floor. Stephen died from inhaling superheated air as he tried to escape the house, the Associated Press reported.
Detherage noted alcohol was a contributing factor. Still, he believes the photoelectric smoke detectors might have saved their lives.
"It may have made a difference. Earlier notification is always going to be better," he said.
City strengthens smoke alarm requirements
The Oxford Fire Department distributed about 5,600 free photoelectric smoke detectors throughout the community after it received a $63,360 federal grant in 2010, Detherage said. The city added a 10 percent local match.
Miami students involved in a service project helped fire officials install them in fraternities and other off-campus housing, said Jenny Levering, director of student activities and the Cliff Alexander office of fraternity and sorority life.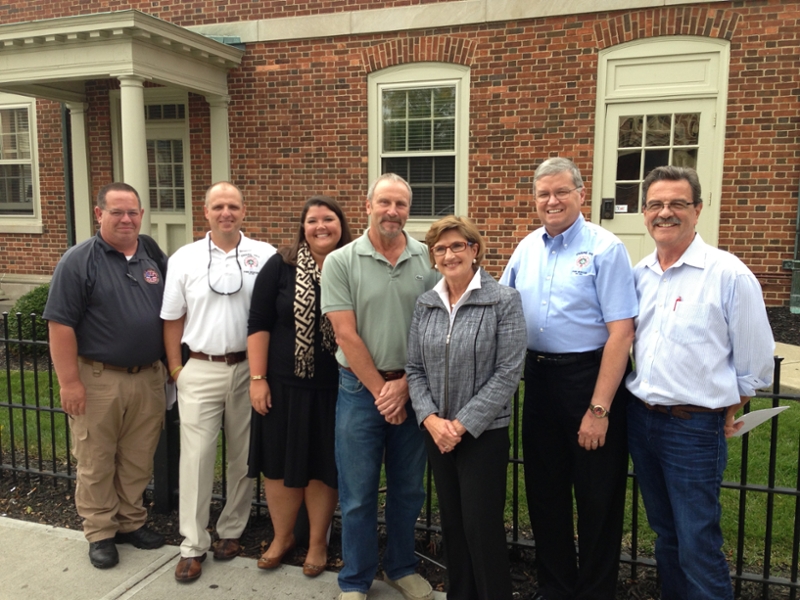 Fire officials and parents gathered with Jenny Levering for a workshop on fire safety. Left to right: John Detherage (Oxford fire chief), Matt Lawrence (Chapel Hill deputy chief), Levering, Dean Dennis, Bonnie Woodruff, Dan Jones (Chapel Hill fire chief) and Doug Turnbull.
Levering developed a passion for fire safety while working at the University of North Carolina at Chapel Hill, where five students died in a 1996 fraternity house fire hours before commencement. She got to know fire officials there as well as fire safety activist Bonnie Woodruff, who lost her son Ben in that Mother's Day fire.
In 2013, Levering helped connect Oxford officials with Turnbull and Dennis, as well as fire officials from North Carolina to offer an outside perspective. They gathered for a daylong workshop in Oxford.
"Miami's involvement was to convene the people to talk about it," she said.
Turnbull later spoke before the Oxford City Council, which last year unanimously approved the updated Property Maintenance Code requiring carbon monoxide detectors and smoke alarms in all residential properties.
In addition, photoelectric-type smoke detectors must be installed outside each sleeping area and at each level that exceeds 1,200 square feet. City Manager Doug Elliott said they have given landlords of existing rental properties until the end of this year to make the upgrades.
"Our goal," Elliott said, "is to make sure the houses and rental units are as safe as possible. We certainly don't want to have another tragedy like that due to fire."
That's Turnbull's goal, too. He plans to continue his fire safety advocacy as a way to honor Julie.